Trans-Tasman women's footballing rivalries resume this week, with the Football Ferns and Australia's Matildas engaging in what promises to be an enthralling two-match series in Auckland on Wednesday and Saturday.
North Harbour Stadium hosts the first clash of the series from 7pm on Wednesday, while on Saturday at 3pm, the new-look Bill McKinlay Park is the venue for the series decider between two countries who have plenty to play for on top of the usual bragging rights.
The Matildas have enjoyed more than their fair share of those in recent years, having won the last eighteen - count them! - clashes against their Kiwi counterparts, whose last win over green-and-gold-clad opposition took place in October 1994, in Port Moresby.
You have to go back a further three years, to Hamilton in October 1991, in fact, to find the last time New Zealand conquered their arch-rivals on this side of the Tasman, and Football Ferns captain Hayley Moorwood is very much looking forward to the chance to begin to right the ledger this week.
"I definitely think that this series is the one that will break the cycle. We are a different team. We are confident, we have more experience, and we feel ready", enthuses the skipper, who is fast closing in on her fiftieth appearance for her country.
Moorwood, with 46 caps to her name, boasts the most appearances of the eighteen-strong Football Ferns squad named for this series by coach John Herdman, but her tally pales in comparison to the Matildas squad, in which five players have played more than fifty times for their country, with another player, Collette McCallum, set to reach that milestone in Wednesday's match.
That experience factor certainly tips the scale in Australia's favour, although their tenure as trans-Tasman top dogs may well be a tad shaky following the recent retirements of Joanne Peters and Cheryl Salisbury.
Not that Moorwood is taking any comfort from their absence. "Salisbury and Peters were both fantastic players and great leaders for the Matildas, and in which they will be hugely missed I'm sure.
"But I think Australia are a very strong side and always have players that are comfortable in stepping up and taking the place of another. They may lack the experience that Salisbury and Peters have, but they could definitely make up for it in other ways. There is no taking the Aussies lightly because of the retirement of some players".
One area where the Football Ferns do hold an advantage over their top-fifteen-ranked Australian rivals is via our recent experiences in the finals of FIFA tournaments. No Australian team has played on the ultimate world stage since the 2007 Women's World Cup Finals, whereas all New Zealand's women's teams have gone from strength to strength in this regard since Australia switched confederations from Oceania to Asia.
Moorwood is keen to see New Zealand continue to benefit from this, and become a real force in the world of women's football. "With the Young Ferns, the Junior Ferns, and the Football Ferns all continuously qualifying for FIFA tournaments, there is only one direction that women's football in New Zealand can head … and that's forward.
"With the experience gained through the increased number of internationals played, the women's game is continuing to grow. When I was first involved with the New Zealand team, whether it be age group encounters or at senior level early last decade, we only had one or two international games per year, and we had yet to qualify for any major footballing tournaments.
"This made it difficult to build cohesion within the team, as we were hardly playing together, and we were always changing personnel. Now, we have regular international fixtures from age group level to senior level, which in return only helps us improve. It is only a matter of time before New Zealand really makes their mark on the world stage".
Indeed, they are already making solid progress in this regard, with wins over Argentina and Holland, and draws against top-ten-ranked Japan, Canada and France in the last couple of years bearing out Moorwood's confidence.
The captain is also relishing the prospect of playing on home turf once more, as are her team-mates. "The girls are really excited to be given the opportunity to play in front of a home crowd. It's always motivating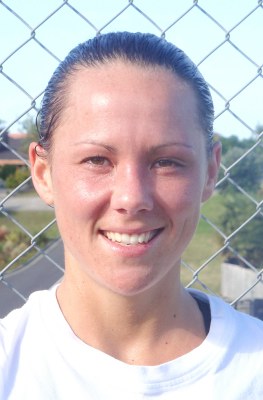 Hayley Moorwood - confident captain
| | | |
| --- | --- | --- |
| FOOTBALL FERNS | CAPS | GOALS |
| Hayley Moorwood (c) | 46 | 3 |
| Bridgette Armstrong | 1 | 0 |
| Jenny Bindon | 37 | 0 |
| Aroon Clansey | 1 | 0 |
| Abby Erceg | 37 | 2 |
| Anna Green | 18 | 1 |
| Betsy Hassett | 9 | 1 |
| Amber Hearn | 23 | 5 |
| Kristy Hill | 8 | 0 |
| Katie Hoyle | 25 | 0 |
| Emma Kete | 24 | 3 |
| Annalie Longo | 21 | 0 |
| Ria Percival | 37 | 3 |
| Ali Riley | 29 | 0 |
| Hannah Wall | 3 | 2 |
| Rosie White | 7 | 0 |
| Hannah Wilkinson | 0 | 0 |
| Kirsty Yallop | 30 | 9 |

| | | |
| --- | --- | --- |
| MATILDAS | CAPS | GOALS |
| Melissa Barbieri | 67 | 0 |
| Tameka Butt | 11 | 1 |
| Kim Carroll | 27 | 1 |
| Lauren Colthorpe | 37 | 6 |
| Lisa De Vanna | 59 | 20 |
| Heather Garriock | 113 | 19 |
| Kathryn Gill | 54 | 26 |
| Elise Kellond-Knight | 1 | 0 |
| Samantha Kerr | 7 | 0 |
| Leena Khamis | 6 | 1 |
| Kylie Ledbrook | 12 | 0 |
| Aivi Luik | 0 | 0 |
| Collette McCallum | 49 | 7 |
| Clare Polkinghorne | 30 | 2 |
| Sally Shipard | 39 | 2 |
| Kyah Simon | 12 | 1 |
| Thea Slatyer | 39 | 2 |
| Servet Uzunlar | 7 | 1 |
| Sarah Walsh | 57 | 26 |
| Lydia Williams | 18 | 0 |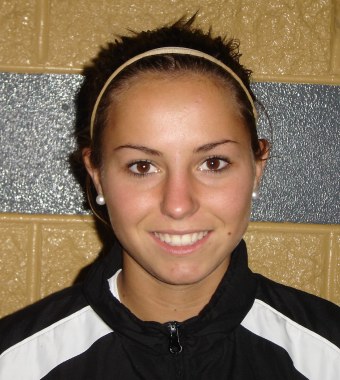 Hannah Wall - recalled after a year's absence
to be able to play in front of family and friends, and the rest of the footballing community. This series on home turf is our chance to show how far we have come as a team, and how entertaining we can be".
It's also one which pitches the haves against the have nots. The Australian Football Federation recently announced that 23 of the Matildas squad are now on six-month contracts of up to $A 17,000, and receiving up to $A 1,000 per international.
Moorwood captains a squad whose efforts to put New Zealand women's football on the world map largely go financially unrewarded. Many, including the just-turned 26-year-old, are reliant on scholarships, grants and generous employers to help them in their quest to be the best they can be, and to realise their footballing dreams.
The last New Zealand player to score against the Tom Sermanni-coached Matildas believes this works to her team's advantage. "The Football Ferns are a very dedicated squad. Every member has sacrificed something at some point along the way, and some more than others. But, what motivates us is playing for the Fern, and keeping the Football Ferns on the world stage. The rest takes care of itself".
That motivation was certainly in evidence the last time these teams clashed, in July 2008 at North Sydney Oval. That day, the Football Ferns did everything but score against the "old enemy", who prevailed 1-0 to maintain their recent dominance over their Kiwi rivals.
Moorwood well remembers that match, and knows full well what New Zealand needs to do to see the good guys prevail this time round. "The key thing is finishing our chances. Being clinical. We know we can score against them, and we know we can out-play them. Now, we have to make sure we keep the ball in the attacking third and finish our chances in front of goal".
There are a handful of changes to the Football Ferns squad which took on the Matildas that day, with Rebecca Smith's commitments with VFL Wolfsburg causing her absence, while fellow professional Ali Riley will only be available for the Bill McKinlay Park clash.
New to the squad is Hannah Wilkinson, a genuine bolter whose first appearance in a shirt sporting the silver fern was for the NZ Secondary Schoolgirls in a three-match series against the Young Ferns in December.
Two months later, having helped the Junior Ferns qualify for the FIFA U-20 Women's World Cup Finals, she is set to make her full international debut - proof to all players, were any ever needed, that when you're given an opportunity, you should take it with both hands.
Hannah has, and one hopes her namesake and fellow Junior Fern, Hannah Wall, will do also. She fell from grace somewhat after making her only Football Ferns appearances to date at China's Four Nations Tournament a year ago, but the exciting Wellingtonian has knuckled down and forced her way back into John Herdman's plans.
Abby Erceg, Betsy Hassett, Emma Kete, Ria Percival and Rosie White return to the nation's shop window team after injury forced all five to miss the Japan clash in November, a match in which Bridgette Armstrong made her international debut as a substitute.
She retains her place in this squad, but will be left behind when the rest of the Football Ferns fly out immediately after the Australian series to the Cyprus Women's Cup, for which defensive lynchpin Smith is available.
Moorwood is well aware of the importance of this series, not only from the point of view of its timing - plum in the middle of Girls and Women's Football Week - but also from a confidence perspective, with Cyprus Cup clashes against Italy, Holland and Scotland, plus a placing play-off, scheduled inside the next three weeks.
Going into those matches on a high as a result of writing a new chapter in trans-Tasman footballing rivalry is something Hayley Moorwood is decidedly keen to do, as evidenced by her final comment about the Football Ferns' prospects this week.
"I am very confident in leading the team to victory in this series. We have been training hard and preparing ourselves as much as we can for these games, so we feel very ready".
Just quietly, I don't think that confidence is misplaced.