New Zealand's Football Ferns came desperately close to clinching a third-placed finish at the Cyprus Cup in Nicosia on March 12, ultimately succumbing to France 6-5 on penalties after conceding a late equaliser in a match which finished 1-1.
French goalkeeper Sarah Bouhhadi was the heroine of her nation, saving Ali Riley's penalty in the shoot-out before stepping up to score the decisive strike.
With two minutes to go, a sloppy back-pass by Abby Erceg was pounced on by Elodie Thomis, who slipped Candie Herbert through. She rounded the stranded figure of Jenny Bindon to tuck home a goal which denied the Football Ferns victory over the world's eighth-ranked team.
Kirsty Yallop had put the Kiwis on course for victory in the 33rd minute with her ninth goal for the national team, a strike which catapulted her into the list of all-time top ten goalscorers for New Zealand.
Riley's cross was flicked on by Amber Hearn into the path of the surging midfielder, who still had plenty to do, with two French defenders bearing down on her. But Yallop did brilliantly, unleashing a fulminating half-volley from the edge of the penalty area which crashed into the net via the crossbar - a stunning strike.
It certainly delighted coach John Herdman, but it was the defensive lapse at the finish which left the Football Ferns' mentor fuming. "It was a needless goal, a sloppy goal, and ultimately a disappointing result. The girls are devastated right now - we should have won.
"We played France off the park for seventy minutes. The first half was embarrassing - we absolutely dominated it, and were camped in their half for a good twenty minutes.
"Emma Kete had a glorious chance in the 68th minute. But having done all the hard work, she rounded the `keeper, then put it past the post.
"We panicked a wee bit in the final twenty minutes of the match, and put Jenny Bindon under a lot of unnecessary pressure … disappointing".
There is plenty for Herdman and his charges to take pride in from their Cyprus Cup exploits, however. "A healthy serving of FIFA points will come with that result - that's our fourth draw against top-ten-ranked opponents in our last eleven matches.
"We scored in every match, took the lead in three of them, defeated a top-twenty-ranked team and exceeded our objective of a top five finish. As well, we didn't have a really world-class goal scored against us - those we conceded were a result of sloppy play.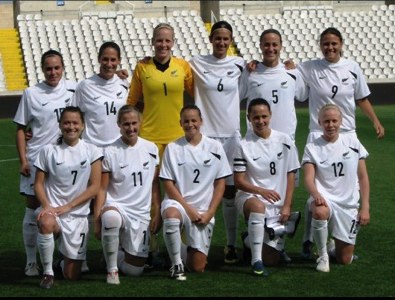 The Football Ferns' starting line-up:
Standing: Emma Kete, Marlies Oostdam, Jenny Bindon, Abby Erceg, Rebecca Smith, Amber Hearn
Kneeling: Ali Riley, Kirsty Yallop, Ria Percival, Hayley Moorwood (c), Betsy Hassett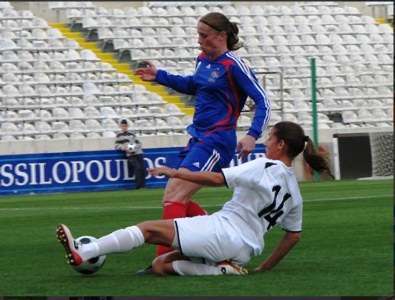 Marlies Oostdam executes her trademark sliding tackle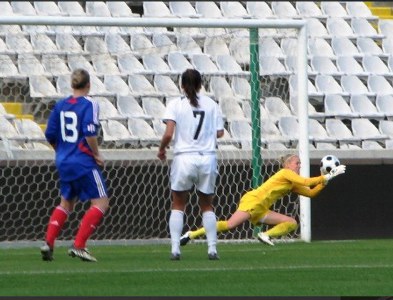 Jenny Bindon dives to to her left to save, watched by Ali Riley
All photos with thanks to Sebastian Duret / www.footofeminin.fr
"I can't pick a stand-out performer over the entire tournament right now, because they all did themselves proud. Overall, the tournament served its purpose, without a doubt".
The Football Ferns arrive in Auckland on Sunday afternoon, with the squad members looking forward to a nowadays rare uninterrupted season playing for their respective clubs in domestic competitions. The national squad will have regular get-togethers during the coming winter campaign, ahead of possible international activity later in the year.
The match which followed the Football Ferns fixture saw the Cyprus Cup change hands. Holders Canada opened the scoring in the final through Christine Sinclair, but found themselves trailing England 3-1 at half-time, a scoreline which didn't alter.
Lianne Sanderson, Kelly Smith and Fara Williams scored the goals which confirmed England's maiden honour in women's football, and brought to an end a tournament which featured two other play-offs on its final day.
Holland thumped South Africa 5-0 to claim fifth place in the tournament, striker Manon Melis leading the way with two goals to take out the tournament's Top Goalscorer award.
Sylvia Smit also struck in the first half as the Dutch headed to the dressing rooms three goals to the good, and late goals from substitutes Shanice van de Sanden and Chantal de Ridder brought up the nap hand.
Scotland, meanwhile, surprised Russia 2-1 in the wooden spoon encounter to finish in seventh spot in the eight-team tournament.
Details:
Football Ferns 1 (K. Yallop (33)), France 1 (C. Herbert (88)) HT 1-0
Shoot-out scoring:
Football Ferns: R. Smith (missed), K. Yallop, R. White, S. McLaughlin, M. Oostdam, R. Percival, A. Riley (saved)
France: C. Franco, C. Pizzala (missed), L. Diguelman, S. Soubeyrand, E. Le Sommer, S. Viguier, S. Bouhaddi
Football Ferns: Bindon; Riley, Erceg, Smith (booked, 87), Oostdam; Percival, Moorwood, Hassett (Hoyle, 90), Yallop; Hearn (McLaughlin, 86), Kete (White, 73)
France: Bouhaddi; Pizzala, Georges, Viguier, Diguelman; Franco, Soubeyrand (booked, 78), Prevost (Tonazzi, 46) (Faye Chellali, 78), Herbert, Le Sommer; Thomis
Referee: Christakis Skapoullis (Cyprus)