It's never nice losing to your arch-rivals. Ever.
Even when it's years since you last overcame them, and the odds against your reversing the trend aren't high, you're still left with a bitter taste in your mouth when the formbook prevails, and the old enemy do the damage yet again.
It's particularly hard to take when the defeat inflicted is either heavy, i.e. of record proportions, or it's undeserved.
Spare a thought, then, for the New Zealand women's soccer squad, who endured both those extremes in their recent two-match series against the Matildas in Canberra.
The SWANZ, who could take to the field in as many internationals in this calendar year alone as the seventeen they played between 1999 and 2006, undertook a week-long training camp in mid-January as their main preparation for their first fixtures of the year, but to a woman, they hadn't kicked a ball in anger since early December at the very latest.
In hindsight, that lack of game-time prior to playing the first of these encounters was a notable contributing factor to the 6-0 hiding Australia inflicted on New Zealand on February 4, the biggest scoreline recorded in the history of senior level clashes between these long-time protagonists of the women's code in the South Pacific.
Even if it had been a full-scale practice match against an U-14 boys team soon after their arrival in Canberra, such an opportunity would have allowed the SWANZ to shake out the cobwebs and get mentally match-fit again, as well as get all-comers up to speed tactically prior to crossing swords with the old foe.
Instead, they went in stone cold against a team which has already qualified for September's FIFA Women's World Cup Finals, and whose players were vying for places in Australia's squad for an Olympic qualifying tournament in Taiwan, scheduled to take place as this issue went to print.
Our West Island friends weren't slow to seize on the under-preparedness of their opponents in Canberra, and only the woodwork - on three occasions - and the offside flag prevented a defeat of double-figure proportions from being recorded.
It goes without saying that the Canberra Stadium defeat was bitterly disappointing, not only from a result perspective, but performance-wise also. "We were technically and physically overrun", declared New Zealand coach, Allan Jones, at the conclusion of his first game in charge of the national women's team.
"Player for player, the Australians were quicker and stronger all over the park, with the odd exception, those being the outstanding Abby Erceg and Ria Percival".
As the New Zealand players sat dazed and despondent after the thrashing, Matildas' mentor, Tom Sermanni, declared that the opposition shouldn't be too disheartened by the result, citing three key factors in his team's triumph.
"The first four goals were all scored from outside the penalty area -we just hit them and they went in, whereas on another day …!
"The fact we've been together as a team for two years, and have accrued a significant amount of experience in that time compared to New Zealand, who are just starting out down that path, shouldn't be ignored either. And all the players were itching to make an impression, with places in our Olympic squad at stake".
Australia's entire starting eleven from this match, plus seven of the substitutes who took the park in it - both games were played under unlimited substitution arrangements - was subsequently chosen for the Taiwan tournament, a measure of how much store they placed in a strong first-up performance against their trans-tasman rivals.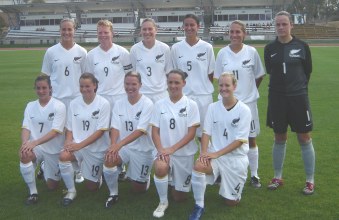 The line-up for the first game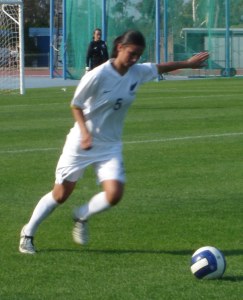 Abby Erceg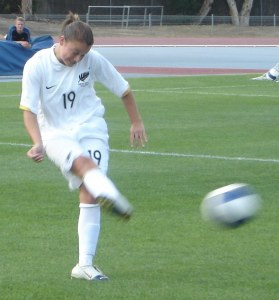 Ria Percival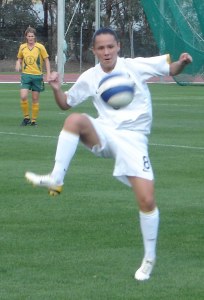 Hayley Moorwood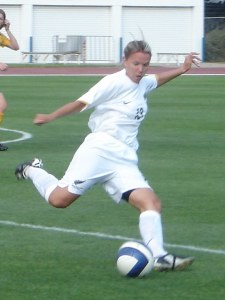 Nicky Smith
The New Zealand players certainly made an impression on Jones, although it was far from the one they had hoped! "I've learnt a lot about this current squad, and there will need to be a massive improvement if we are to progress on the world stage", was the statement which his charges were left to contemplate prior to the return encounter, forty-eight hours later on the Australian Institute of Sport's soccer pitch.
It was one the SWANZ took to heart, and their character-laden response was a statement in itself. Throw in their mental readiness for this fixture, as opposed to game one, and this was a New Zealand display of which to be proud, one worthy of a draw at the very least.
On the stroke of half-time, the width of a goal-post was all that separated Abby Erceg from scoring the SWANZ first goal on the international stage since April 2003, and from securing what would have been a well-deserved lead for a fiercely determined and uncompromising combination, who got in the faces of their arch-rivals right from the first whistle, something which the Australians did not like one iota!
So flustered did the Matildas get that Sermanni was growling at them in the second spell - a rare thing in itself, and a fair measure of how well New Zealand played.
The hosts eventually reverted to their first-choice eleven in order to overcome their hard-working rivals, the only goal of the game eleven minutes from time clinching a twelfth successive Australian win against opponents who last overcame their arch-rivals in October 1994.
Sermanni was pleased with the win and the clean sheet, but knows they were hard-earned. "New Zealand competed extremely well, and played very well. They showed a lot of energy in closing us down, kept right on top of us, and didn't allow us any time or space, maintaining that momentum for the entire ninety minutes, and consequently making it very difficult for us".
His opposite number, while chastened by the disappointment of another defeat, was decidedly pleased with the way the New Zealand squad responded.
"That performance was a massive improvement", enthused Jones. "Having not changed the tactics, we nearly won it through being prepared to contest both physically and technically - the application of the whole squad during the second game was totally different to that seen on Sunday.
"They were disappointed in coming off the pitch having not got a result. They now have to build on this performance and take confidence from it in order to get results at this level".
Looking ahead to New Zealand's next challenge - the Oceania Women's World Cup qualifying tournament, which is currently set down for Lae, Papua New Guinea, from April 9-13, Jones expects to see benefits emanating from this display.
"The biggest learning curve has been the change in attitude of the players towards what they were attempting to do. Players must not play with fear, even against teams who are historically superior to them. Hopefully by the time the qualifiers come round, that attitude will be firmly entrenched".
Erceg and Percival certainly didn't play with fear against Australia, the two seventeen-year-olds proving their country's best-performed players in both encounters. Kirsty Yallop and Marlies Oostdam stepped up to the mark in the Waitangi Day fixture, a match in which Melissa Ray suffered a knee injury which threatens to sideline her for some time.
MATCH REPORTS