CLUB RECORD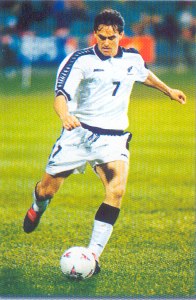 A graduate of Rongotai College, Wynton played for Wellington United, Stop Out and Miramar Rangers prior to signing a professional contract with Norwich City on October 23, 1981.
Unfortunately, work permit predicaments prevented him from playing for The Canaries' first team, so he joined FC Zurich in May 1982, prior to playing in the World Cup Finals for New Zealand, whose passage to Spain had finally been confirmed by Wynton's memorable strike against China in a play-off.
He subsequently played for FC Aarau and Grasshoppers Zurich in Switzerland, winning the Swiss Cup with the latter club in 1988-89, before he moved to Werder Bremen in July 1989.
After almost six years of success at the Bundesliga outfit, with whom he tasted domestic league and cup glory, not to mention scoring one of the goals in Werder's 2-0 defeat of AS Monaco in the 1992 European Cup-Winners Cup final, his footballing travels took him to JEF United Ichihara.
He joined the J-League outfit in February 1995, but rounded out his offshore career back in Germany, fulfilling a six-month contract at Kaiserslautern in 1997 which concluded with another championship medal, this time of the Second Division variety.
Home called, the opportunity to set up his own coaching school - WYNRS - proving too great a chance for the Pied Piper of New Zealand soccer's youngsters to resist.
At the same time, he was still well capable of playing to the standards he had come to expect of himself, and go-ahead Auckland club Central United were quick to sign Wynton up for the remainder of the 1997 season, at the end of which both club and player had their hands on the Chatham Cup for the first time.
Joined by brother Shane, Wynton took on the player-coaching duties at North Shore United the following year, and was appointed coach of the national U-16 squad as they began preparing for the 1999 Junior World Cup Finals.
Then the advent of New Zealand's first professional soccer club, Kingz FC, in 1999, saw him appointed player-coach for the newcomer's first two seasons in the Australian National Soccer League, both of which concluded with eighth place finishes.
The 2001-2 campaign saw Wynton relinquish the coaching reins, but the club, for whom he scored ten goals in forty-eight appearances, retained his services as a player. However, further changes in circumstances ultimately prompted Oceania's Player of the Twentieth Century to announce his retirement on December 12, 2001.