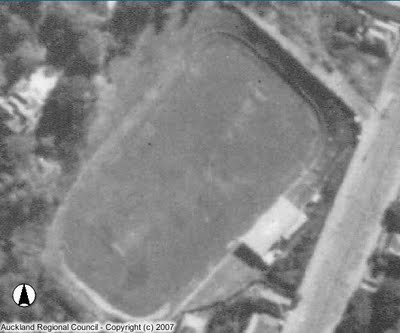 Blandford Park, the home of Auckland football between 1923 and 1964
Click the pic for some interesting background information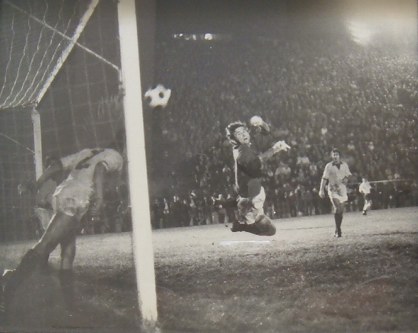 Action from the clash between Auckland and Tottenham Hotspur under the Newmarket Park floodlights on May 3, 1976. Note the massive crowd on the terraces, who witnessed an eight-goal thriller - Spurs won 5-3! Exactly three years and two months later, a large part of the ground and part of the Eastern Stand slid down into the gully below ... the ground was never used again, and is nowadays a public reserve.
The sun rises on the West Stand at Mt. Smart Stadium, the home ground for the All Whites' 1981 World Cup qualifying campaign, and numerous internationals since. Now the home of the NZ Warriors Rugby League team. There are significant plans afoot at Mt. Smart, with both Auckland Football and the Oceania Football Confderation based there.
NZ's home of football in waiting?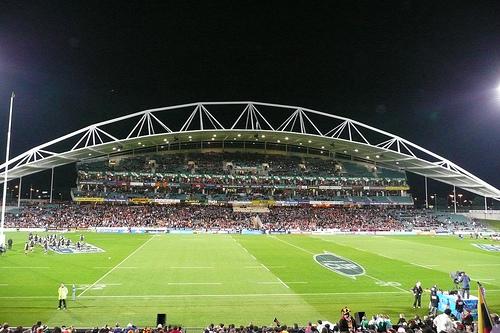 NHS, aka North Harbour Stadium, venue for both the 1999 FIFA U-17 World Cup Final and the 2008 FIFA U-17 Women's World Cup Final.
Despite what Wellingtonians would have you believe, and its rabbit warren of a carpark (not to mention, given Auckland's traffic, its awkward location for those who reside on the city side of the Harbour Bridge!), NZ Football's base is NZ's home of football, and has hosted numerous internationals and noteworthy fixtures since the 1990s.
English Park, the spiritual home of football in Christchurch for many years, and home to numerous international fixtures over time. Take a panoramic view of the ground
here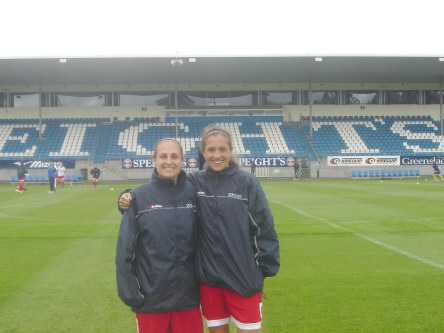 Rebecca Sowden and Zoe Thompson pose in front of the Speights Stand at Carisbrook, Dunedin's iconic venue, which in recent seasons has played host to NZFC and National Women's League fixtures, as well as its usual diet of rugby and cricket matches. In days gone by, it hosted a fair few football internationals too. A new stadium has replaced it.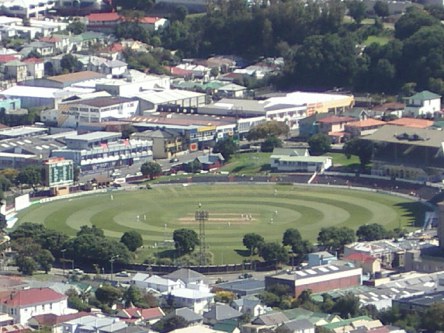 Wellington's Basin Reserve was the venue for internationals and Chatham Cup Finals galore in the days when the NZFA was based in NZ's capital. Thankfully they saw the light and moved north to the nation's most populous city!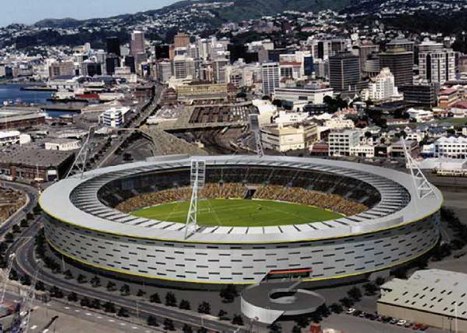 It's got plenty of nicknames, some of which aren't printable (!), but officially it's Westpac Stadium, and affectionately known as "The Caketin", the home ground of pretty much any Wellington representative sports team you'd care to mention!