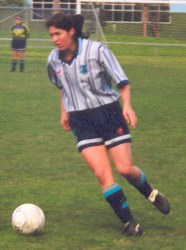 Melita Harrison is one of the more promising young players around in the womenís game, but whether she is able to truly fulfil her undoubted potential will depend on how she recovers from a potentially career-threatening knee injury, sustained at the National Womenís Soccer Tournament in 1998.
Such has been the extent of the injury that itís really knocked her career sideways in the ensuing two years, and despite numerous attempts at a comeback, the side effects have been such that she has been unable to play on a regular basis, nor to anything like her best form, ever since.
Itís a great shame, because this bubbly young lady has so much to offer the game, either as a striker or in a defensive role.
She first hit the headlines as a twelve-year-old, when she became the first goal to be selected for the North City Under-13 representative side, a squad which included the likes of Phil Porteous, Graham Greene and Jonathan Smith, players who have captured headlines in New Zealandís leading menís club competitions in recent seasons.
Starting out as a five-year-old, her ambition back in 1990 was to secure a spot for herself in the SWANZ. She has represented her country at Under-17 and Under-20 levels, scoring two goals for the latter against South Korea in 1995. But hopes of progressing further have been severely hampered by her injury.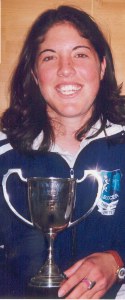 As well, she has represented Auckland and Under-17 and Under-19 level, prior to making her ďA TeamĒ debut against Wellington at the 1997 National Tournament.
Her lone goal for the provinceís senior rep. team came later that week, against Canterbury in the semi-final, while being named Aucklandís Young Player of the Year that season remains the high point of her career to date on a personal basis.
Team honours-wise, despite her injury, ďMelĒ has been able to play a part in each of Three Kingsí last two seasons, having been a virtual ever-present in the previous four campaigns for the team, during which she won all there is to win in the womenís game.
I sincerely hope Melita conquers the greatest challenge of her career to date, and makes a full recovery from her knee injury. It will give me great pleasure to see this vivacious young lady overcome the physical and mental scars which this setback has brought upon her, and successfully resume her career en route to fully realising her potential, and her ultimate ambition.