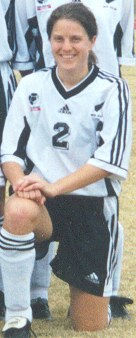 Jane Simpson's career with Eden and Three Kings United has been a somewhat chequered one, as she has tended to float between the Auckland, Waikato and, most recently, Canterbury provinces due primarily to her work commitments.
In the Waikato, she has played for the Hamilton, Claudelands Rovers and Waikato Unicol clubs, while New Brighton held her registration during the 2000 season in Christchurch. She has also played for Denmark's OB Odense, and the Arsenal and Millwall teams in England - not quite as many clubs as Tiger Woods, but ...
When she has been in Auckland, though, she has played for one club only. And whenever circumstances have prompted her to depart for southern pastures, upon her return to the Queen City, she has always been welcomed back with open arms, because as well as being a jet-heeled sweeper-cum-wing-back, she's a person about whom a bad word is rarely heard!
"Simo" came to Eden from Unicol in time for the 1990 campaign, having already claimed two National Tournament winners' medals as a member of the Waikato squad in 1988 and 1989.
The latter year saw her make her debut for the NZ U-19s in September, having been deprived of her first SWANZ caps by injury six months earlier.
She had a very long wait to endure before the opportunity finally presented itself again - eight years, no less, before she earned the first of her eleven caps to date for the SWANZ, as a substitute against Australia in November, 1997.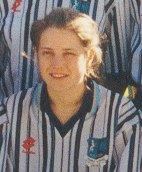 Meantime, she'd collected a few more winners' medals to add to her collection. Eden swept the board in 1991, clinching the League and Knockout Shield double, and the Champion-of-Champions trophy to boot. it certainly made up for being runners-up in both competitions in 1990, although this was a fate which befell them in 1992 as well.
She first gained selection for Auckland in 1993, and helped the "A Team" retain the crown they had relieved Waikato of in 1990, and had yet to relinquish. It was to be her final year in the province for a while, but before departing, Eden's then captain scored the first of her twelve goals for the club, in a 7-1 defeat of West Franklin United.
After a year overseas, she returned to the Waikato, for whom she appeared in the 1995 National Tournament, where fourth place was the best Waikato could do.
Her return to Auckland, and Three Kings United, in 1997, saw a distinct upturn in fortunes with regards the collection of honours. Her three years on the books of the country's champion women's team netted her a healthy pile of winners' medals, and saw her gain selection for both the SWANZ, as mentioned earlier, and, again, for the "A Team", with whom she won National Tournament honours in 1997 and 1999.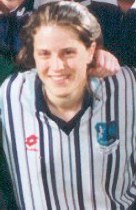 At the latter tournament, she scored her first goal for the province in a 9-0 win over NZ Universities, as the "A Team" conquered all before it - without question, one of the truly great Auckland sides in the province's twenty-eight year history, with Jane an integral part of its make-up.
A year later, "Simo" was wearing the colours of Canterbury, following her most recent job transfer, and in them, she scored the first hat-trick of her career, as Otago-Southland succumbed 15-0 to their southern rivals.
As well, in June 2000, she played in all five of New Zealand's matches at the Pacific Cup tournament in Australia, some consolation for her role as a non-playing substitute throughout the SWANZ ultimately unsuccessful bid to qualify for USA '99.
A young lady with a lovely nature, and someone who's never short of a friendly word, Jane is, without doubt, one of the most accomplished defenders in the history of Eden / Three Kings.
While not a great scorer of goals herself, she seems to save her best efforts for the big occasions - witness her strikes against Petone in the 1997 and 1998 WSANZ Knockout Cup Finals. (Clearly Wairarapa were wise to Three Kings' "secret weapon" in the 1999 final, as "Simo" was unable to complete her unusual hat-trick!)
As well, Jane has certainly played her part in the scoring of many of her team-mates' goals, with her overlapping breaks down the right flank, and ability to deliver accurate crosses at pace. It's only when she's no longer playing for a team that exactly how effective she is becomes apparent - the ultimate tribute to her footballing ability.