Jennifer Kelley arrived in New Zealand on March 27, 1999, to play for the country's leading women's soccer side, the Three Kings United Premier Women's squad, throughout the coming season.
She came to these shores having played professionally in the Premier Divisions of both the Norwegian and Swedish women's leagues, after initially graduating from the US Olympic Training Development programme.
I was a key player in arranging Jennifer's trip to New Zealand for the 1999 season, and in all my dealings with her, both in this capacity and in my work as a freelance soccer writer, in which I have come across many football-oriented people from all walks of life, I can say in all honesty that I have not come across a finer ambassador for her country.
It was both a pleasure and a privilege to be involved with such a sensible, level-headed, responsible young woman, for whom nothing was too much trouble, and from whom not a single problem emanated during her nine months with us - in short, a dream recruit.
That this was the case, given the potential difficulties which can be encountered with imported players, speaks volumes for "JK"'s willingness to adapt to her new environment. Needless to say, future foreign recruits have high standards to satisfy as a result.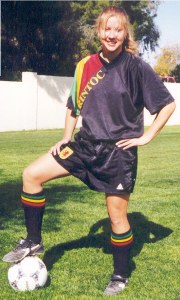 Her on-field efforts saw her named joint winner of the team's Player of the Year award, this after helping Three Kings retain both the league championship and the national knock-out cup, a six-year-old trophy which the club won for an unprecedented three straight years from 1997.
Arguably the greatest prize of all for the team was their recognition as Sport Auckland's Sports Team of the Year for 1999 - prior to this, soccer had never featured among the senior prizewinners at this prestigious annual Awards Dinner, an event held to recognise sporting excellence, and for which the organising body invites entries from all manner of sporting codes in New Zealand's biggest city.
It goes without saying that Three Kings' achievement in winning this highly regarded award is a real "feather in the cap" for soccer in this country, and women's soccer in particular. As well, it speaks volumes for the dedication and commitment to striving for excellence both on and off the field of play shown by Three Kings United's Premier Women's team, aspects in which Jennifer played an integral part.
She was also selected for the country's champion women's soccer province, Auckland, and played a leading role in their retention of the national crown, leading by example in the final with a match-winning performance as she scored both goals in a 2-1 win.
It wasn't the only instance of "Killer" Kelley rising to the occasion and scoring a crucial goal when her team most needed it, either. She struck the only goal of the game in a tense SWANZ Cup semi-final encounter with arch-rivals Lynn-Avon, and also found the target in the final of that competition, against Wairarapa United
The Auckland women's soccer fraternity, team-mates and opponents alike, was extremely disappointed when Jennifer decided to return home to further her education at the end of 1999, such was the impact she made during her time here, both on and off the field. She is sorely missed.

Jennifer Kelley is a young lady of whom I cannot speak highly enough. She is blessed with a wonderfully warm, engaging personality, is extremely diligent, and would be welcomed back here with open arms should she ever be in a position to return to these shores.
I, for one, hope that day eventuates.