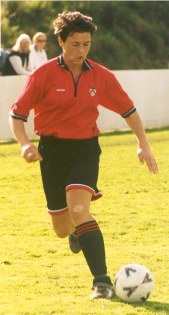 New Zealand women's soccer international Melissa Ruscoe has come a long way in the game since filling in for a friend as a six-year-old one weekend in her native Inglewood.
The Taranaki native's interest in soccer was born there and then, and she hasn't stopped playing since. Fifteen years on, and the combative defender goes into 1998 as the reigning New Zealand Player of the Year in her chosen sport.
"That was a huge thrill", remarks the attractive twenty-one-year-old. "I've stuck with soccer since I was a youngster basically because I enjoy it so much. But never in my wildest dreams did I think that I'd go on to represent my country or gain an individual honour as prestigious as this one".
Because the structure of soccer is such that girls can play alongside boys until they become teenagers, Ruscoe spent many a Saturday morning in Taranaki learning about the game as she played under the watchful eye of her first coach, Jocelyn Taylor - "a friend of Mum's" - and Jimmy Aitken, a dog ranger.
Come her teenage years, and the subsequent switch to playing alongside fellow female footballers, she lined up in the colours of New Plymouth Old Boys, who later became known as New Plymouth Rangers. Lex Casperson oversaw her development in the game during this time, until the end of 1994.
"I finished my schooling, and in order to qualify as a Physical Education teacher, I had to move on. I'll finish my course at Waikato University in two years time, and will then look to go overseas - I'm half Dutch, and have many relatives in The Netherlands".
Football-wise, Melissa's move to Waikato saw her link up with Waikato Unicol. In her first season, she was a member of the SWANZ Cup winning side, coached by former national goalkeeper Anne Smith. Also by this time, she had made her debut for the national team alongside the player she most admires, Maureen Jacobson.
Now with nine caps to her name, the lady they call "Fraggle" - because of her rock-like dependency in defence - does not disguise her ambitions. "I want to make the squad for the forthcoming World Cup qualifiers, and help New Zealand make it to the USA for the finals next year. In order to qualify for the Sydney 2000 Olympics, we need to finish in the top seven at the World Cup Finals, so there is plenty to play for in the next two to three years".
As you would expect, Ruscoe is confident that New Zealand can achieve these goals. "We can take a great deal of confidence from the games against Australia and China late last year, particularly given the all-too-brief preparation time we had prior to the tri-series. When the Australians come across to our side of the Tasman in October, rest assured we'll definitely be a match for them".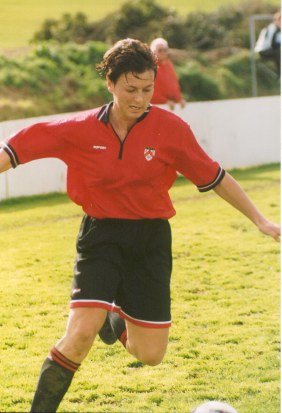 To help guarantee success in the immediate and long-term future for women's soccer in New Zealand, Melissa is well aware of what's required. "The game needs to have a higher profile in this country, particularly in schools. Look at women's cricket, for instance. The Hillary Commission have employed a process to build up the profile for that sport to such an extent that their recent achievements in the Women's World Cup were well received here, even getting television coverage".
"A key factor in that success was sponsorship, and the guarantee of funding that comes with it. Not only would achieving a similar arrangement be of benefit to our current World Cup and Olympic plans, but it would help in the development of young players for future campaigns".
"Because we are hosting the qualifying tournament in Auckland in October, we have a tremendous opportunity to really put the sport of women's soccer on the map in this country. There's plenty of interest in women's soccer - we need to keep spoon-feeding that interest to the general public, and the upcoming qualifiers can be the big turning point in helping the sport get that higher profile".
Outside of soccer, Ruscoe keeps fit through playing touch rugby, basketball and squash. Being away from home, family get-togethers are very important to her, while reading and cooking - "Chicken pasta is my favourite dish, but I specialise in lasagna" - are favourite pastimes.
But uppermost in Melissa's mind this year is achieving a goal shared by all the members of the national women's soccer team - next stop USA!! Sure is a far cry from those Saturday morning soccer matches in Inglewood!