I'm now entering my twentieth year of football writing since first putting pen to paper to report on the deeds of Michele Cox, Monique Van de Elzen and the 1991 Eden women's team.
In that time, my contributions to the game have resulted in my collecting the Club Magazine of the Year award three times, in 1996 (Eden), 1999 (Metro) and 2000 (Three Kings United Premier Women), and a special award for Services to Women's Soccer in 2000.
To say I was completely unprepared for what eventuated at the NZ Soccer & NZ Soccer Media Association's Annual Awards Dinner on July 20, 2002, is an understatement!
Retiring NZSMA Chairman, Trevor Rowse, advised me afterwards that in the then 33-year history of the Association, none of its members had ever won three awards on the one evening ... and it took a good twenty-four hours for the feat to sink in, believe me!!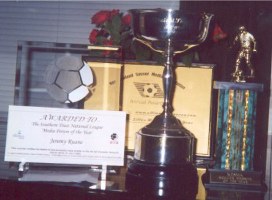 "The Third Treble" - to go with LFC's treble successes I enjoyed in 1984 & 2001
((l to r) NZS Southern Trust National League Media Person of the Year; NZSMA Straight Shooter Award; NZSMA Soccer Website of the Year (& certificate))

To win the two awards I'd been nominated for, the NZSMA Soccer Website of the Year (for this site) and NZ Soccer's Media Person of the Year, was extremely satisfying yet humbling, but it was the first award which left me completely stunned and stumbling for words.
The Vic Deverill Memorial Cup, aka the Straight-Shooter Award, is awarded to the member of the NZ Soccer Media Association chosen as the person who does something significant for the game in the season.
I don't think I'll ever forget sliding down in my seat, putting my hand to my face and quietly groaning "Oh no!" as soon as Trevor mentioned women's soccer!!
Of course, at times like that, you can never thank all the people you want to, due primarily to the fact you can't remember specific details because you're still taking on board what's going on!!
Suffice to say, my stumbling effort will never begin to compare with the acceptance speech made by the incomparable John Cleese, when receiving a BAFTA award for his film, "A Fish Called Wanda".
I'm sure you'll recall the one - the planet Saturn, and all of its rings, amongst other things and people, was acknowledged in an acceptance speech which was written on the back of a postage stamp and reeled off in totally deadpan manner. Absolutely priceless!!
It goes without saying that, in light of feeling like I'd won the League, the FA Cup and the European Cup with this personal treble, I can't let the opportunity pass without paying due homage to the ongoing influence and inspiration of
the ultimate purveyors of the beautiful game
... to the unintiated,
L.F.C.
!! (And to ManUre fans, the only English club to win two trebles!!)
Two special friends deserve special mention, however. Thanks very much, Mum and Dad. And, too, God, the source of all our talents, though some may not appreciate, believe, welcome or acknowledge His influence in our lives.
The players, the coaching staff and the clubs are the chief beneficiaries of my talents - what I do for the game, I do for them.
I'm not interested in the politics and bally-hoo that goes on behind the scenes, because those at the heart of such tripe are, more often than not, self-serving sycophants who don't have soccer's best interests at heart, and who would far rather improve their own lot at the game's expense, rather than fully satisfy the criteria of the position they occupy - improve soccer's lot.
Meanwhile, at the coalface of the game, the players, coaching staff and clubs are the ones whose efforts in senior level action each Saturday and Sunday are deserving of acknowledgement in some way, shape or form, so via a combination of three websites and my twice-weekly columns in the Central Leader, I endeavour to provide these folk with an outlet which recognises said efforts.
On most weekends in the winter until the end of the 2005 season, I attended and reported on at least three games per weekend, a figure which rose to five games in days gone by, when the schedules saw games played on Friday night, Saturday afternoon, Saturday night, Sunday morning and Sunday afternoon ... lovely jubbly!! Those were the days!
Unfortunately, a health-related change in circumstances on the home front has prompted a significant change to my attendance at matches since the end of the 2005 winter campaign.
It meant I effectively had to make a choice between providing live coverage of the men's game or of the women's game ... let's just say it would be nice if all choices were this easy!!
While I will continue to cover the odd men's match "live", and will still be providing my round reviews for the various men's competitions, my top priority where providing coverage of New Zealand soccer is concerned for the foreseeable future will see the girls continue to enjoy the "deluxe" package, i.e. match reports, photos, profiles, reviews, etc..
For mine, it's due reward for their efforts and dedication towards being the best they can be, the fact that when they take to the field, they play to win - not to lose (men's football in general, please take note!!), and the fact that on the world stage, they don't under-achieve - witness the efforts of the NZ squad at the FIFA U20 Women's World Cup Finals in 2006.
Also, as can be said of clubs such as Central United, Lynn-Avon United, Onehunga Sports, Three Kings United and University-Mt. Wellington, plus a number of individuals dotted around other clubs in the northern region, the girls are greatly appreciative of what's done for them, because they are very conscious of what the alternative is re coverage of their sport - next to nothing!
That, for mine, is simply not an option where the women's game in particular is concerned, so you're stuck with me for a fair while yet, cherubs!!
I've ploughed approximately $120,000 into the economy since 1991, simply to ensure the girls enjoy a degree of recognition in the media which they wouldn't otherwise enjoy.
Given my work commitments were of a part-time nature between June 2001 and September 2007, to accommodate the sheer volume of my football work, that is a far from insignificant sum, and that's without taking into account any expenditure to cover the men's game.
In light of this, any donations towards the cause of furthering the coverage afforded the women's game in particular would be most welcome - feel free to
contact me
for further info.
Jeremy Ruane, 29/12/09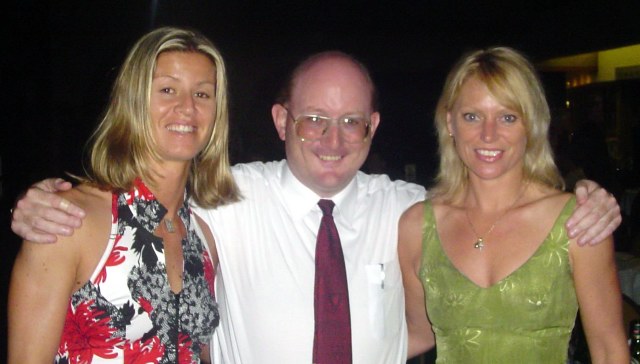 Two absolute diamond dames and the guy they inspire,
pictured at the 2003 Sport Auckland Sports Awards ...
Maia Jackman and Michele Cox - the two people I most admire in New Zealand soccer, and who are primarily responsible for inspiring me to continue doing what I do for the game in this country.
Words cannot express how much I appreciate, admire and respect their efforts, dedication and commitment, and how grateful I am for the help and encouragement they've both given me, and the inspiration they've been to me, to date.
That admiration extends beyond the boundaries of sport, for as well as being outstanding soccer players and role models for the game, they set such fine examples as people - if there were more folk around like Maia and Michele, the world would be a far better place, of that I'm certain.
I don't apologise for singing their praises, either. I don't mind admitting I'm damn proud of the pair of them - I think that's fairly evident in the photo!
But first and foremost, they are two of my very best, most loved and much-trusted friends, and the inspiration they give me to do what I do ensures them of a special place in my life, which would be all the poorer without their immense contribution to it, make no mistake.

and pictured below are my other "Angels", both past and present, whose
silky skills and outstanding footballing ability have helped make the task
of doing justice to their brilliance, by way of the written word,
quite a challenge, but one which gives me great pleasure!
Monique

Van de Elzen

Jennifer

Kelley

Simone

Ferrara

Pernille

Andersen

Rebecca

Smith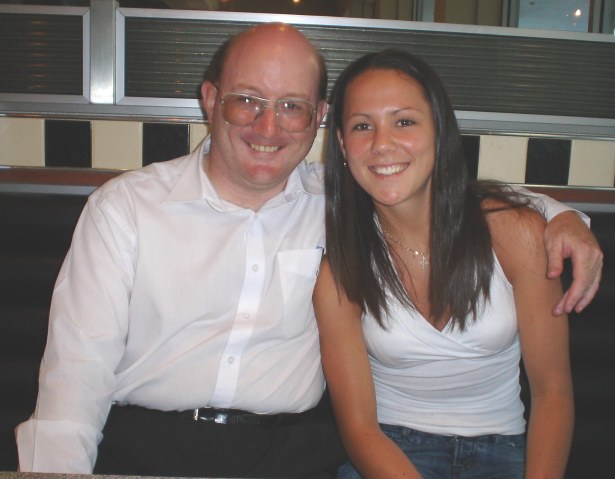 Hayley Moorwood (pictured with her birthday buddy!!)

Besides the "Angels", there are quite a few highly talented female footballers whose eye-catching efforts on Sunday afternoons, ranging from moments of magic through to never-say-die endeavour, make covering the women's game as enjoyable a task as it is. Some (not all) of my Northern Premier Women's League favourites feature in the pictures below.
| | | |
| --- | --- | --- |
| Melissa Ray | Rebecca Simpson | Kirsty Yallop |
| Zoe Thompson | Petria Rennie | Kimberley Lewis |
| Rachel Doody | Hannah Rishworth | Sarah Gibbs |
| Sam Selwyn | Mary-Lou Hendriks | Rebecca Sowden |
| Grace Vincent | Jen Carlisle | Ria Percival |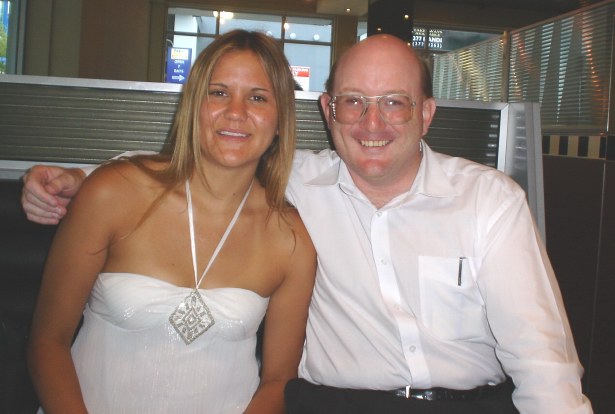 Amber Hearn (she's the only good-looking subject in this photo!!)