New Zealand's Football Ferns begin the next phase of their preparations for the 2012 Olympic Games this week when they contest the annual Cyprus Women's Cup tournament in the Mediterranean island resort.
Northern Ireland, South Africa, the Korea Republic and yet-to-be-specified opponents are on the agenda for the Oceania champions over the course of the next ten days, as coach Tony Readings and his backroom team look to fine-tune aspects of the team's game with the big event in mind.
New Zealand's most recent performances, of course, have made the world's women's football community sit up and pay attention. A narrow 2-1 loss to the USA earlier this month, followed by a scoreless draw in a behind-closed-doors friendly two days later, are not the sort of results which the reigning Olympic champions record are expected to record against a team ranked over twenty places below them.
"We exceeded our own expectations, to be honest", admitted Football Ferns coach, Tony Readings, prior to departing for Cyprus. "We felt as a group that it might take a bit longer to get that level of cohesion in our game, particularly as we hadn't been together for so long, so to achieve it after just two days and four training sessions …
"The USA game was always going to be a massive learning curve, but those results have given us massive belief going forward. Our task now is to add to what we did in America.
"There are things in our game, particularly on the attacking side of things, which we're looking to improve pre-Olympics. Every time we set foot on the pitch needs to be another step forward towards what we can achieve at London 2012".
Following those USA displays won't be easy. The Football Ferns have set themselves a demanding benchmark with those results, which, in its own way, is excellent - having matched the world's best stride for stride for almost two entire matches, they'll demand such performances of themselves every time from now on, which doesn't bode well for Northern Ireland, South Africa and the Korea Republic.
Those teams make up the Football Ferns' group at this year's Cyprus Cup, a combination which excites Readings. "Different opposition provides a greater challenge, and these three teams are new to us at this level.
"We don't know a lot about South Africa in particular, while the Koreans could be a bit of a surprise factor given they've got a new coach and a number of new players in their squad as they look ahead to the next Women's World Cup, having missed out on qualifying for the Olympics".
The Irish are first up for the Football Ferns, at 4.30am on February 29, NZ time. Then it's the turn of the African contenders two days later at the same time. The clash with Korea takes place at 1.30am NZ time on Monday, March 5, with their final match against a team from one of the other two groups taking place on March 7, NZ time.
This will be the first time that the bulk of the Football Ferns squad won't have to travel too far to get to Cyprus, given most of the players chosen are based in Europe. That situation presents Readings with hitherto unknown challenges for a NZ women's coach, given the opportunities to work with our foreign-based players are now much more limited.
"There are challenges, certainly, but there are also
| | | | |
| --- | --- | --- | --- |
| Player | Club | App | Gls |
| Rebecca Smith (c) | VfL Wolfsburg | 59 | 3 |
| Jenny Bindon | Hibiscus Coast | 61 | 0 |
| Katie Bowen | Glenfield Rovers | 6 | 0 |
| Abby Erceg | Adelaide United | 63 | 4 |
| Anna Green | Lokomotiv Leipzig | 42 | 5 |
| Sarah Gregorius | SC Bad Neuenahr | 18 | 9 |
| Betsy Hassett | UC Berkeley | 28 | 3 |
| Amber Hearn | USV Jena | 50 | 23 |
| Kristy Hill | Three Kings United | 17 | 0 |
| Katie Hoyle | SC Bad Neuenahr | 52 | 1 |
| Emma Kete | Canberra United | 42 | 3 |
| Annalie Longo | Three Kings United | 33 | 0 |
| Hayley Moorwood | Chelsea | 70 | 7 |
| Holly Patterson | Claudelands Rovers | 0 | 0 |
| Ria Percival | FFC Frankfurt | 60 | 7 |
| Ali Riley | unattached | 53 | 1 |
| Rebecca Rolls | Metro | 11 | 0 |
| Rosie White | UC Los Angeles | 31 | 7 |
| Hannah Wilkinson | Glenfield Rovers | 25 | 10 |
| Kirsty Yallop | Vittsjo GIK | 51 | 11 |
| | | | |
| Tony Readings | Coach | | |
| Gordon Forrest | Assistant Coach | | |
| Dave Self | Goalkeeping Coach | | |
| Julie Hogg | Manager | | |
| Jen Sayer | Physiotherapist | | |
| Brad Conza | Sports Science | | |
| Gary Connell | Technical Analyst | | |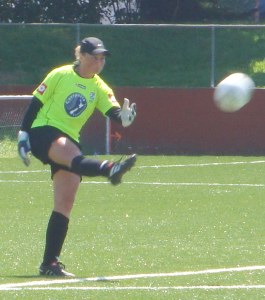 Rebecca Rolls
advantages. One challenge is that we've only got one training session together as a full squad prior to our first game! That's because with Frauen Bundesliga action scheduled on the weekend prior to the tournament, half-a-dozen players won't be able to head to Cyprus until Monday morning!
"It's in such circumstances that the work we've done over the last five or so years now stands us in good stead. In addition to that, on the technical and tactical side of things, the girls are a lot more astute now thanks to the things they've learnt and applied to their individual games while overseas".
There is another challenge facing Readings - selecting a final squad of eighteen for the Olympics, qualification pending, of course. In days not so long gone, the starting eleven for the Football Ferns just about picked itself.
Such has been the growth of the women's game in New Zealand, however, and, in particular, the progress made by numerous young starlets thanks in part to the opportunities which have opened up for NZ women's football in recent years as a result of the numerous age-grade achievements on the world stage, that the competition for places is now immense for every position on the park - as it should be.
Needless to say, Readings has certain expectations of his charges ahead of the Cyprus Cup. "We've agreed as a group that when we play, we need eleven players on the pitch who are going out to win matches. In the past, as we've grown to where we are as a team, the mentality has been to not lose, and to stay in the game.
"Now, we're about playing to win. Which means we want players who are going to do that little something special, who are going to show that little bit of individual flair, who are willing to take a risk in an effort to decide the contest in our favour".
It's fair to say that the squad named for the Cyprus Cup is very well equipped in this regard. There are three changes made to that which toured the USA earlier this month, with Emma Kete and Katie Bowen returning from injury.
The other change is one straight out of left field, with Junior Ferns custodian Erin Nayler making way for a player who is no stranger to representing her country, although you have to go back to 1996 to find the last time Rebecca Rolls did so wearing goalkeeping gloves, as opposed to the wicket-keeping gloves with which she has become synonymous in more recent years.
Her performances for Auckland during the ASB National Women's Youth League proved she still has the ability and sharpness required at the highest level, however, and a tournament such as the Cyprus Cup offers Readings the perfect opportunity to consider another option for the number one jersey with the Olympics on the horizon.
Unlike at their previous Cyprus Cup tournaments, the Football Ferns will be based at Paralimni this time round, and all three group matches will take place at the Ayia Napa Municipal Stadium.
The other Cyprus Cup groups comprise:
Group A: England, Finland, France, Switzerland
Group B: Canada, Holland, Italy, Scotland
The Algarve Cup is also taking place during the coming week. The groups competing for that honour in Portugal comprise:
Group A: China, Germany, Iceland, Sweden
Group B: Denmark, Japan, Norway, USA
Group C: Eire, Hungary, Portugal, Wales