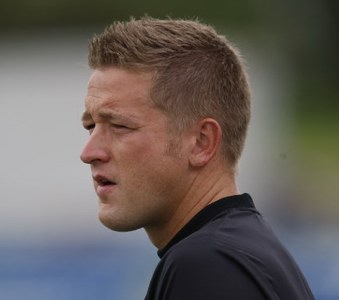 Tony Readings (photo courtesy OFC)
Football Ferns coach Tony Readings was rightly proud of his charges' performance after they suffered a narrow 2-1 loss to the USA in Frisco, Texas, where the home team scored twice in the last five minutes to avoid a shock defeat.
It was Readings' first game in charge of the squad following his appointment last September, and one he won't forget for many reasons.
"As a coaching debut at this level, it was very eventful! But I'm very very proud of the girls. A result would have been good, but the performance was what we were after, and given we've only had four training sessions together, we certainly delivered on that score. We were a bit nervous going out there, but played some really good football, especially in the second half.
"It's been a good few days for us to be together again as a group. But this result is the result of the work which has been taking place over the past five-odd years to get the team to where it's at today. Now it's down to fine-tuning, putting in those little increases in percentages here and there which will have us primed going into the Olympics".
Readings was pleased with the efforts of three players in particular. "Hannah Wilkinson is growing as a player with every match. She was up against 250-cap Christie Rampone today, a player with ten times Hannah's experience.
"Ali Riley was excellent - really, really good, particularly in containing Heather O'Reilly, while Ria Percival also had a fine game in and out of possession".
The outcome of the match hinged on the USA's equaliser, which can most kindly be described as dubious. "I don't know how the lineswoman could give it. The players were absolutely convinced the ball hadn't crossed the line".
Scorer Alex Morgan, talking to Reuters, naturally had a different view on proceedings. "I saw `Pinoe taking it down. She's great with crossing, so I tried to get to the back post. My heading isn't fully where I want it to be right now, but I think it crossed the line and I think the referee saw that, so we were thankful for that and I think that motivated us to get another goal.
"It was a great ending. I think that we really pushed to the end, to the final whistle", said Morgan, who has four goals in her last two games. "We didn't want to come away with a loss, especially on home turf, so we definitely played it out to the end. Thank goodness we won".
One thing on which both the match-winner and the beaten coach were in full agreement upon was the temperature. "It was freezing out there and I think that we weren't possessing as much as we usually do", Morgan said. "We were giving the ball away way too much and it could have been some factor, but we were switching up the formation, so that could have been a factor, switching to 4-4-2".
"It was pretty cold, that's for sure", said Readings, "but the crowd - the biggest home crowd the USA have had for eight years, apparently - was pretty loud, and in those last ten minutes they helped make a difference, giving the USA an extra leg when they needed it. We came close".
But not quite close enough, although it did enable the Football Ferns to experience at first hand a key aspect of the make-up of the reigning Olympic champions, one to which they aspire.
"Today was a classic United States win", explains Abby Wambach. "It kind of shows the fighting spirit that this team has, and that's something that we are really proud of and something that we're going to continue to embrace".
After a behind-closed-doors clash with Team USA on February 13, the Football Ferns return home for a camp before heading to the Cyprus Cup, where group matches against Northern Ireland, South Africa and Korea Republic will be followed by a placement match.
Another brief interlude follows before they gather again for the two-legged Oceania Olympic qualifying play-off against opponents who will be revealed following the completion of the qualification tournament in Tonga during March.