The world's top-ranked women's team welcomes the Football Ferns to Frisco, Texas, at 10am on Sunday morning, NZ time, Team USA's latest match in an intensive pre-Olympics programme.
This will be their sixth match of 2012, the first five games played having earned them qualification for London 2012 as CONCACAF champions. And after hosting the Football Ferns, they'll make their annual excursion to the Algarve Cup - which they've won for the past two years - before heading to Japan to take on the host nation and Brazil in a mouth-watering Kirin Challenge Cup tri-series at the start of April.
How starkly that schedule contrasts with that of the Football Ferns, for whom this game is the first of ten they hope to play prior to London 2012 - providing they qualify for the Olympics, of course, a situation which, while highly likely in reality, should never be taken for granted.
You can rest assured that captain Rebecca Smith won't be allowing her team-mates to treat their still-to-be-determined Olympic qualifying rivals lightly when the time comes to focus on confirming their status as the foremost women's footballing nation in Oceania.
Indeed, that two-legged home-and-away affair will be approached in much the same manner as this match against the beaten FIFA Women's World Cup finalists - with relish!
The Football Ferns will need more than that to impress against the USA, however. It has been an unwelcome feature of recent Football Ferns campaigns that they've tended to struggle in their first game following a spell of inactivity - witness China at the 2009 Four Nations Cup tournament (a 6-0 loss), the back-to-back 3-0 home losses to Australia a year later, and in 2011, a 4-1 Cyprus Cup mauling by Holland.
It's a sobering reality check to take on board when heading into a clash with a match-fit team who humbled their Kiwi rivals 4-0 when they last clashed at the 2008 Olympics in Shenyang, and recorded the same scoreline in their latest match when humbling Canada to retain their CONCACAF Olympic qualifying crown.
Smith knows full well this will be a challenging clash for her team, but one they are eagerly looking forward to for a variety of reasons, not the least of which is the fact the team is together again, and at the start of an Olympics year to boot.
"The US has been consistently in camp, as most national teams have been, since the World Cup last year, so there are no big pauses or breaks in their programme. This is one disadvantage that we have coming into this match, having not seen each other as a group since our final game in Germany, against Mexico on July 5.
"However, we have seen, since the World Cup, more players having gone abroad - I'm now one of six Football Ferns playing in Germany's Frauen Bundesliga, for instance. Sarah Gregorius, Amber Hearn, Katie Hoyle, Ria Percival and now Anna Green have secured opportunities here since Germany 2011.
"Their respective moves to Germany can only have helped their individual development. Ditto Hayley Moorwood at Chelsea, Kirsty Yallop at Vittsjo in Sweden, and Abby Erceg at Adelaide United - she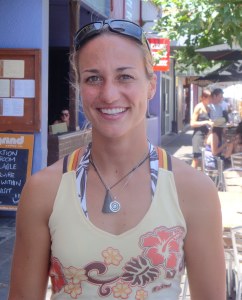 Football Ferns captain Rebecca Smith
| | | | |
| --- | --- | --- | --- |
| Player | Club | App | Gls |
| Rebecca Smith (c) | VfL Wolfsburg | 58 | 3 |
| Jenny Bindon | Hibiscus Coast | 60 | 0 |
| Abby Erceg | Adelaide United | 62 | 4 |
| Anna Green | Lokomotiv Leipzig | 42 | 5 |
| Sarah Gregorius | SC Bad Neuenahr | 17 | 9 |
| Betsy Hassett | UC Berkeley | 27 | 3 |
| Amber Hearn | USV Jena | 49 | 23 |
| Kristy Hill | Three Kings United | 17 | 0 |
| Katie Hoyle | SC Bad Neuenahr | 51 | 1 |
| Annalie Longo | Three Kings United | 33 | 0 |
| Hayley Moorwood | Chelsea | 69 | 7 |
| Erin Nayler | Eastern Suburbs | 0 | 0 |
| Holly Patterson | Claudelands Rovers | 0 | 0 |
| Ria Percival | FFC Frankfurt | 59 | 7 |
| Ali Riley | unattached | 52 | 1 |
| Rosie White | UC Los Angeles | 30 | 7 |
| Hannah Wilkinson | Glenfield Rovers | 24 | 9 |
| Kirsty Yallop | Vittsjo GIK | 50 | 11 |
| | | | |
| Tony Readings | Coach | | |
| Gordon Forrest | Assistant Coach | | |
| Julie Hogg | Manager | | |
| Jen Sayer | Physiotherapist | | |
| Brad Conza | Sports Science | | |

and "Greenie" were team-mates there.
"So this US tour will be the first step in bringing together all the increased personal talent that we have accumulated over the last few months and utilising it to our biggest strength, which is working as one solid unit".
That sense of unity and collective purpose is something which the Football Ferns will take into this match, and their subsequent fixtures - four games at the Cyprus Cup at the end of the month, for instance, followed by the Olympic play-offs at the end of March.
This match, then, shouldn't be looked at as a one-off encounter, but with the "big picture" in mind, this game being the first in a programme which is designed to have the Football Ferns peaking at London 2012.
That's not to say New Zealand's finest female footballers won't be approaching their first fixture of the year in the desired manner. How strong a message would an away win, or even a draw, send to the women's footballing fraternity who are anticipating a routine romp for Carli Lloyd and company on Sunday morning?
Upsetting the formbook would be a stunning achievement for the Football Ferns, a team which has been hammering away at that glass ceiling which separates them from the game's great and good for well over a year now, coming desperately close to but not quite achieving - yet! - that breakthrough result which will make all their efforts and objectives come to fruition almost overnight.
It will come - it's a question of when, not if. In the interim, Smith and company will satisfy themselves with a serious catch-up session or three as part of their preparations for their first game of the year.
"I'm really excited to see all the girls again and hear about all their football careers in the last months, and to have our first camp under our new head coach, Tony Readings", says Vfl Wolfsburg's defensive lynchpin.
"I believe he'll do a fabulous job with us on our road to the London Olympics this year. It's an exciting year, and we'll be looking to get as much as possible out of not just this game, but every opportunity we have together!"
The Football Ferns' squad is laden with experience. Most capped player Hayley Moorwood is set to make her seventieth appearance for her country on the eve of her 28th birthday, while Amber Hearn is poised to clock up her fiftieth "A" international in a match which presents Erin Nayler and Holly Patterson with the chance to earn their first caps for their country at senior level.
Coach Tony Readings takes charge of the squad for the first time, having stepped up from the assistant's role following the departure of his predecessor, John Herdman, last September.
The temptation of overseeing Canada's programme heading into the 2015 FIFA Women's World Cup Finals - an event they will host - proved a highly attractive alternative to the Football Ferns' former mentor, who was in charge of New Zealand's women's programme for the best part of five years and has certainly left behind a legacy of which we can all be proud.