It's never easy being the coach of a national team in World Cup year, particularly around the time when all the individual efforts and performances over the course of the campaign have to be considered, and you have to come up with the right mix of players in whom you have complete confidence re their ability to do the job which you expect of them, and which the nation demands of them.
Naturally, the combination you come up with will be agreed with by some, but more often than not subjected to criticism by most, very few of whom are privy to all the ideals and considerations which you've had to take into account over the course of the campaign.
The degree of an individual's commitment, for instance. Were they prepared to down tools and come running, thinking nothing of putting aside personal desires when their country came a-calling?
Were they fighting fit? A late developer? A bad egg? Many's the squad which has suffered on the park because all is not sweetness and light harmony-wise off it, of course. And what about a lone wolf - shy and retiring off the park, the opposition's worst nightmare on it?
How do you go about embracing that talent, if you choose to do so at all, the latter option having been taken by one or two previous NZ women's coaches, to the national team's ultimate detriment, it must be said.
All these sorts of thoughts and questions have been occupying the minds of John Herdman and his Football Ferns staff in recent weeks, as the day drew ever nearer for the announcement of the New Zealand squad to contest the FIFA Women's World Cup Finals.
The day arrived, and the squad was announced, but the days immediately prior entailed phone calls to each of the players advising them of the good or bad news, and the reasons why if the latter option was called for. And as Herdman explains, some of them were tough choices.
"Not as tough as I had in 2007, when I didn't really know the players", he acknowledges, "but there are always some tough choices around emotion, and what people have invested over the last few years to commit to a World Cup cycle.
"But that's part of the job - you've got to make tough calls and some people are happy and some people are pretty devastated. Hopefully those who are devastated come back fighting".
One of those whose hopes of playing in her first senior level Women's World Cup Finals remain just hopes for now is Hannah Wall (below), whose name has regularly featured in New Zealand squads of recent vintage at all levels.
But not too often on the park. This year, for instance, she played the first twenty minutes in the Cyprus Cup before picking up an injury, then played the first half of the first of the matches against Australia, the last of her eleven caps to date. Herdman takes up the story behind her circumstances.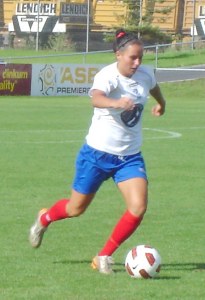 "Hannah's had a tough year, both with injury and illness, and she's never really been 100% - she's well aware of that. So I think the call to Hannah wasn't as hard as it might have been.
"You've got to be mentally and physically ready for these World Cups. You can't be going in there not at your best. No other team in the world takes players in there not at their best, unless they're absolutely the best player in the team.
"The challenge for Hannah is just getting herself fit, ready and injury-free, and she'll come back fighting for the Olympics - no doubt".
From one young star to have missed out to two youngsters for whom Germany 2011 is a big opportunity, one which talented teenagers Katie Bowen and uncapped goalkeeper Erin Nayler are keen to take.
"It is a big opportunity for these girls, as they've staked a claim pretty late", says the Football Ferns' coach. "We still need to learn a bit more about them as players, but certainly in Australia, Katie Bowen showed a real maturity putting on the shirt.
"She took the responsibility well, and was one of the stand-out players in our first game against Australia. We gave some opportunities to players in a game which we lost 3-0, but she was one of those players who, it's safe to say, wore the shirt with real pride and dignity".
For some, this writer included, the omission of Olivia Chance (below), who was recently crowned NZ International Young Player of the Year for 2010, came as quite a surprise.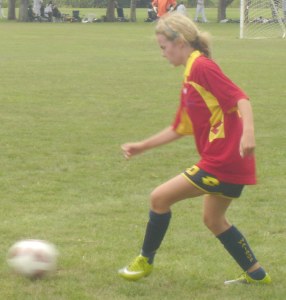 Recognition of that magnitude usually goes hand-in-hand with a call to higher honours. As Herdman emphasises, it will do so in spades for the wing wizard of Waikato women's football in the future, just not on this occasion.
"It wasn't necessarily a big call. The girl's only seventeen, and she's still quite young physically. With a couple more years in the programme, she'll be a world-class player - I've got no doubt in that.
"She's got something that I've not seen before in some of our female players, and that's an ability to run at players and dribble. But when you play a formation and a system that doesn't operate with out-and-out wide players, and you're asking wide players to play in central areas, it just doesn't fit, and I think that was the challenge for Liv".
Two starts during the Cyprus Cup, and substitute appearances both there and in Australia, confirmed Herdman's beliefs that Chance was "a tidy player for the future, and she's got a massive future ahead of her.
"We worked on trying to give her that opportunity during those tours this year, but if she'd have had more time she'd have fitted into the team - she's a clever player. From what I've seen, she'll bounce back from this.
"I think for Liv, she felt she was quite lucky to be part of the Ferns as a seventeen-year-old. She's one of those players that really showed a respect when she was given the opportunity. I can see her bouncing back and fighting her way back in for the Olympic Games".
Someone who's bounced back and fought her way into contention for Germany 2011 is Chance's club-mate at Claudelands Rovers, Sarah McLaughlin (right), a player who would probably have slipped under the radar of many who indulged in a spot of World Cup squad selecting prior to the announcement.
"'Macca' came into our programme late", recalls Herdman, "after the Cyprus Cup, in fact. She gave us a speech that she wanted to do what she had to do (to make the squad) and she has, to be fair to her.
"Physically, she's not quite where she needs to be, going into a World Cup, and because of that she'll play a part that physically she'll be able to, and that's as a solid impact player. If she'd been in the programme and committed to it a bit earlier she might have had a bigger role to play, but not at this stage".
That said, McLaughlin is well capable of wreaking havoc and changing the course of a game inside twenty minutes, and it's that X-factor which she brings to the squad which Herdman is keen to use for the Football Ferns' benefit.
"What Sarah does offer, and she showed it again when she was given an opportunity on our last tour, is that when she gets five or ten minutes she always looks like she's going to make something happen.
"She can live on the ball, and she's physically strong enough to cope at this level. She's one of those players who, if you're 1-0 down and chasing the game, and you want someone who can score from twenty or thirty yards, she's capable. She's quite single-minded when she's out there.
"I remember sticking her on in a match during the 2009 Cyprus Cup. She was only on ten minutes and she'd hit the crossbar from thirty yards, and fired another one from twenty yards which forced the 'keeper to tip round the post. That's the sort of player you need to have in your arsenal, someone who can impact on the game".
And she may well be needed, as Japan, England and Mexico will be no pushovers, something Herdman knows only too well, given the Football Ferns have faced all three of their group rivals since November 2009.
"It's a hell of a group. I think when we first saw the draw we were pretty excited. Now we've seen some of the results from Mexico and England and gone, 'Wow! This could be trouble!'
"I think people looked and thought this could be a good draw for New Zealand, but just on recent form, these teams are starting to peak, and pull off results you wouldn't have seen a couple of years ago. England's 2-0 win over Sweden, for instance, backed up a 2-1 win against the USA. And Mexico's 2-1 triumph over the USA in the CONCACAF Gold Cup, a big competition - you go 'Wow!', you know".
The USA gained revenge for that defeat recently, but only thanks to a stoppage time winner against a team which, Herdman considers, share many of the Football Ferns' traits.
"They're pretty solid, they're robust, the Mexicans. They remind us of the New Zealand team. They're die-hard, they'll fight to the end, tooth and nail, so they're going to be a tough team.
"I think people will have thought "this is your three points for you", but I think they're going to surprise people in this group - they're a bit smarter and a bit more wily than I think people give them credit for. So, we've got to get results against Japan and England, and go for the full three points against Mexico".
The Football Ferns enjoyed some greatly beneficial competitive matches prior to the Finals in the form of the inaugural Matchworld Women's Cup in Switzerland, a four-team, round-robin tournament.
"That came about through some contacts at NZF", says Herdman. "Our sports scientist, who's Swiss, had a contact there, who got this set up for us. The game against Wales was a good start for us, as we only had a 24-hour turnaround from the long flight, which has a massive impact on players.
"The Columbian game gave us some experience of the rigours of South American football, while the Danes are very similar to England - similar structure, similar approach, and proved very tough European competition. So it was a good opportunity for us".
And one which New Zealand came close to winning, even though that wasn't the top priority of either Herdman or the squad. "As staff, we had to weigh up what we were trying to achieve in those games. We were trying to build some momentum going into the World Cup, but that momentum could come at a cost, if you weren't careful.
"That meant, in terms of stressing players by playing three games in five days, we had to consider which games we had to pull back on and which games we had to really go for? It was a really tough call, what we did in that tournament".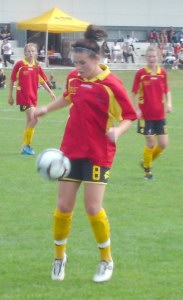 Yet it proved worthwhile - back-to-back wins against non-Oceania opposition for the first time in thirty years, for instance. The confidence boost that gave the squad can't be emphasised enough, and the Football Ferns head into Germany knowing they have what it takes to make their mark on the biggest women's football tournament on the planet.
You can follow their fortunes here on www.sportswebsoccer.com - the only media outlet in New Zealand who will be on the spot in Germany providing comprehensive covering of the 2011 FIFA Women's World Cup Finals, and in particular the exploits of the Football Ferns.