New Zealand's national women's coach John Herdman named an extended thirty-three strong Football Ferns training squad late last week, with a long-term view towards the 2011 FIFA Women's World Cup Finals and the 2012 London Olympics as its principle objective.
While the fluctuations which can abound where matters related to form and fitness are concerned mean the door is always open to those not listed below who aspire to play for the Football Ferns at those tournaments, the thirty-three players Herdman has named are very much in his thoughts at present, particularly with further international activity on the horizon.
The Cyprus Cup tournament, a joint initiative of the Dutch and Scottish Football Associations which, as the name suggests, is played in Cyprus, takes place in March, and an eighteen-strong Football Ferns squad will be contesting the eight-team event.
Among those in consideration who have never played for New Zealand at senior level before are a trio of the Young Ferns squad members who performed so well at their respective World Cup Finals late last year.
Bridgette Armstrong, Briony Fisher and Jessica Rollings bring to eight the number of players from that squad who find themselves part of the Football Ferns environment less than three months since the conclusion of NZ 08.
They join recent Football Ferns debutants Sarah McLaughlin, Hannah Wall and Rosie White in the training squad, which also boasts Annalie Longo and Caitlin Campbell, two Young Ferns stars who made their senior international debuts in 2006.
There are two other uncapped members of the training squad. Ella Wiebe has been part of a New Zealand training squad previously, but for fellow Wellingtonian Li Ran, this is a first call-up, as Herdman looks to replenish his goalkeeping options following the recent retirement of Rachel Howard from the international stage.
It's the recall of one of Howard's long-time international team-mates which most catches the eye in this squad, however. Maia Jackman had set her heart on playing for New Zealand at the Olympics, and Herdman freely admitted it was one of his most difficult selection decisions ever when opting not to include her in the eighteen-strong squad for Beijing.
Few folk anticipated the forty-six-cap star would ever grace a New Zealand shirt again after that setback, but like true champions tend to do, this country's only FIFA Women's World All Star has fought her way back into contention, buoyed by the twin targets of becoming just the fourth player to make fifty appearances for the Football Ferns, and, just as importantly, bowing out on her own terms.
Three notable absentees from the squad are Western Springs' Priscilla Duncan, and Three Kings duo Rebecca Sowden and Zoe Thompson. They aren't out of contention by any means, and need only look to the example shown by Jackman, who has forced her way back into the New Zealand frame after a year's absence, as proof that the door remains open for those whose aspiration to represent their country is matched by their willingness to work hard for the privilege.
The full squad, with clubs, caps and goals details in brackets, consists of:
Goalkeepers:
Jenny Bindon (Waitakere City (32, 0))
Aroon Clansey (Three Kings United (1, 0))
Stephanie Puckrin (Eastern Suburbs (1, 0))
Li Ran (Marist Wellington (0, 0))
Defenders:
Bridgette Armstrong (Glenfield Rovers (0, 0))
Caitlin Campbell (Glenfield Rovers (4, 0))
Abby Erceg (Western Springs (33, 2))
Briony Fisher (Western Springs (0, 0))
Anna Green (Three Kings United (15, 1))
Kristy Hill (Three Kings United (7, 0))
Maia Jackman (Waitakere City (46, 11))
Liz Milne (Western Springs (2, 0))
Marlies Oostdam (Eastern Suburbs (29, 0))
Ria Percival (Lynn-Avon United (33, 2))
Rebecca Smith (VFL Wolfsburg (33, 2))
Midfielders:
Betsy Hassett (Three Kings United (5, 0))
Katie Hoyle (Lynn-Avon United (20, 0))
Emma Humphries (unattached (12, 0))
Annalie Longo (Three Kings United (18, 0))
Emily McColl (Coastal Carolina University (19, 0))
Hayley Moorwood (Lynn-Avon United (41, 3))
Ali Riley (Stanford University (25, 0))
Jessica Rollings (Western Springs (0, 0))
Hannah Wall (Western Springs (3, 2))
Ella Wiebe (Marist Wellington (0, 0))
Kirsty Yallop (Lynn-Avon United (25, 7))
Strikers:
Amber Hearn (Lynn-Avon United (18, 3))
Emma Kete (Lynn-Avon United (20, 3))
Renee Leota (Western Springs (15, 1))
Sarah McLaughlin (Claudelands Rovers (3, 0))
Merissa Smith (Three Kings United (15, 1))
Rebecca Tegg (Eastern Suburbs (10, 0))
Rosie White (Western Springs (3, 0))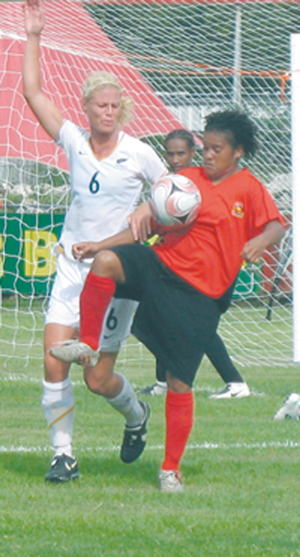 "I'm ba-ack!!" Maia Jackman pictured in her last game for the Football Ferns, against Papua New Guinea in the March 2008 Olympics qualifier