December 10 was a notable day in New Zealand women's football, as for the first time in the game's history, the FIFA Women's World Cup trophy graced our shores.
FIFA and the Local Organising Committee for next year's FIFA Women's World Cup Finals in Germany have joined forces to stage a tour of the fifteen countries which will be participating in the finals, and the first stops on the journey were Australia and New Zealand - the other finalists will be visited during the first quarter of 2011.
Two days after visiting Sydney, the tour entourage, led by LOC President Steffi Jones, the former German women's international, brought their presentation to Auckland, where invited guests, including the German Ambassador and Consulate General, NZF Chairman Frank van Hattum and honorary "Super Fan" Steve Sumner, attended an event celebrating New Zealand's qualification for Germany 2011.
The visit presented NZ Football with the chance to host a women's football conference, an opportunity for invited delegates to learn about and be updated on various aspects of the women's game taking place locally and abroad.
Presentations from Tatjana Haenni, FIFA's Head of Women's Football Competitions, and Daniela Benz, from FIFA's Marketing Department, addressed issues from a global perspective, before guest speaker Tom Sermanni, coach of Australia's Matildas, offered delegates his thoughts on women's football from a coaching perspective.
His New Zealand counterpart, Football Ferns head coach John Herdman, took all present on a special journey along the road less travelled, the same road Oceania's champions have dutifully followed to get to where they are today - 2011 FIFA Women's World Cup finalists, 2010 Cyprus Cup runners-up and 2010 Peace Queen Cup semi-finalists.
FIFA Women's Referee Jacqui Stevenson demonstrated various aspects of the life of match officials at FIFA Finals, her recent experiences in Trinidad & Tobago providing plenty of food for thought re the requirements of that vital role in such showpiece events.
The work being undertaken by Bev Priestman, NZF's Women's Football Development Manager, also opened eyes as to what's taking place in and around the grassroots level of the women's game in this country, with projects such as summer-based women's football programmes providing further evidence that there are still opportunities to grow the game in New Zealand.
Prior to a photo opportunity with the FIFA Women's World Cup trophy - whoever would have thought both this and the FIFA World Cup trophy would grace New Zealand in our lifetime, never mind inside an eight-month period in 2010? - there was a Q&A session, where delegates had the opportunity to fire questions at Jones, Herdman, Sermanni and Maia Jackman, who represented the Football Ferns squad on the panel of experts.
On a day full of interesting information, the response Jackman gave to one question in particular captured the attention of all present, as her heartfelt answer to "What does it mean to be a Football Fern?" offered a special insight into what makes this team the special unit they are …
"Words can't really describe what it's like to be a Football Fern, and what we put into what we're doing and where we're going.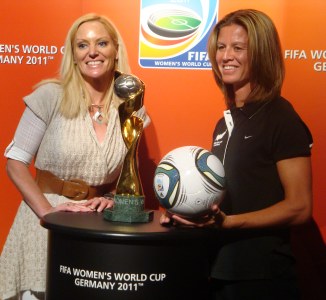 Two of my biggest influences and inspriations in NZ women's football, Michele Cox and Maia Jackman, with the FIFA Women's World Cup trophy and the tournament match-ball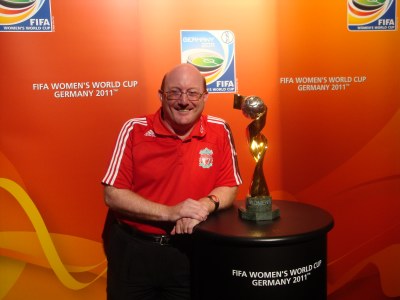 Yours truly with the FIFA Women's World Cup
"As a group, we pride ourselves on a lot of things that go on behind the scenes leading up to big events like the World Cup. We're definitely a bunch of very, very hard-working individuals, both on our own and collectively, as we come together to make us the Football Ferns.
"There are a lot of sacrifices that go on. Each individual in the team has different sacrifices that we have to make. We're not professional - we don't earn money for what we do.
"We do it out of a real passion and desire for what we do, and for the love of the game, and to achieve something beyond what we probably ever thought we could achieve. It's something that we strive to do.
"We've got mothers in the team. We've got students in the team. We've got full-time workers in the team. Everyone has to shuffle their lives around to make us who we are. We train 28 hours a week. On top of that, we've got to study, we've got to work, we've got to be Mums, and to shuffle things around can be hard.
"But we have this vision, we have this purpose, and we know what we want to achieve, so we just do it because we want to do it. It is hard, though. What we do every day now, our purpose for existence, doesn't come easily. We do have times where we do need financial assistance and funding.
"We're getting to a point where we're achieving a lot of things, but we need a lot more assistance to get to where we want to get. To be able to travel to countries. To be able to play consistently. To be able to just be doing football full-time, basically.
"John Herdman and his team have done a lot to pretty much pimp our ride from being a Holden Barina in order to try to be a Ferrari or a Porsche!" (A reference to a point raised in Herdman's presentation). "We can only go so far with what we have at the moment, though.
"What we have is a lot of dedication, a lot of hard work and collaboration, a lot of passion, a lot of will and drive and desire to be the best in the world - not just to be the best that we can be in this country.
"We all strive to be the best in the world. And at the same time, we have a lot of fun while we're doing it".
At the conclusion of the conference, NZF took the opportunity to present Jackman with her special cap to mark her fiftieth appearance for her country during October's Oceania Women's World Cup qualifying series, the Football Ferns' success in which made this special day for the women's game in this country a reality.