Monday, December 15, 2008, will forever be regarded as a very special day for New Zealand women's football and all who have been involved in it over any number of years.
When Sport and Recreation New Zealand (SPARC) announced that NZ women's football would receive a grant of $725,000 over the next four years from its High Performance Contestable Fund, they cast aside forever the "kick and giggle" stereotype with which the sport has long been linked.
As Football Ferns coach, John Herdman, succinctly put it, "it's a coming of age for NZ women's football as an elite sport in New Zealand".
This acknowledgement by the country's most influential sporting body is not only the perfect Christmas present for NZ women's football, it's the cherry on the cake which marks the conclusion of a fantastic year for the women's game in this country.
The flagship teams' efforts in the second half of the year will be expanded upon in greater detail shortly, but it's prudent to briefly acknowledge the many noteworthy achievements recorded by New Zealand women's footballing teams and identities throughout 2008:

The NZ Secondary Schoolgirls squad came within seventeen minutes of clinching the Deane Low Trophy for the first time ever in their two-match series with their Australian counterparts in January;

Hosting the Future Stars tournament in February, which saw Germany and the USA produce an outstanding exhibition of football in the final - a sneak preview of what we were all to enjoy later in the year;

The Football Ferns came desperately close to edging Australia in March, before qualifying for the Olympics in Port Moresby;

The U-17s twice thrashed their Australian counterparts 4-0 in Canberra in April;

The Football Ferns scored a 1-0 win over Argentina at June's Peace Queen Cup in the Korea Republic, and deserved better fate against the hosts and Canada as well;

The U-17s trip to Paraguay in July featured a 1-1 draw with the host nation and a 2-1 win over club team Cerro Porteno - the first time a NZ rep team had defeated opposition from this South American footballing hotbed;

The Football Ferns' extensive pre-Olympics tour saw them totally outplay Australia in Sydney, suffer two narrow defeats to China, and draw with Canada in Singapore after smashing the host nation 14-0 in a non-cap-earning demolition;

The U-20s' three-match tour of Chile in September culminated in a 3-0 rout of Mexico, after a draw with Canada and a narrow loss to the host nation;

Marlies Oostdam, Rebecca Tegg and Rebecca Smith - fresh from another season in Sweden - secured contracts to play in the inaugural Australian W-League from October onwards, with Smith's team progressing to January's play-offs;

Ali Riley (below) became the first NZ women's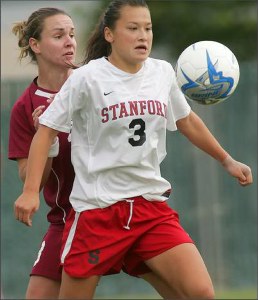 international to play in the NCAA Division One Championship play-offs as her Stanford University team bowed out in November's semi-finals;

Recognition at the end-of-year regional sports awards ceremonies for Auckland's "A Team" (Sport Auckland's Sports Team of the Year), Betsy Hassett (Sport Auckland's Junior Sportswoman of the Year), Ria Percival (Sport Waitakere's Junior Sportswoman of the Year), and Caitlin Campbell (Sport Waitakere's Maori Achievement award);

Recognition for this writer by the presentation of an Auckland Football Federation Long Service Medal in December, which was accepted on behalf of Auckland's female footballers whose efforts have been an absolute pleasure to translate into words over the past 21 years - long may the fun and friendship continue!
It's quite an under-card of achievement, I'm sure you'll agree, and that's without mentioning all the activities (e.g. visits by the likes of Hope Powell and Carolina Morace) linked with hosting the inaugural FIFA U-17 Women's World Cup Finals.
Indeed, these far outweigh anything recorded by the men's game in New Zealand in 2008, which, truth be told, was a year of under-achievement - the successes were few; the failures anything but.
How starkly this record contrasts with the efforts of the Football Ferns, the Young Ferns and the Junior Ferns during a quite incredible four months from early August to the end of November, a period which saw unparalleled television coverage afforded the world's biggest female participation sport in this country. (Were you watching, Silver Ferns?)
The Football Ferns kicked things off. In September 2007, they showed glimpses of their potential throughout the FIFA Women's World Cup Finals in China. The Beijing Olympics revealed the enormous strides they had made in the ensuing eleven months.
Eventual fourth place-getters Japan found themselves 2-0 down with twelve minutes remaining before rallying to draw with John Herdman's charges. (Below, Amber Hearn leads the celebrations after scoring one of the goals). Had the Football Ferns won that game,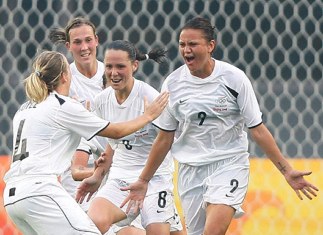 the momentum they gained from it would surely have seen them score a more favourable result than the narrow and undeserved 1-0 loss they suffered at Norway's hands in their next match.
That's how close they were to making the Olympic quarter-finals, the 4-0 defeat by eventual gold medallists the USA notwithstanding. As it was, they settled for a best-ever (NZ football-wise) tenth placing in China, the highest finish achieved by any Kiwi women's sports team at Beijing '08 - a particularly significant outcome, as it turned out, given how those other codes fared in SPARC's announcement.
The Football Ferns' efforts helped set the scene for the occasion when the spotlight well and truly fell on New Zealand, as the country hosted the inaugural FIFA U-17 Women's World Cup Finals.
FIFA President Sepp Blatter coined the phrase "The future of football is feminine" moons ago. On 28 October, 2008, at North Harbour Stadium, a stunning crowd of 13,123 confirmed the fact where this country is concerned - not even the All Whites get to play in front of crowds this big in their homeland!
Those present, along with many others watching the first of all 32 Finals matches broadcast live on Sky TV, witnessed the Young Ferns' impressive performance in an ultimately undeserved defeat at Canada's hands.
And while they were disappointed with the outcome, a fair few friends of mine went to bed that night sporting the sort of mile-wide smile of contentment which has been common to Liverpool FC fans the world over of late.
The biggest attendance at a women's sporting event in New Zealand was a magnificent testament to the belief, hard work and dedication which the likes of Michele Cox, Maia Jackman, Hayley Moorwood, Jenny Bindon, Rebecca Sowden, Priscilla Duncan, Pip Meo, Katie Hoyle, Rachel Doody and Barbara Cox - to a woman New Zealand internationals of varied vintages - and their armada of assistants had put in behind the scenes over the last twenty-odd months.
Their efforts clearly hadn't gone unnoticed.
Nor had those of the Young Ferns, whose opening night display and subsequent efforts not only captured the imagination and hearts of a nation, but opened the eyes and minds of those sceptics who have struggled to overcome the "kick and giggle" stereotype with which women's football has long been linked.
Praise rained in from all angles. The Yellow Fever forums were running hot about a team whose enterprising play "was a lot better than watching the 'Nix". Indeed, one Wellington Phoenix die-hard went so far as to say …
"Those girls have restored my faith in NZ football. I love the Phoenix but they sometimes make life difficult for us loyal supporters.
"What I have really enjoyed is the spirit of the girls. They fought and tackled all game. They got the tactics bang on. They pushed up and compressed the Columbians high up the park. It really was smart football. The Columbians are a good side, they were the top qualifiers from South America, even better than Brazil. The Ferns shut them down and had them rattled.
"This tournament has been a breath of fresh air - exciting end to end stuff. It's a big call but I reckon there has been more skill shown in some of these games than a lot of A-League games. There is a lot of muscle football played in the A-League".
Paul Temple's charges certainly led us on an emotional roller-coaster ride, as their narrow defeats at the hands of Canada (1-0) and Denmark (2-1, watched by 11,170 fans) prematurely ended their quarter-final prospects.
And while there were tears aplenty in evidence after those encounters, there were plenty more in store after the final group game, against Columbia. This time, they were of the joyous variety, the result of a hugely impressive 3-1 victory against the South American champions, courtesy Rosie White's unforgettable hat-trick.
Sadly, Wellington's football supporters again failed to show their backing for a team sporting the silver fern, and, as a result, many of them missed seeing this special moment in New Zealand footballing history in person.
While the awful weather offered an excuse for absenteeism on this occasion, and the numbers attending were an improvement on the pathetic 2500 tally which attended an All Whites' World Cup qualifier at "The Caketin" in 2007, the crowd of 3,546 was still pitifully small, given this was a World Cup Finals fixture involving the host nation's representatives in the country's capital.
For mine, it was one of the few disappointing aspects of the entire tournament, which saw some outstanding football, brilliant goals, a classic semi-final between two of the game's traditional powerhouses in the USA and Germany, and some fabulous individual talent, with Japan's Mana Iwabuchi the star who shone brightest of all.
And a final between the USA and North Korea which attracted another record crowd. Some 16,162 fans piled into North Harbour Stadium to see the Asian champions add the U-17 crown to the U-20 title they won in 2006, as they came from behind in extra time to clinch a 2-1 win.
No sooner had these Finals concluded then the FIFA U-20 Women's World Cup Finals commenced in Chile, with New Zealand - who qualified automatically courtesy the Oceania Football Confederation's discretion - sporting a squad half of whom were fresh from playing in NZ08.
A World Cup too far for them? Do me a favour! If anything, the younger brigade relished the opportunity to step up and perform alongside their older colleagues, as the Junior Ferns endeared themselves to the watching Kiwi public by coming within thirty seconds of realising something no New Zealand football team has ever achieved - qualifying for the knockout stages of a World Cup Finals.
Again, we shared their joy, their tears, their delight, and their despair, as they bounced back from conceding a last-minute goal in going down 3-2 against Nigeria to conquer Chile 4-3, with Rosie White creating Women's World Cup history by becoming the first player to score hat-tricks in both the U-17 and U-20 versions of FIFA's Finals.
The late, harsh and, for mine, incorrect dismissal of Ria Percival in that match denied the English-born dynamo the chance to play against the country of her birth in the Junior Ferns' final group game, in which a Sarah McLaughlin goal had John Herdman's team on course for victory.
Ultimately, the dismissal of captain Katie Hoyle twenty minutes from time proved a factor, as England equalised with thirty seconds to go to secure a 1-1 draw with their gutsy Kiwi rivals, a result which saw the "Empire" oust the "Colonial Upstarts" in dramatic fashion.
The Junior Ferns' nemesis got their comeuppances in the quarter-finals, as they copped a tanning from a USA team which went on to avenge their U-17 counterparts' defeat by downing reigning champions North Korea 2-1 in the U-20 final, thus capping off a fine year for women's football in a country which continues to set the standards for the code globally.
Meanwhile, the results and performances of all three New Zealand women's teams had made very strong impressions on the people responsible for the bulk of New Zealand sports' funds, and the rewards made known just before the festive season will certainly make 2009 a Happy New Year for New Zealand women's football followers in particular.
Already, the Football Ferns are confirmed starters in both the Four Nations Cup in Guangzhou, China in January, and the eight-team Cyprus Cup competition in Larnaca towards the end of March, as they begin their quest to qualify for both the 2011 FIFA Women's World Cup Finals in Germany, and the 2012 London Olympics.
Later in the year - October, to be precise, the Junior Ferns will enjoy home-town support as they look to secure Oceania's spot at the 2010 FIFA U-20 Women's World Cup Finals in Germany by winning the qualifying tournament in Auckland, an event which should precede the resumption of the National Women's League.
That competition was deferred this time round for a very good reason. The inaugural FIFA U-17 Women's World Cup Finals was the greatest of all the highlights in 2008, a fantastic year for New Zealand women's football.
(Above, proud captains Hayley Moorwood (Football Ferns) and Briony Fisher (Young Ferns) savour their contribution to NZ women's football's fantastic year).