Women's soccer in New Zealand is set for a significant boost which will greatly enhance the code's image and profile, following New Zealand Soccer's unveiling of a bold strategy for the game this week.
With Australia set to leave the Oceania Football Confederation at the end of the year, the door is wide open for New Zealand to once again be the dominant force in the women's game in the South Pacific region, some eighteen years on from when this country ranked among the top four nations in the women's soccer world.
That world has grown in leaps and bounds since those heady days, with some 122 countries now playing international women's football, and New Zealand's ranking has dropped to 21st in the world in the ensuing years, due to a variety of reasons.
21st place is still a far more marketable proposition than the 109th placing (out of 205) which New Zealand occupies on FIFA's men's rankings charts at present, however. So with this and fully exploiting the departure of Australia in mind, NZS is looking to the game's leading female footballers to bolster New Zealand's standing on the world stage, and not only qualify for FIFA's finals tournaments, but be competitive in same.
To go about realising their objectives, the national body has turned to one of the members of that 1987 squad to lead the way. And, in much the same manner she displayed during a playing career which saw her make a meagre eighteen appearances for New Zealand and play professionally in Germany, Michele Cox (below) has swiftly sized up the opportunity and set about fully exploiting it for her team's benefit.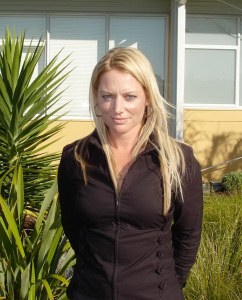 "Over the course of the next three years, there are five FIFA Women's Football Championships scheduled at various levels - the 2006 and 2008 Under-20 World Cup Finals, the 2007 World Cup Finals in China, the 2008 Beijing Olympics and the inaugural Under-17 World Cup Finals, also in 2008", says NZS's newly-appointed Head of Women's Football.
"A seventeen-year-old New Zealander playing women's soccer right now could quite conceivably play in four of these finals tournaments, and be enjoying the benefits of a scholarship in the USA at the same time - what other sport in this country, male or female, offers that sort of opportunity to talented youngsters?"
Netball, soccer's principle rival where female sports codes are concerned, hasn't a prayer by comparison. For the Irene Van Dyk's and Anna Rowberry's of this world, there's no opportunity to play in the Olympics, no prospect of playing in front of a five-figure crowd with a global television audience looking on during a World Cup Finals tournament … yet all of these and more come as part of the package for an elite women's soccer player in this country.
"I think parents are starting to understand that the key benefits and opportunities for young girls come through soccer", says Cox, who was just thirteen years old when she made the first of 112 appearances for Auckland.
"Our challenge is to keep these players in the game, and not be supplying other codes with fantastic athletes who initially opted to play soccer, but who became disillusioned due to the lack of exposure and visibility afforded our national women's team.
"New Zealand wicket-keeper Rebecca Rolls (above) is a classic example of this, switching to cricket after playing just eleven times in goal for New Zealand's women's soccer team. Her last two international appearances were made in March and November 1996, and it was over a year before New Zealand kicked a ball on the international stage again, by which time the lure of cricket had proven too strong … soccer's loss.
"I'll be doing everything in my powers to get these athletes involved in football again, and at the same time keep the wealth of very talented youngsters who are coming through the ranks involved in the beautiful game".
Or, as Michele prefers to call the women's side of the code, "the more beautiful game". For one of the most high-profile players in New Zealand women's soccer's history is well aware that in the likes of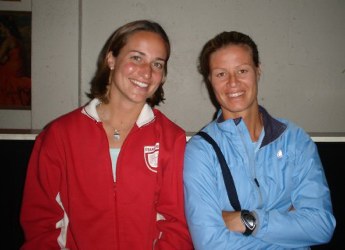 current internationals Rebecca Smith, Maia Jackman (both pictured above) and Hayley Moorwood (below) - to mention a couple among many, the women's game is well blessed with talented footballers who have the personalities and the 'smarts' to match their on-field prowess.
"The girls are a very marketable and very well-educated group who are attractive to sponsors. They definitively represent 'the more beautiful game', but they need to be more visible, and that's up to us at NZS to organise".
Not in the way the Australian women's team did with their (in)famous nude calendar in 2000, obviously, but there are certainly windows of opportunity which can be explored to enhance the profile of the New Zealand women's game and its numerous star turns.
As Cox would well know, given her former job as Senior Sponsorship Manager at ASB Bank, "a role which taught me a lot about what was wanted on the other side of the fence, and which will prove very useful in my new position".
Throw in other former roles she has held as a board member of Paralympics NZ, Sport Auckland and the YMCA, together with her numerous degrees, and her other current role as a PhD scholar studying responsibility in children's physical activity, with special emphasis on the obesity crisis facing our youth today, and it's not difficult to see why NZ Soccer commandeered Cox to take on this new part-time role at short notice.
"Each of these opportunities has given me a good understanding of how to get the best out of people in sport, and I'm keen to use these to fully exploit the untapped potential which the women's game undoubtedly has in abundance, and, over time, see New Zealand back competing with the very best in the world, rather than be humbled by them, as has happened in all six of our internationals last year and this".
That means plenty of game-time ahead for our elite players, who have, to date, enjoyed very limited on-field opportunities as a group - just eight local games since March, all told - to put to good use all the work they have been doing on the training pitch three times a week since mid-February.
Cox well knows how frustrating that situation feels from her own playing days, and the terseness of her tone is very evident when broaching this issue. "I'm absolutely adamant that players train to play, rather than train for training's sake", rails NZ Soccer's newest employee. Ouch!
It's not the only change on the horizon, that's for sure. Indeed, the public at large has an opportunity to contribute towards the betterment of the women's game in New Zealand, by making submissions to a review of the game via www.nzsoccer.com
"Why we're doing the review is so we can scope as widely as possible in order to capture the very best ideas on the way to developing our elite players and coaches", says Cox, whose own thoughts include considering the role model provided by the Canterbury Crusaders' development on and off the rugby field over the course of the last decade as a suitable base from which to develop women's soccer's long-term objectives.
As well as Cox's appointment, and the introduction of a strategy to focus on women's soccer's development and deliverance at the elite level, other initiatives for the women's game which NZ Soccer unveiled during the week include the establishment of a comprehensive high performance programme, incorporating international competition, across all national teams and players, which Cox will develop in tandem with NZS High Performance Manager, Ricki Herbert.
The first of six national coaching appointments was also announced, with John Herdman named as coach of the Under-20 Women's squad, and assistant coach of the senior team.
Incumbent coach Mick Leonard, who also serves as Goalkeeping Coach for both NZ Soccer and the NZ Knights, will oversee the senior squad's development throughout the rest of this year, with a dedicated National Women's Coach taking the reins from January 2006.