In the history books, it will look like a continuation of New Zealand's recent form on the international women's stage - 3-0 and 4-0 losses to China follow on from adverse outcomes against Australia (twice), China, North Korea, the USA (twice) and Japan.
But behind every scoreline is a story, and it's certainly the case with the two games which made up the whistle-stop tour of Air New Zealand's latest international destination!
New Zealand's first internationals in eighteen months saw the dawn of a new era in the women's game as some of the U-20 Women's World Cup Finals squad which represented this country so impressively in Russia in August earned their first appearances on the world stage at senior level, including, at 15 years and 137 days, our youngest-ever international in Annalie Longo.
Sprinkled in amongst this crop of budding stars were a handful of "wise gals", including International Women's Player of the Year finalists Maia Jackman and Rebecca Smith, and the recalled Wendi Henderson, three years after she thought her prospects of making her fiftieth appearance for her country had been dashed.
"I'm realistic about the expectations of playing at this level and what it takes, so this is a good benchmark for me, thinking with the future in mind. I feel honoured to again be part of the international scene, but at the same time, I'm very mindful that a lot of players have been left behind on this occasion".
The thirty-five-year-old was "very honoured" to be afforded the captaincy of her country once again, and has returned home from China greatly buoyed by New Zealand's potential on the international stage in the very near future.
"Next year is going to be so exciting. This is just the start of it. It's fantastic to be playing at this level again, and while the second game, my fiftieth appearance, was a very emotional day, it was great to last the full game first-up - I was pleasantly surprised with how well it all went".
Coach for the tour, John Herdman, who took the reins on this trip to allow national coach Allan Jones the opportunity to observe proceedings prior to applying his plan of attack for Project China 07-08, was enthusiasm personified with regards the efforts of "the perfect mix of youth and experience" who took on the reigning Asian champions on this tour.
"It was a great experience - wonderful!" he exclaimed. "A fantastic opportunity for the Annalie Longos and the Caitlin Campbells to learn from the Maia Jackmans, the Rebecca Smiths and the Hayley Moorwoods. You really got to see their true qualities, and the senior players had to give a bit extra, which meant we got to see some wonderful performances.
And despite what the scorelines might suggest, we were competitive. It was like the All Whites taking on Germany or Italy, except against the eighth-ranked team in the world, we fielded a team with three fifteen-year-olds, three sixteen-year-olds and an eighteen-year-old in our starting line-up. Ultimately, the difference between us was exceptional finishing".
That was certainly evident in the second game from Han Duan, who scored all four goals in that match, including one which left Herdman gobsmacked! "No backlift from twenty-three yards? You just can't defend against goals like that!
"China played with an incredible intensity - very slick, one-touch football. Yet there were periods in both games when we matched them. Our intensity in the last fifteen minutes of the second game was frightening, while the half-time scores in both matches didn't reflect how competitive we'd been".
Henderson was greatly enthused by the behind-the-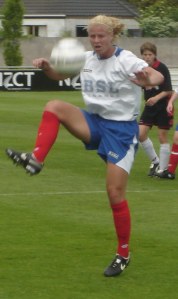 Maia Jackman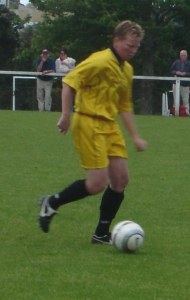 Wendi Henderson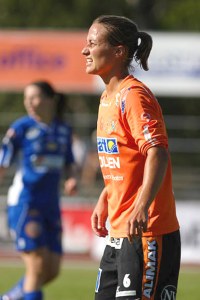 Rebecca Smith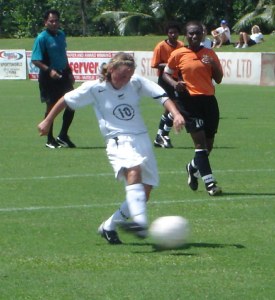 Annalie Longo, now our youngest-ever senior international at 15 years and 137 days
scenes efforts, as she commented on noteworthy changes to the international set-up she last witnessed from a playing perspective in 2003, and as an assistant coach on the 2005 Japan tour.
"The whole management team worked really hard to create a fantastic environment. Right from Julie Hogg, the manager, through physio Roland Jeffrey, analyst Tony Readings, and coach John Herdman - he did a fantastic job! - everything was geared towards giving the players the best possible environment in which to represent their country to the best of their ability.
"Imagine the potential when you bring in the other senior players with the youngsters coming through? There's so much to look forward to - it's extremely positive".
As was the captain's input, according to the coach. "She was brilliant in the environment", says Herdman. "Wendi brings a real presence and calmness, and it's clear that this opportunity has greatly rekindled her interest and enthusiasm".
"Indeed, those attributes were evident throughout the tour from the squad as a whole. That tells you a lot about the culture - what it means to the players to be out there playing for New Zealand".
There will be plenty more such opportunities for the New Zealand women's team to savour in the next couple of years, thanks in part to NZ Soccer receiving high-performance funding from SPARC for the first time ever.
"Mike Kernaghan put together proposals for SPARC to fund both the NZ Women and Under-23 programmes", says NZS Head of Women's Football, Michele Cox. "It's the first time ever they have funded NZ Soccer on a performance basis, and is acknowledgement of how well the U-20s have done and our future potential".
$300,000, plus a $40,000 bonus from the NZ Academy of Sport, has been afforded the national women's team to assist with their efforts to qualify for the 2007 Women's World Cup Finals. "Hopefully it's the start of a long-term source of funding for us", says the former international, "as it's reviewed annually".
Securing the lone berth available to Oceania in China will guarantee New Zealand a further $US 200,000 - more depending on progress at the Women's World Cup Finals, which will be of great benefit to the Olympic programme.
"It's exciting to be part of the FIFA Women's Committee to award the first-ever prize money - a total of $US 6 million - in Women's World Cup history", declares Cox. "It's just one of a number of initiatives FIFA is putting in place for the all-round betterment of women's football.
"The preparations for China are going very well. The referees, for instance, are having five pre-tournament camps, which is unprecedented. In terms of the FIFA U-17 Women's World Cup Finals which we'll be hosting, the main focus over the next two months is the formation of a Local Organising Committee, while the first inspections FIFA will be conducting take place in February".
New Zealand's line-ups in China:
14 Nov, 0-3:
Jenny Bindon; Abby Erceg (Anna Green, 80), Maia Jackman, Rebecca Smith, Ria Percival; Hayley Moorwood, Annalie Longo (Emma Humphries, 46), Katie Hoyle, Caitlin Campbell (Kirsty Yallop, 46); Merissa Smith (Renee Leota, 69), Wendi Henderson
16 Nov, 0-4:
Aroon Clansey; Erceg (Green, 70), Jackman (Bindon, 88), R. Smith, Percival; Humphries, Moorwood (Longo, 70), Hoyle, Yallop; Leota (Campbell, 57), Henderson (M. Smith, 57)