Soccer scholarships to the USA are luring any number of our best footballing talents abroad, and one of our latest exports, Emma Boyack, has done very nicely in scoring herself a job for the Boise!
Boise State University in Idaho is where the Wanganui-born goal-getter will be studying psychology or sociology over the next four years - as well as playing football, of course!
"I want to pull on the New Zealand jersey once again", says the former Under-17, Under-18 and Secondary Schoolgirls representative, "ideally for the national team. So I see my move to the USA as being very important for me in order to further both my footballing career, and myself personally".
It's a huge leap into the unknown for a young lady whose soccer career, until now, has been based in Palmerston North. "My two older brothers, David and Richard, and twin brother William played the game, and I started playing backyard soccer every day with them.
"I must have enjoyed it because I joined William's team when aged six. It just went from there", says Emma, who turns twenty this month, and who isn't the only national representative in an extended family.
As well as her soccer-playing brothers, she has a step-brother and step-sister, a half-brother, and an older sister, Rachel, who sings in the national choir!
"My brothers and family taught me to be hard", says Emma of life as the kid sister in the Boyack clan. "They weren't soft on me, just `cause I was a girl, that's for sure!"
That hardened edge has served Emma well, as several opposing defenders and goalkeepers can well testify. For this lover of Mum's cooking soon developed a handy knack during her formative footballing years at
Palmerston North End and in the boys' team at Ross Intermediate - the ability to score goals … lots of goals.
"I tend to lose count nowadays", she says modestly, "but in 1998 I scored 114 goals in total for Ross Intermediate and Manawatu Under-13s. I'm pretty proud of that achievement".
As well she should be, given how nicely it sits alongside her Golden Boot awards from both the 2001 and 2002 NZ Secondary Schoolgirls National Tournaments, and the 2003 National Women's League Golden Boot award, which she shared with Central Soccer team-mate Ella Wiebe.
"I was presented with the award for the player with most potential at Massey University that year, too", recalls the former Palmerston North Girls High School soccer star, "while in 2004, I was Massey's MVP, and top scorer in both the Central League and Capital League competitions".
It's hardly surprising to learn, then, that this former Manawatu and Central Soccer representative ranks Arsenal's goalscoring machine, Thierry Henry, among her favourite players. "Christiano Ronaldo is another - they're both classy performers", says Emma, who, after finishing her schooling in 2003, took a year off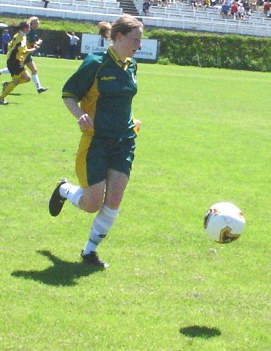 In action for Central at Capital, 2004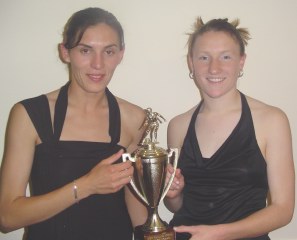 with Ella Wiebe - 2003 Golden Boot winners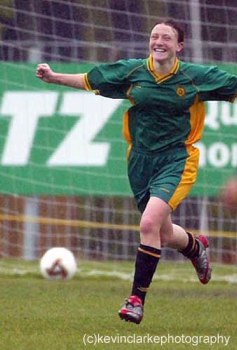 Emma celebrates a goal v. Mainland in 2003
photo courtesy Kevin Clarke Photography
before applying for her scholarship.
It's clear from this action alone that this is someone who knows what she wants out of life, and what she wants to do in it. "I'm very interested in people and their nature - how they become who they are, in other words. Hence my interest in psychology and sociology.
"Once I've finished my studies, I want to help people who are disadvantaged", says a young footballer who considers the community factor - "how everyone looks out for each other" - as her favourite thing about `Palmy', her adopted home town.
"What I'll miss most about home is everything that's familiar", she says of her scholarship at Boise. "I'll sorely miss my family, and will definitely miss Mum's cooking - she tells me she'll miss me as well!!
"On the plus side, however, there's the travel factor - something I definitely like to do. Our road trips take us to Arizona, Montana, Louisiana, Utah and Texas, and we even get to play in Hawaii!
"Earlier this year, I made my first visit to England, where my Dad lives. I spent three months there, and by the time I returned home, I was a Birmingham City fan, since the is where the family is based. It's nice to have had that experience, and wearing my City shirt is a reminder of my home back there".
During her spell in Brum, Liverpool visited St. Andrew's, and The Reds made quite an impression on Emma, particularly given her proximity to the pitch. "We got seats right near one of the corner flags, so I was taking photos of Steven Gerrard and company from all of five metres away - it was a brilliant experience, especially being so close to the action.
"Watching them progress through and eventually win the UEFA Champions League was pretty special, knowing I'd seen them in action at first hand, and I guess it inspired me a lot with my soccer. What happened that night in Istanbul was the most amazing thing I've seen in football to date".
Just like the European Cup-winning captain, Emma aims to "become the best player I can, and something else I want to do in years to come is teach others what I've learnt about the game.
"I've coached a school team before at PNGHS, which will help stand me in good stead, but what I'm very conscious of is that in a place like Palmerston North, there are fewer opportunities open to you to achieve than there are in, say, Auckland.
"I'm keen to show others from back home, and from other provincial cities and towns at the same time, that those opportunities are also there for them to seize upon and make their own - they're there if you want them".
Emma Boyack has certainly grabbed hers with both hands, and as she embarks on her `job with the Boise', she'll be looking to continue her prolific goalscoring exploits, which she hopes will help her score herself a place in New Zealand's Women's World Cup and Olympic Games qualifying plans in the not-too-distant future.