Olivia Chance has been the outstanding individual performer in New Zealand womenís football in 2010, both at club and representative level, particularly on the world stage.
The seventeen-year-old was chosen by the football media as the Northern Premier Womenís Leagueís Young Player of the Year for her efforts with Claudelands Rovers this season, which saw her finish as runner-up in the Golden Boot stakes, having scored twelve goals in the league.
She followed that up by scoring a match-winning hat-trick for her club in Septemberís National Womenís Knockout Cup Final, a performance which earned her the Cup Final MVP award.
Where she truly caught the eye was at international level, for New Zealandís U-17 womenís squad, the Young Ferns.
She scored two goals as the squad cruised through the Oceania U-17 Womenís World Cup qualifying tournament in Auckland, but it was her performances on a three-match tour of Australia which marked folksí cards that here was someone just a little bit special.
Olivia set up both goals in the Young Fernsí 2-0 victory over a New South Wales Institute of Sport line-up on the opening game of the tour, and scored New Zealandís goal as a stacked NSWIS side turned the tables in the second game, 2-1.
She also set up the Young Fernsí goal in their clash with Australian W-League club team Sydney FC, whose coach, Alen Stajcic, described Chance as "the best Kiwi Iíve seen in age-grade football" - praise indeed, given Stajcic is also charged with overseeing Australiaís U-17 womenís football programme.
The fleet-footed flank player carried her impressive form from this tour into the FIFA U-17 Womenís World Cup Finals in Trinidad & Tobago, a tournament in which she was one of New Zealandís stand-out performers.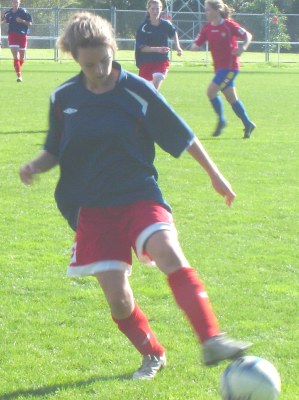 Chance ran the defences of both Venezuela and Spain ragged whenever the opportunities presented themselves, and played a pivotal role in the goals the Young Ferns scored against these opponents before they were eliminated from the Finals.
In December, Olivia was called upon to represent her country at international level again, this time for the NZ Secondary Schoolgirls squad against their Australian counterparts in a three-match series in Tweed Heads.
She scored in two of the games as New Zealand won the symbol of trans-tasman secondary schoolgirl soccer supremacy for the first time in the eighteen-year history of the Deane Low Shield, 1-0 and 5-0 victories over their Australian counterparts suffice to clinch the silverware.
The Tauranga Girls College student was named Bay of Plenty Secondary Schoolsí Sportswoman of the Year at the Bay of Plenty Sports Awards function in November.