The Coromandel Peninsula isn't an area of the country one tends to associate with soccer in this country these days. It's holiday resort territory, a haven for retirees and, come the end of each year, a traditional `hot spot' where New Year's revelry is concerned.
Back in the 1980s, however, it did have its place in the New Zealand footballing sun, as Thames chased glory in the Northern League Fourth Division, and caused a first round boilover in the 1988 Chatham Cup when ousting five-times winners Eastern Suburbs 4-3.
Another event was to happen in the region later that year, one which delighted proud parents Mark and Diane Collins, and provided their son Geoffrey with a baby sister to look after in their Whitianga home.
Less than eighteen years later, said young lass is now a six-foot-tall striker with an impressive goalscoring pedigree, who is working hard towards realising one of her wildest dreams - being selected to play for New Zealand in August's FIFA Under-20 Women's World Cup Finals in Russia.
That's about as far away from Whitianga as you could possibly get, yet Helen Collins could quite easily have missed out on any such opportunities, had the Goals NZ soccer camp road-show not been taking place in her home town one weekend in 2001.
"It was purely by chance that I got involved in federation level soccer", recalls the teenager of her date with destiny. "My first representative experience was at Bill McKinlay Park, when, as an eleven-year-old, I played for the Thames Valley squad in the Northern Region U-17 Women's Tournament in October 2000.
"The following year, I went along to a Goals NZ soccer camp, purely because it was taking place in Whitianga. I made such an impression that I was told to get in touch with my federation. I started training with them and got stuck into it - I've played for them since 2002".
Helen's appearances for the Waikato-Bay of Plenty federation saw her lining up in the inaugural U-14 Girls Tournament in 2002, then in the U-16 squads in 2003 and 2004, in which tournaments she scored six goals and eight goals respectively, enough to earn her a share of the Golden Boot award on both occasions.
"2004 was a significant year in my development as a striker", declares the NZ Secondary Schoolgirls international. "Until then, I didn't have a great deal of knowledge of the striker's role, but Waikato Academy coach Stu Robertson took me aside and taught me all the ins and outs of the position, which helped my understanding of it immensely".
After making the NZ Under-16s Academy squad that year, 2005 saw Helen scaling greater heights still on a number of fronts. "I left home at the start of that year and moved to Cambridge, having been granted a scholarship by St. Peter's School.
"As the only Waikato club competing in the Northern Premier Women's League, Claudelands Rovers recruited me for their campaign, one which saw us finish in third place. I scored twenty-one goals to claim the Golden Boot award, apparently making me, at sixteen, the youngest-ever winner of the honour.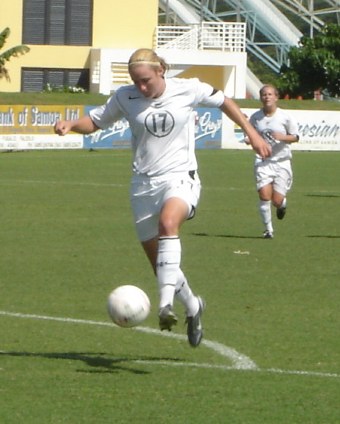 Eight Favourite Things Of
Helen Collins
| | |
| --- | --- |
| Player | Mia Hamm |
| Author | Roald Dahl |
| Country visited | Samoa |
| TV Show | Desperate Housewives |
| Way to Relax | At home at the beach |
| Other sports | Basketball, Touch Rugby |
| Other sports stars | Daniel Carter |
| School subject | PE |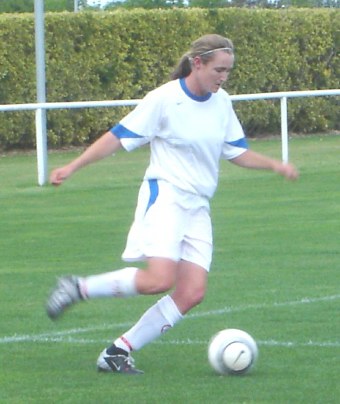 "In between times, I was invited to train with the Senior Elite Women's International Development Squad half-way through that year, and it was pretty intimidating at first - I hardly knew anyone there to begin with.
"But I stuck at it, and really benefited from those Monday night training sessions. It meant I was training five nights a week - for school on Tuesday and Thursday, Rovers on Wednesday and the Waikato Academy on Friday - but `cause I love the game so much, it didn't concern me".
Selection as a core member of the New Zealand Under-19 squad which participated in the Lion Foundation National Women's League followed at the end of the year, and another eight-goal haul in that competition served her cause well, with selection for the Under-20 Women's World Cup qualifying campaign just around the corner.
Helen was duly chosen, the seventeen-year-old cementing her spot in the eighteen-strong squad with four goals against Tonga and three against North Force in the final fixtures before coach John Herdman named the travelling party. But it wasn't until the second game of the tournament in Samoa that she entered the action …
"That is probably my most memorable moment in football to this point, to be honest. I was a half-time substitute against Vanuatu, and within forty-eight seconds of coming on, I scored with my first touch. I added another goal later in that match, while my other goal in the tournament came in the final against Tonga.
"Since then, things have really stepped up for us training-wise. We're training three nights a week, and it's pretty full on. But we've got to cope with this now given what we'll most likely be facing in Russia - that will be an awesome experience, and it goes without saying I'm hoping to make the squad chosen to represent New Zealand in the U-20 Women's World Cup Finals".
The St. Peter's seventh form student hasn't found life as straight-forward on the club scene this year, however, having recently completed a transfer to Western Springs. "I wasn't enjoying it at Claudelands. Some of the key players from last season's squad had left, so the whole atmosphere had changed.
"So far, I've found Western Springs to be great fun. There are so many young players in the squad - it's like a school team but with better skills and technical ability. And best of all, I'm scoring goals again and enjoying my football, which is a very important aspect of the game to me".
For someone who started out in soccer following in the footsteps of her brother at a club where Mum Diane - "the biggest influence on my life" - was one of the `soccer mums' who helped out, one of Whitianga's finest has made big strides in a short time where soccer is concerned.
Once she's finished school, Helen Collins plans to get a sports degree - "something from which I can get enjoyment while doing something worthwhile. Football-wise, I hope to go as far as I can in the game, and above all, continue to enjoy it as much as I do now".