You can't help but notice Caitlin Campbell - she's certainly someone who stands out from the crowd.
For at just fourteen years of age, the shy yet friendly, fresh-faced rising star of the northern region women's soccer scene is already a whopping five foot eleven.
"I'm quite tall for my age", she says, her innocent comment neatly offset by the mischievous grin and twinkle in her eye which suggest that there are some interesting tales about to be told.
And so it proves. For while she's still got plenty more skyward growth to look forward to, Caitlin's burgeoning footballing potential is set to see her scale heights far beyond anything this Hastings-born Massey High School fourth former has yet envisaged.
She'll certainly need more than just her student identity card, the only photo ID she currently boasts. "I don't have a passport!!" she exclaims, while biding her time in the departure lounge at Wellington Airport following North Harbour's National Women's League encounter against Capital Soccer at the end of October.
"I've been as far north as Whangarei, and this is only my second trip to the capital. My first was for a basketball tournament, a sport I played as an eleven-year-old, but gave up to concentrate on soccer - that's my first option!!
"I haven't even been to the South Island yet!", giggles the talented teenager, although that situation was rectified in mid-November when Harbour headed to Christchurch to take on Mainland Soccer.
"As for overseas journeys, I was meant to go to Australia for a school soccer trip in July, but it never eventuated so I never got a passport! I know I'll need one some day, because I'd most like to visit the USA - Hawaii in particular. As for the thought of going to the USA to play soccer - that would be awesome!".
It's been sport, sport and more sport for Caitlin to date in her young life, with cricket and touch rugby among other codes which have been graced by her presence and sporting prowess. But there's no doubt in her mind which is her favourite!
"My mum, Lorraine, and Aunty Joanne asked me if I wanted to play soccer when I was five, so I went along to Western Rangers and played there for four years, under the watchful eye of my first coach, Craig Morgan.
"When I was nine, my aunty moved up to Auckland, so the entire family moved north with her! We lived in Whenuapai at first, then moved to our current home in Massey".
And how has she found life in the big smoke compared to her Hastings homeland? "It's been a big change, that's for sure. The soccer is on a completely different level to what I grew up with, and there are just so many more opportunities.
"A lot of things have happened for me on the soccer front in particular since I moved here", says the part-Maori (Ngapuhi tribe). "Since my arrival, I've been with the Waitakere City club. Everything is so much more professional, and is done better compared to my previous experiences. Mum doesn't want me to leave here!!
"My coach at Waitakere, Gordon Fraser, is someone else who's been a big influence on my career, as has Michael Williams, who as well as being one of my favourite players - along with Julius Kolk - has taken the time to encourage me to improve as a player".
While she's one of those play-anywhere does-everything types - you know, takes all the free-kicks and corners, scores the bulk of the goals, and helps prevent a few at the other end as well - the benefits of the former Football Kingz wide-man's influence on Caitlin are evident in her performances in her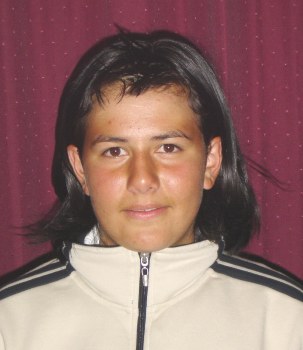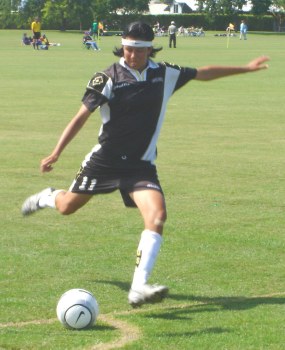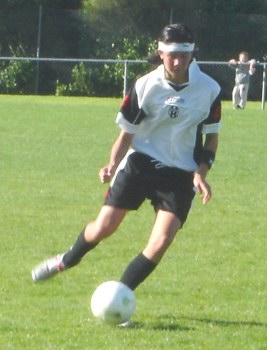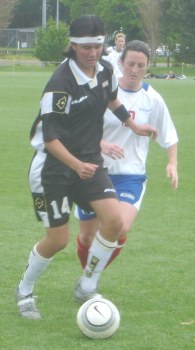 preferred position, on the right-hand side of midfield for Waitakere in the Northern Premier Women's League.
"My first experience of the top league came in 2004, when I was thirteen. I found this year's competition wasn't as hard, with all the top players out of action through the Elite Squad situation, but next year, when they're back in action and keen to make up for lost game-time, will definitely be a lot harder", declares the scorer of eight of Waitakere's sixteen league goals this season.
2004 also saw Caitlin named as part of North Harbour's extended National Women's League squad for the campaign, but a year later, new coach John Hewitson provided her with a huge boost.
"I didn't think I was going to start many games this year, to be honest. It's been a big surprise to be a regular member of the starting eleven, though", something which has had a few spin-offs for the nachos' lover's career, not the least of which was being named the inaugural winner of the National Women's League Young Player of the Year award.
As well, Harbour have played a few training matches against the New Zealand Under-19 Development Squad, and so impressed has coach John Herdman been by the statuesque youngster's ability and potential that Caitlin has been training with the national age-grade squad throughout the National Women's League campaign, as well as with her Harbour team-mates.
Following the conclusion of that competition, the big fan of Napier's art deco style got a chance to have another look at it in mid-December, during the course of this year's Under-14 girls tournament at Park Island.
"I scored five goals in one game against Soccersouth during the 2004 tournament at Kings College, including one from half-way. That's my most memorable goal to date", she declared, although the two gems she scored for North Harbour against the NZ Under-19 Development Squad recently aren't too far behind it!
The Under-14 girls were under closer scrutiny than usual from selectors this year, as in 2008, the inaugural FIFA Under-17 Women's World Cup Finals will be taking place, and female players currently aged fourteen or under will be eligible for selection.
Such are Caitlin's footballing qualities that it's a fair bet she'll be one of the key components of New Zealand's squad for those 2008 finals, so it came as no surprise that North Harbour's headband-wearing star was among those who stood out head and shoulders - figuratively, as well as literally - in Napier.
"I saw someone wearing one one day", she says, fingering said accessory as she talks, "and I liked it - I thought it would help keep my hair out of my eyes, as well as make me stand out!" As if being a five foot eleven inch fourteen-year-old footballer with pace, power and a nose for goals wouldn't be enough to attract the attention of onlookers, never mind opponents!
For all her physical presence, there is humility aplenty in young Caitlin Campbell. When asked who her favourite women's players in this country were, she initially refrained from naming names, as she didn't want to embarrass them.
As if New Zealand internationals Kirsty Yallop and Hayley Moorwood would be unnerved by such recognition from one of their younger peers, who, such has been her progress to date, could well be lining up alongside the duo at full international level in a few years' time.
Providing, of course, Caitlin has got her passport by then!