Emily Jensen is a young New Zealand women's football international who's going places. And not even a broken bone in her leg is set to stop her!
The statuesque stopper heads north this week to take up a scholarship at the prestigious Santa Clara University, formerly home to another central defender of no little repute - Team USA legend Brandi Chastain.
And she does so despite nursing a lateral malleolus fracture - a break in the bony lump of the fibula situated at the outer aspect of the ankle, which will sideline Emily for a month.
"It came about due to an unfortunate accident", reflects the nineteen-year-old. "All I am focusing on at the moment is recovery and training my core and upper body. I know I will be extremely well looked after over there and will be back on the pitch in no time".
There, of course, is Santa Clara, winners of the NCAA Division One women's soccer title in 2001, but now languishing at 49 in the rankings after the conclusion of the 2014 campaign.
Emily, one of nine new recruits on the SCU roster, heads to her new home in California eager to help her new team make rapid progress towards recapturing those glory days around the turn of the century.
"I am so very excited and lucky to be given this opportunity, and am ready to make the most of it", beams the photogenic Nelson native, the eldest of three daughters in the Jensen household.
"When I was five, my parents rented out our Nelson house and we moved to Mt. Maunganui for three years. We then moved back to my hometown. I consider myself lucky to have lived in two of the most beautiful parts of New Zealand".
A year prior to heading north, Emily caught the football bug. "I was four years old when I first started kicking a ball around, and to this day I've never stopped. Neither of my parents played football, so I was never pushed in anyway to play. I literally played because I wanted to, and loved it.
"As I got older, my dad would always come out for kicks with me. I remember getting angry with him because some days he said I wasn't allowed to use my right foot and everything had to be left-footed. At the time it was hard, because my left foot was for standing on, but boy, do I thank him for that today!"
Football isn't the only sport at which Emily has excelled. An award-winning swimmer in her Waimea College days, such has been her prowess in both netball and touch rugby that she has been offered the chance to represent her country in both codes.
"I've always put those requests aside in favour of football, a decision I've never regretted".
Nor has anyone who has seen Emily emerge into one of the genuine up-and-comers in New Zealand women's football today. Her career really began to progress as she entered her teenage years, when she was selected for the Mainland Federation's 14th grade team.
"To this day, I still wonder whether I would be where I am today if I hadn't been selected for that team", Emily muses. "I played alongside Meikayla Moore, Lily Alfeld, Laura Merrin and Lauren Dabner, all of whom I had the honour of playing for New Zealand with a few years down the track".
Hard on the heels of that first representative side came involvement in the National Talent Centres. From here on, Emily's football career really started to take off, particularly following the arrival in Nelson of former English age-grade international and Norwich City youth team captain, Joe Green.
"I thank Joe every day for all he did for me", admits Emily. "He was a really great guy with his head screwed on really well, who came to the Nelson region to coach and played for Richmond Athletic for a couple of seasons.
"He was a former centre-back, and we had endless one-on-one training sessions, during which he gave me heaps of pointers to aid my development in that position, as well as with regard to my mental focus and aspects of the game related to that".
Green's input was invaluable to Emily, at a time when she was in contention for a place in the Young Ferns team. "Being by myself in Nelson, away from the NZ U-17 team, which was training together every day, was so hard, but he helped make it possible.
"I remember spending all my spare time training and preparing to be the best I could be, but because I was alone there were days where I wanted to give up. But I had an awesome support network who always helped me get back on track".
2012 was U-17 Women's World Cup Finals year, and Emily became a familiar figure on flights twixt Nelson and Auckland, as she joined the squad for regular training sessions and played for Three Kings United, with whom she won the ASB National Women's Knockout Cup and came close to snaring the Maia Jackman Trophy, as Cup Final MVP, as well.
But if you think it was all wine and roses for our then-sixteen-year-old starlet, think again. Indeed, it came very close to being Emily's personal annus horribilus!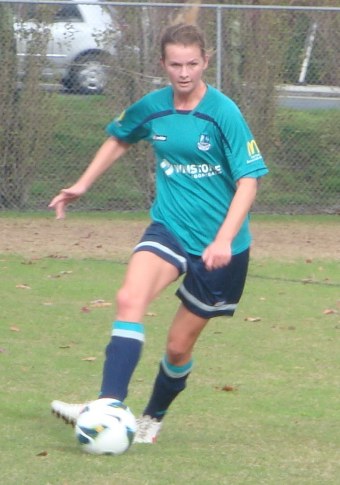 In action for Three Kings United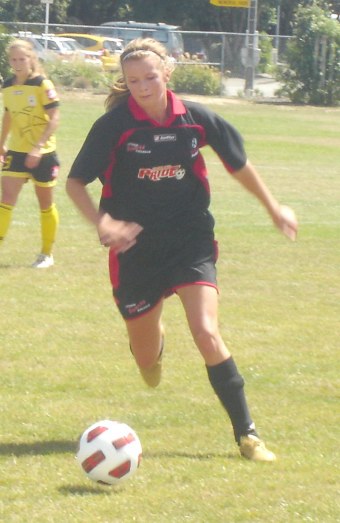 In action for Mainland Pride
EMILY'S FAVOURITES
| | |
| --- | --- |
| TV Show | The Mentalist |
| Movie | My Sister's Keeper |
| Music | Chill music. James Vincent McMorrow, Sam Smith, etc. |
| Food | Mint anything! Chocolate, biscuits, ice cream |
| Footballer | Lionel Messi |
| Football Team | Barcelona |
| Other Sports | Netball, Touch Rugby |
| Other Sports Stars | Richie McCaw - born leader, athlete and all-round great person |
| Best Countries Visited | Argentina, Switzerland, Italy - Rome in particular - and Fiji |
| Way to Relax | Have an afternoon nap, falling asleep listening to music. Drawing. |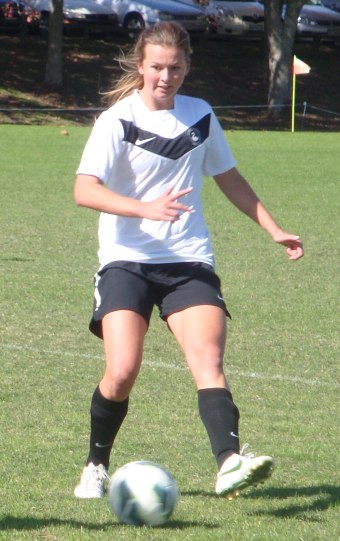 In action for Forrest Hill-Milford United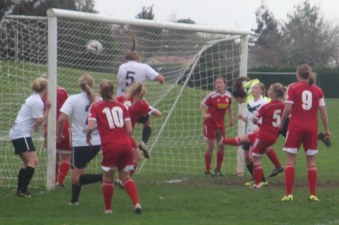 Scoring against Claudelands Rovers
"During the U-17 campaign I suffered two bad ankle sprains, one on each foot. The first one wasn't too bad and only sidelined me for four weeks. The second one, however, was bad enough to put me out of football training for the best of three months!
"After three weeks I was able to get on the bike and I did so every day, religiously. Unfortunately, I kept tweaking my ankle just in everyday life. Sometimes I would be walking to class, step on an uneven surface and BOOM - that would set my recovery back another week.
"It was never-ending and was extremely challenging mentally. I missed practically an entire season for Three Kings, and with the World Cup just round the corner the worst thoughts were always lingering in the back of my mind".
Thankfully, with plenty of patience and the right rehabilitation programme, Emily came right, and was able to make eleven appearances in the Azerbaijan 2012 campaign, albeit with both ankles heavily strapped!
"That was one of my greatest achievements to date", she smiles proudly. "Each game feels like it was just yesterday. The heat, the pressure, the tears, the happiness, not forgetting one of my greatest achievements - my goal!"
Ah, yes. That goal. A close range header from New Zealand's best-performed outfield performer throughout the Finals. It just happened to give the Young Ferns a 1-0 lead. Against Brazil - no biggie!
"The whole experience was unforgettable. I was playing alongside my best friends in a foreign place, representing my country - that's something that will never be taken away from any of us".
Cue the first of a string of personal accolades for Emily, the 2012 Nelson Sportswoman of the Year. Another soon followed - Waimea College's Greatest Achievement in Sport honour, an award she won again the following year.
"After that World Cup I craved more. I knew that football was for me and what I wanted to do every second of every day. So my next goal was to make the Junior Ferns team".
Throughout 2013, Emily continued to commute between her hometown and the nerve centre of New Zealand women's football, and her game continued to thrive. Her trophy cabinet began to bulge, too, as four prizes headed her way.
Her name was etched on the Waimea College Sportswoman of the Year, the Tasman Secondary Schools Sportswoman of the Year and Footballer of the Year titles, and the Northern Premier Women's League's Young Player of the Year trophies come the end of the season, a sure sign that this was a player hell-bent on achieving her objective in a year's time.
Throw in Mainland Pride's maiden ASB National Women's League title, in the last of four seasons in which she played for her home federation, and it really was an outstanding year for the six-foot-tall stopper.
"The U-20 campaign was another of my greatest achievements. I moved to Auckland at the start of 2014 to train with the team every day and be in the environment 24/7. I loved it, and everything about the year.
"Leaving home, I grew up so much. Training every day was hard mentally and physically, but I learnt a lot. Also being with my team and some of my best friends every day made for some great adventures".
Emily switched to Forrest Hill-Milford United for the 2014 Northern Premier Women's League season, and relished her new environment. "What a great club! From the coaches to the management and, of course, the players, it really was dynamic. We ended up winning the league and were beaten finalists in the Knockout Cup. Overall, a really enjoyable season".
It wasn't over, however. The little matter of Canada 2014 beckoned, and the Junior Ferns' efforts at those U-20 Women's World Cup Finals saw them carve themselves a place in New Zealand footballing history.
"It wasn't long before our hard work paid off. We scored wins over Paraguay and Costa Rica to earn ourselves a spot in the quarter-finals - a first for New Zealand football, and an achievement that we are all extremely proud of".
Rightly so.
After such a demanding year, during which Emily made a further eleven appearances for her country, she was one of a handful of Junior Ferns' stars who sat out the National Women's League season, but didn't spend her time sitting idle.
Papers were signed, and a northern hemisphere spring start agreed for her spell at Santa Clara, where she will study for the next four years.
"My goal is to become the best I can possibly be at Santa Clara, develop and learn as much as I can, then return to New Zealand and be fighting for a spot in our national team.
"It's my desire and dream to play for the Football Ferns and compete at both the Women's World Cup and the Olympics", declares Emily Jensen, a young women's football star from Nelson who seems destined to go all the way to the top.