Juggling Work And Play No Problem For Kristy
by Jeremy Ruane
Combining representative sporting selection with a demanding full-time job is challenging enough when you have to concentrate on just one code, so you can imagine the amount of juggling involved when you're been chosen to play for your province in two sports.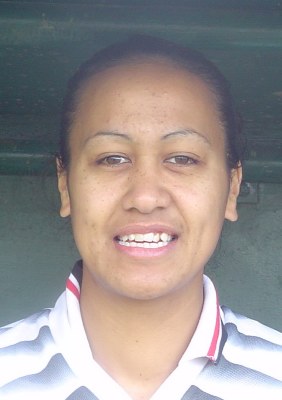 Such is the case for Auckland women's soccer star Kristy Hill, who has just returned from Australia, where she was a member of the Auckland representative gaelic football team which contested the Australasian Championships.
"It was a tournament involving the Australian state teams and Auckland, with selection for an Australasian representative side to take on Ireland next year the individual goal for all concerned", said the Avondale resident.
"I've no idea when the international takes place - I'm just delighted to have been chosen!!" she giggled.
It was almost a case of straight off the plane and straight into "A Team" training for Hill, a defender in the Auckland women's soccer squad currently endeavouring to win the National Women's Soccer League again.
"We've got a really good team this year, and are quite competitive. It's hard enough just getting a place in the starting eleven, so when you do get the chance, you have to perform", says the player who has made fifteen appearances for the "A Team" going into this weekend's clash with Wellington.
"We're about as prepared as we can possibly be for that match", says Hill, who is a big fan of the modern National League format, something which wasn't even foreseen for women's soccer in the days when she first started playing.
"I was ten at the time, and my brother-in-law said, 'Do you want to come and play soccer?' So I did, down at the Lynndale club, as it was then known. I was the only girl in a boy's team, and thought it was pretty cool!
"Unbeknown to me, the coach of the side had told the boys not to pass the ball to me, so I was stuck out on the left wing. One of my friends told me he wanted to give me the ball, but the coach had said otherwise … suffice to say, it only made me more determined to succeed".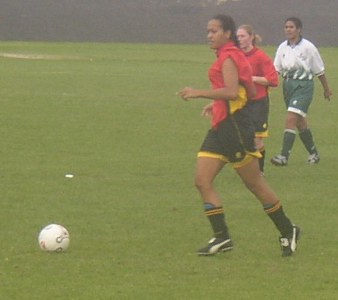 And succeed the Ellerslie defender certainly has, for along with her "A Team" appearances and her prized Uncle Toby's Women's Knockout Cup winners' medal from the 2001 final, Kristy Hill holds down a challenging position as a Community Liaison Officer with the Maori Affairs Department.
"I serve as a conduit for the Maori community in accessing government services", states the multi-talented Hill, who admits to not really knowing how she manages to cope with juggling her job, her football and her gaelic commitments.
"Put it down to good time management skills!!" she laughs. That, plus talent aplenty, and an ongoing desire to enjoy what she does, and be as good as she can be in whatever she does, on and off the sports field.
Football's "Late Bloomer" Far From Over The Hill
by Jeremy Ruane
Three Kings United captain Kristy Hill is one of a dozen Central Auckland football stars who flew to the Korea Republic on Tuesday as part of New Zealand's Football Ferns squad, who are competing in the Peace Queen Cup over the course of the next week.
For the 28-year-old defender, it's her first-ever opportunity to wear the silver fern and comes just a year after she was seriously contemplating a change of codes.
"I was ready to leave football and play rugby", she said after the squad was announced last week. "I thought I was getting a little too old and past my used-by date for football, and felt I'd achieved all I could in the game.
"Rugby, by contrast, presented me with an opportunity - the chance to follow in the footsteps of former New Zealand defender Melissa Ruscoe, so I thought I may as well switch codes".
But a surprise was in store for `Hilda', as she is nicknamed - an invitation to become part of the Football Ferns training squad. And it's one she's clearly relishing.
"It's really exciting to be around really positive people, and being in that environment has certainly made a difference. Now I've quit every other sport", says the long-time Auckland representative gaelic footballer, "and am concentrating solely on football".
The self-described "late bloomer" has made 39 appearances for Auckland's "A Team" since 2000, but until now has never been part of the New Zealand representative scene.
"It's really exciting", she grins. "I'm really hoping to get some game-time, as it'll be my debut for New Zealand at any level. So I really want to get on the field and experience what the game is like at international level".
The former Maori Affairs Department employee has high hopes that the Football Ferns will make their mark on the international stage in Suwon. "My intentions are that we walk away with at least a place in the final of the Peace Queen Cup, and I think we've got the team to do that. It's really exciting to be a part of that opportunity.
"Afterwards, whatever happens, happens, but I'll definitely be trying to train and push hard so that we can win a game at the Olympic Games in August, as well as in the build-up to them".
Hill works for the Auckland Regional Council's Maori Relations Unit when not dominating opposition attackers on the football field, and the ARC's media people will know exactly how they feel after coming off second-best in their attempts to pin down their colleague for a chat prior to her journey north.
"They've been trying to get me on the intranet to do a story. I don't really want to - I'm trying to hide from them at work!" she laughs.
Hill is far more appreciative of her employer's encouragement of her sporting ambitions, however.
"They're really excited and supportive, having given me sporting leave for my time away, even though I've got heaps of annual leave due. They're really good about me training at lunch-time also, which is a big help".
Kristy Hill is one of two debutants in the Football Ferns squad on this tour, the other being Three Kings' team-mate Betsy Hassett. Club-mates Anna Green, Annalie Longo and Merissa Smith have also been selected.
There are five Lynn-Avon United players too, namely Katie Hoyle, Emma Kete, Hayley Moorwood, Kirsty Yallop and Amber Hearn, who has earned the chance to don the silver fern once again after an injury-hit spell in English football led to her taking an eighteen-month break from the game she loves.
Western Springs' duo Abby Erceg and Renee Leota round out the dozen local stars who'll be in action in Korea, where the Football Ferns will encounter the host nation (Saturday), Argentina (Monday) and Canada (Wednesday) in their group.
A $US 50,000 carrot is on offer to the group winners, who will contest the Peace Queen Cup final against either Australia, Brazil, Italy or the USA in Suwon on Saturday week.