It's not always a good look on your footballing CV when you start out as a striker, then drop back to roles in central then wide midfield before being shuffled even further away from the opposition's goal.
But in the case of Young Ferns star Caitlin Campbell, the switch to the right fullback role has proven to be the making of her as an international footballer.
"The positional change was my idea", grins the Hastings native. "I was getting frustrated that I wasn't starting, to the point where finding the right position for me in the Young Ferns has been the worst experience I`ve had in the game to date.
"On this particular occasion, I asked coach Paul Temple if I could try playing right-back. The next training session, he put me there, and I think I did OK. On the April tour to Australia, I played in that position and scored a goal in the first of our 4-0 wins", triumphs over the Junior Matildas which raised more than a few eyebrows.
"I haven't looked back since, having now played seven internationals in my new position. It is hard for me, however, because I don't get to attack as much as I would like to.
"I love anything to do with attacking - setting things up for others, as well as scoring myself. But the fullback role means I still get to overlap and get a few crosses in. And take the set-plays, of course".
Ah yes, Caitlin's set-plays, the source of a fair proportion of the 75 goals this beanpole 17-year-old has already amassed in just five seasons of senior club and representative football. As they will doubtless continue to, her booming free-kicks from distance have caught out many a goalkeeper so far in her career.
A career which began as a five-year-old with Western Rangers. "Apparently when I was younger I used to always have a ball with me, and I just used to kick things for fun!
"My Aunty Joanne was coaching my cousin's football team, so she asked if I wanted to join the club. Me being a five-year-old, I didn't know what I was agreeing to, but it seems to have worked out for me".
Cue a trademark mischievous grin from a six foot tall teenager who can always be picked out on a pitch for reasons other than her imposing stature - there's no mistaking that inch-wide headband anywhere!
The NZ Secondary Schoolgirls international moved north to Auckland in 2000, and has since graced the colours of Waitakere City and her current club, Glenfield Rovers, with whom she picked up a runners-up medal in the 2007 National Women's Knockout Cup Final.
Less than a year earlier, in November 2006, she made her Football Ferns debut at the tender age of fifteen. "Starting the first game on the China tour is my most memorable moment in football to date.
"Getting to wear my lucky number seven and playing alongside my favourite player, Hayley Moorwood, were other great memories from that trip, which was one of the first times I'd ever travelled abroad - less than a year earlier, I didn't even have a passport!"
As recently as October 2005, Caitlin had only ever been as far north as Whangarei, and as far south as Wellington. The South Island followed a month later, along with a noteworthy addition to her trophy cabinet - the National Women's League Young Player of the Year.
This meant New Zealand selection was inevitable for "CC", and in 2006, brand new passport in hand, she was part of the squad which headed to Samoa, where they were crowned Oceania champions, and qualified for the FIFA U-20 Women's World Cup Finals.
"I've stayed in eight different countries now, and touched down in ten", beams this proud Kiwi broadly. "The thing I've enjoyed most about all these places is going there and seeing how much football means to the locals. In New Zealand, everything's netball and rugby, but in the South American countries they live for football - I love that!"
Just as much as she loved her most recent trip, as part of the Junior Ferns' squad to Chile. "I got a really good amount of game time on that tour, and got to work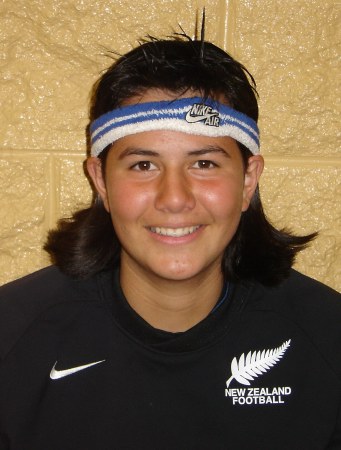 Caitlin Campbell's Favourites
TV Show

Home And Away

Movie

Pride And Prejudice

Actor

Will Ferrell

Author

Jane Austen

Music

Anything besides punk rock and country

Food

Custard

Football players

Hayley Moorwood,

Kirsty Yallop

Other sports

Basketball, Softball, League, any extreme sports

Other sports stars

The Evers-Swindell twins

School subject

Sciences, Photography (if I took it!)

Best Country Visited

Chile 2008

Way to relax

Listen to my iPod and go for a walk; Going to the beach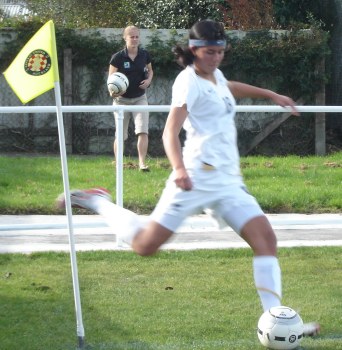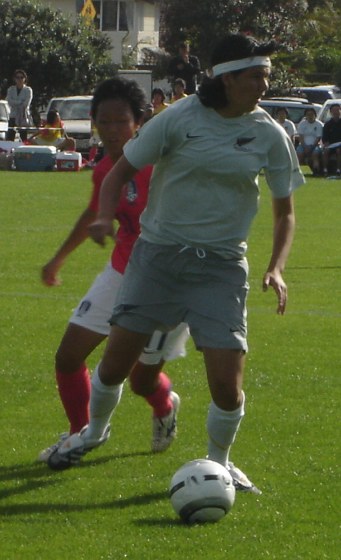 with some world-class players like Abby Erceg, Katie Hoyle and Ria Percival.
"To me, representing my country is the biggest honour possible", says a young lady who has picked up the nickname `Native' on her travels. "When I was little, I used to write goals for myself, and they always used to be about representing New Zealand, and being the best I could be for my country".
Something which Caitlin certainly hopes she will be in not one, but two Women's World Cup Finals over the next couple of months. "I couldn't describe how it would feel if I got to play in both tournaments. It would be so amazing if I got to represent my country in two World Cups in the same year for two different age groups.
"Battling to make the quarter-finals with both teams is going to be a lot of fun and hard work, but I think we can do it", declares someone who doesn't dislike any aspect of the beautiful game, and knows all about hard work after one particular aspect of the Young Ferns' programme.
"The overriding memory of the campaign so far would have to be the eight weeks of fitness work, and how hard everyone worked during that time - no-one ever gave up! It was awesome to see everyone putting in 110% for the team.
"Training of late has been really hard, `cause I never know whether I'm training with the U-20s or the U-17s. Not having many trainings with the U-20s is also hard, as all we Young Ferns players want to train as Junior Ferns, but it's challenging with the World Cup being so close".
When Caitlin heard in 2006 that the inaugural FIFA U-17 Women's World Cup Finals might be in New Zealand, she was over the moon. Once it was confirmed, the Massey High School student quickly became an established squad member, but admits to having had trouble concentrating on her schoolbooks this year.
"Juggling school and football has been tough going. I'm not really a fan of school anyway, and trying to force myself to study or do work would just make me go nuts! I'd rather be out kicking a ball around", declares a teenager with ambitions of playing in America sometime soon.
"I don't mind if it's a college or a team like FC Indiana", grins Caitlin, who, like her Young Ferns team-mates, has more pressing matters on her mind at present, given we're on the eve of the Finals. "Everyone is really excited. We walk into a training session or game and everyone's yelling out how many days to go.
"I'm starting to get nervous now but extremely excited nonetheless. It's going to be an amazing experience. It's lucky for me that I'm just young enough for it", says Melinda Campbell's younger sister, who was born just 33 days inside the eligibility date of January 1, 1991.
"One of the most important aspects for me is that I'll get to play in a major footballing event in front of the person who is, without a doubt, the biggest influence on my career - my Mum, Lorraine.
"She's always at my games, always takes me to training when she needs to, or the physio, and pays for everything by herself. She's so special!"
Her daughter's impressive footballing abilities mark Caitlin as someone deserving of mention in like manner, although a former coach can take a bit of credit for the recent progress of this promising talent.
"When he left the country, John Hewitson said to me, `You need to be more confident in your ability'. That message has always stuck in my head", says the twice-capped Football Fern, who has clearly transferred that advice into on her on-field deeds.
So much so, in fact, that, faced with missing out on a starting berth in the Young Ferns line-up altogether just months out from the inaugural FIFA U-17 Women's World Cup Finals, Caitlin Campbell boldly fulfilled that advice to the letter.
Now, having taken on the challenge of embracing a new playing position in such impressive fashion, it's fair to say that her international career is now, literally, right back on track.