Less than a month out from the Olympics, and it's fair to say that Football Ferns coach, John Herdman, is a tad frustrated.
He's overseen the development of a highly promising national squad which is poised to advance to the next level in its growth on the world stage, but it's missing one vital ingredient, an essential extra which can make all the difference in international combat.
Wherefore art New Zealand's female equivalent of Liverpool's record-breaking, UEFA Championship-winning Spanish striker, Fernando Torres?
Had `El Nino', as he is nicknamed, been on the receiving end of even half the opportunities the Football Ferns carved out in their 1-0 loss to Australia at North Sydney Oval on Saturday, there is no way on earth the visitors would have finished the match contemplating an eighteenth successive reversal at the hands of their arch-rivals.
And Herdman knows it. "I'm very worried about our goalscoring. As a team, we've got to really address that. We had enough set plays there today, and enough opportunities where some players have got to step up and say `This is why I've been picked in the team'. I'll certainly be addressing that with one or two individuals.
"I've got to be quite happy with the performances of individuals and of the team collectively, however. Tactically, they were very cohesive. But in terms of the result, this is what football's about - it's about coming to these places and getting results. It`s about being ruthless in that attacking third.
"I thought we were ruthless all over the pitch, in terms of the pressure we put on and the quality that we were playing, but it just didn't seem to appear in the attacking third, which is something we'll work on.
While regarding the first half as "nip and tuck", there's little doubt in Herdman's mind which team deserved to get something out of the game. "The second half was NZ dominant. What they've shown now is that for 45 minutes in that second half, they're able to sustain that relentless, and I thought they wore the Aussies down.
"In the end, they should have had something. I think the girls will be disappointed they didn't take something out of the game. A more lenient referee would have given a penalty, I'd have thought, but we aren't going to moan about that".
The Football Ferns' captain, Hayley Moorwood, succinctly expanded upon her coach's thoughts. "I think the girls had a good performance as a team. It's just now we need to finish our chances. We can't hit the side-netting", she growled, in reference to her own effort. "We need to hit the back of the net.
"We're quite disappointed with not coming away with a result today. We expected to finish two or three goals. The second half, which we dominated, would be our most consistent 45 minutes. Our performance today shows that we can get into the attacking third. We need to dominate and live in there.
"We build confidence as we keep playing the ball around. It's great to see that the girls want the ball and we're all out there living for each other. The overlapping runs, the runs inside … everyone was filling each other's spaces, so it was great to see that we were out there just working for each other today. Now we just need to finish - get a result".
There will be opportunities to do just that as the Football Ferns' build-up to the Games continues, as Moorwood explains. "In these next few games before going into the Olympics, we need to start hitting the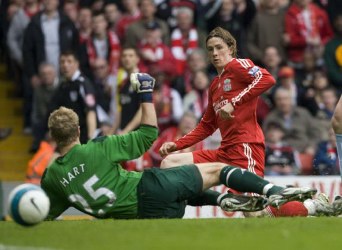 His armband proved he was a Red -
Torres, Torres!
"You'll Never Walk Alone", it said - Torres, Torres!
We bought the lad from sunny Spain,
He gets the ball, he scores again,
Fernando Torres, Liverpool's number nine!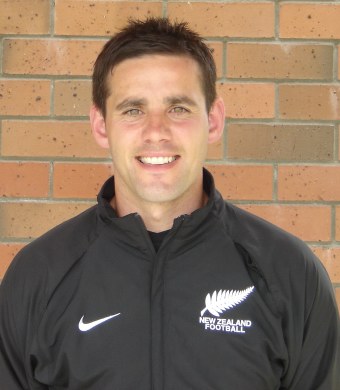 John Herdman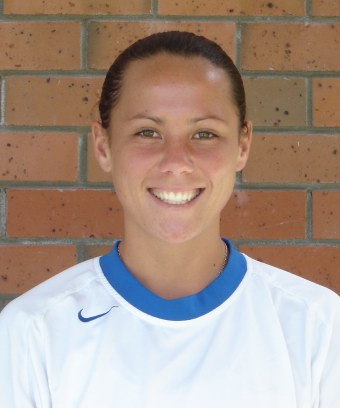 Hayley Moorwood
back of the net, and be confident in scoring goals.
"We now head back into China for two games, in one of our Olympics venues, Qinhuangdao. This will allow the team to get a feel for things, and from that we'll adapt and see how we go.
"We know what we need to work on, and where we need to pick things up a bit. I think living in that attacking third is where we need to concentrate in these matches".
The Chinese clashes are followed by games in Singapore against the host nation and Canada, and Herdman considers that his charges "should be in a good space by the time we rock up against Japan.
"The key with these lead-up games is that we get the best players out on the pitch without compromising the quality of what they'll bring out at the Olympics.
"What generally happens in women's football is that the likes of Japan, Norway and the USA roller-coaster throughout the year, playing internationals consistently, so that they develop a level of cohesion which New Zealand doesn't. Instead, we play against boys teams with 80% of the squad. Unfortunately, if you want to push to that next level, you need a more consistent schedule of games.
"Obviously the USA have been the most consistent team this year, but conceding four goals against Australia lets you know they're not invincible. Whereas Japan show, for me, a higher level of consistency. But I think the Japanese style of play will suit our game of pressure and our physical dominance as well".
To make the quarter-finals of the Olympics, a win in at least one of the group games is imperative, so targeting Japan for that win is understandable. But Herdman and the squad have another target in mind as well.
"I think when you talk about fairytales, the USA could be a real target for us. I recently watched them at the Peace Queen Cup and wasn't overly impressed, so I think these girls are pretty confident going in against them.
"We might already be qualified by then", he grinned. "We might be able to rest all our key players by the time that fixture comes round - that's what we're aiming for!!"
Moorwood and company would love that. And understandably, they're looking forward to the whole Olympics environment, as the captain explains. "Once we arrive in Beijing, we're only in the Olympic Village for a few days. We're going to live the experience - it's huge for every one of us, so we're definitely going to take in as much as we can.
"But while the whole Olympic village scheme of things is going to be very exciting, we're there to concentrate on making the quarter-finals. We go into the Olympics as our own team and concentrate on what we're doing at the Olympics.
"Our first game (Japan) is on the sixth, so I highly doubt that we'll be there for the opening ceremony on the eighth, with a game again (Norway) on the ninth. If we don't get to make the opening ceremony, that's how it is. It would be nice to go, but we're there to concentrate on our football, so if it doesn't happen, it doesn't happen".
One thing Moorwood would love to happen is for herself and her team-mates to rediscover their scoring touch. Every other aspect of their game is coming together nicely. It's now time for the Football Ferns' Fernando, whoever she may be, to add the icing to the cake!