Of the numerous questions asked of the Young Ferns in compiling their profiles throughout the course of New Zealand `08, one response in particular stands out.
Asked the identity of her favourite author, Annalie Longo innocently replied, "When do I get time to read?"
It's a sure-fire conversation stopper, that's for certain. Yet at the same time, it speaks volumes about a seventeen-year-old soccer sensation who is the first female footballer in the world to participate in all three FIFA Women's World Cup Finals - U20s (2006), senior (2007) and now, NZ08.
Oh, and lest we forget, she was a non-travelling reserve for the Football Ferns' Olympics conquest in August, and is Chile-bound for the 2008 FIFA U-20 Women's World Cup Finals, an event for which she will still be eligible in 2010 in Germany, should the Junior Ferns prevail in the October 2009 qualifying series in Auckland.
With an itinerary of this magnitude to point to, it's no wonder "Flea" doesn't have time to read. Away from football and her studies, it's a miracle that the Epsom Girls Grammar student gets any time to herself.
"It's very full on, that's for sure", the Young Ferns maestro says of her demanding training schedule. "Fitting it all in and consistency are the challenges I've faced all year. Being in all three teams makes it very difficult to create relationships on the field, as I'm in and out of environments.
"But playing in both the U-17 and U-20 Finals back-to-back will be an overwhelming experience. The culture of the Young Ferns squad is so special - unreal, if I'm honest. Players have really come out of their shells.
"The confidence of the girls really developed with the convincing draw in Paraguay, and our win over a NZ Selection immediately prior to the tournament. I think that confidence was evident in all our matches. We deserved better than we got against both Canada and Denmark, but against Columbia, we got the result our efforts over the last two years have richly merited".
The Auckland born-and-bred central midfielder was thrilled to see so many fans turning out to support the Young Ferns in her home town. And while playing in front of over 56,000 fans at the 2007 Women's World Cup Finals in China remains her most memorable experience, this one wasn't too far behind.
"Being part of the inaugural FIFA U-17 Women's World Cup Finals has been a real honour, and an amazing experience, not only for myself but, I'm sure, the New Zealand public. We've shown our country the talent we have developing at youth level.
"Creating a legacy for young female players to aspire to is something we're aiming to achieve through our efforts at both tournaments - Chile as well as here. Our recent results in Chile - a draw with Canada, a win over Mexico - and finally getting together as a team mean we can head to Chile this time with a real belief that we can achieve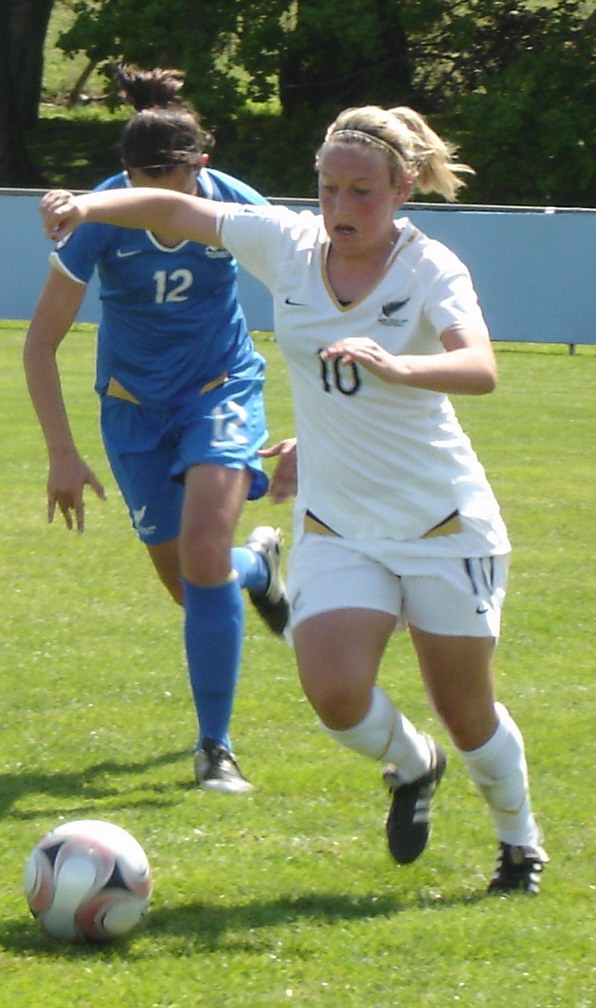 Annalie Longo's Favourites
| | |
| --- | --- |
| Club | Manchester United |
| Footballers | Marta, Cristiano Ronaldo |
| Food | Italian food, pizza/pasta |
| Music | Techno, R&B, House, Hip-hop |
| Movie | Mamma Mia |
| Actor | Denzel Washington |
| Actress | Angelina Jolie |
| Author | When do I get time to read? |
| TV Show | Gossip Girl |
| Way to Relax | Watch a movie with friends; Beach |
| Other sports | Dancing, Touch Rugby |
| Other sports stars | Dan Carter |
| School subject | PE |
| Country visited | PNG or Paraguay, just 'cause it was an experience I'll never forget! |
| Country | Chile or Italy |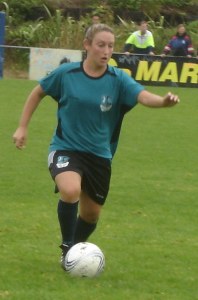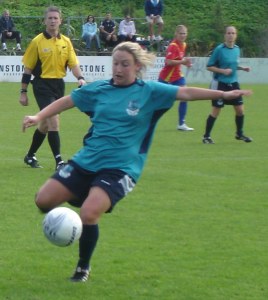 our minimum objective".
A top eight finish would be massive for New Zealand football, and the women's game in particular. For the Three Kings United midfield dynamo, it would certainly make up for "being dropped for the Olympic Games - the biggest disappointment of my career to date.
"Representing my country, be it for the Young Ferns, the Junior Ferns or the Football Ferns, is something which makes me feel proud. Being a senior player in the age-grade teams brings with it certain expectations, of course.
"I find the best way to handle anything that arises in this regard is simply to deal with it, focus on what I do best, try to bring my strengths to the forefront, and lead by example".
That she most definitely does. A quick look at a few of Annalie's achievements to date serves to emphasise just how great an example she sets for others to aspire to - and remember, she is just seventeen years old:

New Zealand Football Ferns - 15 caps

2007 Women's World Cup Finals in China

Non-travelling reserve, 2008 Olympic Games in China

New Zealand Junior Ferns

2006 U-20 Women's World Cup Finals in Russia

2008 U-20 Women's World Cup Finals in Chile

New Zealand Young Ferns

2008 U-17 Women's World Cup Finals in New Zealand

NZ Secondary Schoolgirls

Auckland Federation teams - senior and age-grade

2007 National Women's League winners

NZ Secondary Schoolgirls champions with Epsom Girls Grammar

2007 ASB Bank Young Sportsperson of the Year

Finalist, International Women's Young Player of the Year

Finalist, Auckland Junior Sportswoman of the Year
Not bad going for someone who began playing at the age of four, eh? "My brothers, Jason and Julian, used to play for Eden Football Club, and I used to go along to watch and make my Dad, Paul, play with me while doing so.
"So he enrolled me when Eden amalgamated with Mt. Roskill to become Three Kings United, and things have just gone on from there", says, with no little understatement, a young lady with ambitions to become a professional soccer player and perhaps secure a scholarship to a USA university, plenty of whom have, unsurprisingly, already made enquiries about her plans in that regard.
"I love playing football, although I openly admit I'm not a fan of the physiological side of the game", says Annalie. "Winning and getting an outcome from what you're working on are aspects of the game I most relish. And at all times I endeavour to apply the best advice I've received to date - `Be yourself and remember to enjoy it'.
Advice which has clearly stood this fine advertisement for the WYNRS programme in good stead. Along with the contribution of a couple of highly significant people in her life.
"John Herdman has encouraged and developed me as a player on the international stage. But none of what I've achieved to date would have been possible without Mum and Dad.
"The support Leanne and Paul have given me, be it monetary, driving me to training when I was younger, or always putting me into the best environments where I can improve, has been invaluable".
Anyone who witnessed Annalie Longo's performances for New Zealand throughout the inaugural FIFA U-17 Women's World Cup Finals will doubtless agree.
They'll be hoping for more of the same from her at Chile 2008, of course. After which "Flea" has a well-earned break lined up … rumour has it with a good book or two for company as well!