In the two-year history of New Zealand's Young Ferns' campaign for the inaugural FIFA U-17 Women's World Cup Finals, Western Springs midfielder Emily Cooper is a comparative novice.
Indeed, she wasn't even in the picture when the initial squad was named, and throughout 2007 remained, like so many others, on the outside looking in.
But a stellar season last year - MVP awards for both school (Mt. Albert Grammar) and club (Western Springs at U-17 level) - propelled her into the considerations of Young Ferns' coach, Paul Temple …
"I've only been part of the programme this year", says the sixteen-year-old, who received a belated March birthday present when named in the squad which headed west and recorded this country's biggest victories over Australia at any level in many a year.
"That Australian tour is easily the stand-out memory for me, and playing in those internationals particularly. It's a huge honour putting on the strip. It makes you realise that all your hard work is worth it.
"You are playing not only for yourself but for the rest of the country, with the knowledge that they are supporting you".
The level of support from her family, since the Wellington-born, long-time Auckland resident first began playing for Springs as an eight-year-old, has been immense. Parents Anne and Geoff, brother Henry and sisters Alexandra and Madeleine have been there for her every step of the way, her father especially.
"My Dad is really into soccer. He gives hours of his time to help me with technique and positional stuff. But he never pushes me - it's always up to me, I need to keep working to raise the standard of my play and continue to improve, as I face the challenge of trying to make the squad for the World Cup".
There have been two other key influences in "Coops"' career to date, both of whom enjoy immense respect in their respective environments. And while club stalwart Brent Woods may be known to few outside Western Springs, a certain K.B. Fallon NZM needs no introduction.
"'Woodsy' is a great coach because he lets me make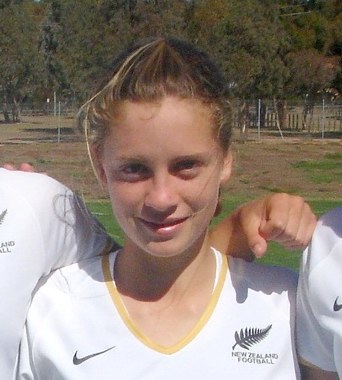 Emily Cooper's Favourites
| | |
| --- | --- |
| TV Show | Grey's Anatomy |
| Movie | Zorro |
| Author | Lloyd Jones |
| Music | Opshop |
| Food | Lamb salad (the way my Mum makes it!) |
| Football player | Thierry Henry |
| Football team | Arsenal |
| Other sports | Rugby |
| School subject | PE |
| Way to relax | On a beach - especially camping at Tarawharanui |

mistakes but helps me to understand them and picks
up on small parts of my game that need improving. And Kevin Fallon, my fourth form soccer academy coach at MAGS, just drills the basics into you. He is so passionate about football it simply rubs off on you".
Having come through the rigours of those `crack o' dawn' training sessions a better player, you would think the U-17s training programme would be plain sailing for the Auckland age-grade representative, who
has captained her province's U-12 and U-14 teams.
"It's pretty busy, that's for sure, with training nearly every day. Last year was similar, but training sessions now are to a higher standard and intensity. The main difference is in travel times, having to get up to North Harbour for the sessions.
"My Mum's on my back about balancing school work as well, which complicates it even more, but you find ways to deal with it", says the teenager who intends to pass NCEA Level 2 this year with at least merit.
"After that, I want to pass Level 3, then go on to university. Going to the USA on a scholarship would be wicked, but my prime ambition this year is to make the World Cup squad".
That in itself would be a huge achievement for a teenager who cites winning the U-16 National Age Grade Tournament with Auckland last year, and beating Diocesan School for Girls on their own pitch for the first time in over five years in the Auckland Provincial School Championships as her biggest achievements, prior to donning the silver fern in Australia.
"It's amazing to think how as big an event as the FIFA U-17 Women's World Cup Finals is taking place here in New Zealand, and we have the chance to play in it. It's a once-in-a-lifetime experience to play in a World Cup at home", declares a young lady who was put on the footballing path literally by word of mouth.
"My parents have this rule that we have to play at least one sport all year round while we are living at home. That sport for me is soccer. My best friend at primary school started and said I should join, so I did.
"When you start playing, nothing else matters, and everything other than the game just disappears. What I most enjoy about football is the feeling you get when you do something wicked (pull off a particular trick in a game, for instance), or when you accomplish something you've been trying to achieve for ages".
It hasn't all been plain sailing for Emily Cooper so far in her career, but those occasions "when I haven't performed to my expectations" will be more than compensated for should she join twenty of her U-17 Young Ferns' team-mates in realising her World Cup squad ambition in the next few weeks.