Prior to the start of the 2007 soccer season, Nadia Pearl was looking forward to another season of social grade football with Bay Olympic.
The Avondale College student began playing in the Seventh Grade, following in the footsteps of older brother, Harry. Like any sport she tried, she relished it. Unlike other sports, however, the game the world plays captured her imagination.
"I just never quit! I reached a stage where it was just part of me to play all the time - I loved it!"
And came to love it even more following a pre-season phone call from former Western Springs coach, Jose Figueira. "He called me to come to Springs in 2007, and if that hadn't happened I definitely wouldn't be where I am today!
"It was my first year of taking football seriously, and I improved a crazy amount thanks to both Jose and Paul Temple, his coaching assistant at Springs, and coach of New Zealand's Under-17 and Secondary Schoolgirls squads.
"Best of all, I'm still learning from my biggest influences all the time", as Jose, who is now Director of Junior Coaching at Central United, retains an interest in the women's game as the Young Ferns' Technical Analyst.
The change from social grade to serious football is one which the Auckland-born central midfielder has embraced whole-heartedly, and the rewards for doing so have been well received.
"Take training, for instance. The way I used to train, I'd never want to do anything extra. But now I find it hard to find excuses not to! I never thought I'd be training this much! But I've got no problem though, `cause I love the team and, obviously, the footy!"
Not to mention the opportunities which have come about for one of the younger members of the Young Ferns squad - she turns sixteen eight days before New Zealand contests the opening game of the inaugural FIFA U-17 Women's World Cup Finals on October 28.
"Playing for my country is something I never imagined actually doing. I always thought about it, but I'm actually doing it and it's crazy, awesome! There are so many memories that are so special. I'm a proud Kiwi but to play for New Zealand is amazing!"
It's something that Nadia has done fourteen times all told to date, the first six of which were earned at the Australian State Youth Championships last July. Since then, she's made two appearances against the Korea Republic, and featured in all three Future Stars Tournament matches, as well as the recent Australian tour.
"Getting the draw with Korea, in the final game of the series, and beating Australia are the overriding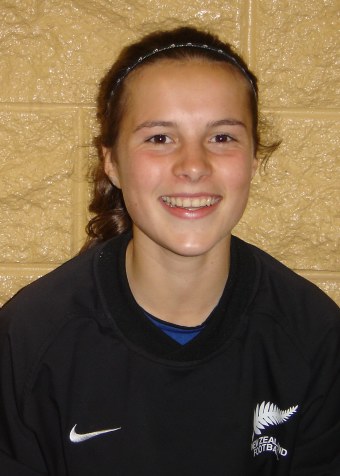 Nadia Pearl's Favourites
| | |
| --- | --- |
| TV Show | Grey's Anatomy |
| Movie | The Lion King |
| Music | Reggae |
| Food | Any! |
| Football player | Cesc Fabregas |
| Football team | AS Roma |
| Other sports | Snowboarding |
| Best country visited | Austria |
| School subject | Art |
| Way to Relax | Just with mates and having a laugh |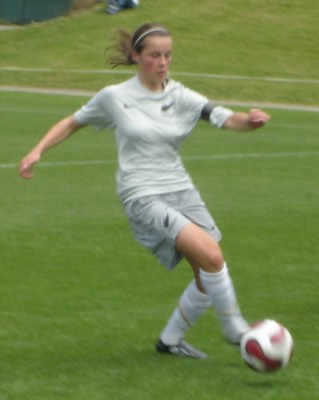 memories I have of the U-17s programme so far. In the Korean game, I ran myself into the ground man-marking their captain.
"I was such a wreck and so exhausted after the game that I can't even explain how I was reacting. It's possibly the funniest part of my New Zealand career so far", says the Auckland U-12, U-14 and U-16 representative, who has been fortunate to avoid injury in her career to date.
"I haven't really had any worst experiences in football. I try not to linger on the bad moments. To me, it's what you do after those experiences and what you learn from them that's important".
Sensible stuff from a young lady who considers the best advice she's received to date to be, "To go for it - there's no harm in trying".
The daughter of Lynn and Ross Pearl has two sisters - Natasha and Ana, as well as brother Harry, and she has an unfortunate nickname, too. `Gonads' has come about from a combination of her high-energy play in the centre of the park, allied to her name.
Not that Nadia minds one iota. But she does have one grizzle which anyone who frequents Auckland's traffic on a regular basis will empathise with. "Since I live on the other side of Auckland, driving out to North Harbour for training basically every night is pretty time-consuming!"
But again, the rewards offset the punishment, for as well as the playing side of the equation, the scorer of one of the goals in the Young Ferns' history-making 4-0 win over their Australian U-17 counterparts is greatly appreciative of the opportunities to have met so many different people through playing the game she loves.
"As for being part of the inaugural FIFA U-17 Women's World Cup Finals, we're creating history, and that's special enough on its own", she declares. "To say you were the first, and especially if we get decent results, will definitely be memorable.
"The World Cup is definitely the biggest challenge I'll face this year. The teams that New Zealand will play are just going to be good. We'll have to step up but there's no reason why we can't".
So says the eight-times-capped engine room toiler, who harbours hopes of travelling and securing a scholarship enabling her to play in the USA at some stage in the not too distant future.
Right now, however, her future revolves around the U-17 Women's World Cup Finals in October and November, and earning selection in New Zealand's squad for same.
Should that materialise, the world will truly be Nadia Pearl's oyster.