Tao and Jeroen Vink have every reason to be proud of their sister.
The sight of the sons of Willem and Trish playing football is what prompted the then-seven-year-old Maia Vink to think she could do so also, but for her, simply playing wasn't enough - she wanted to be better than her brothers!
Ten years on, it's fair to say the central defender has succeeded in her quest, given she's made seven appearances for the Young Ferns during their preparations for this year's FIFA U-17 Women's World Cup Finals.
The Palmerston North native is quick to sing the praises of her family, including younger sister Celia, for their support throughout her career to date. "They started my love for the game", says the Marian College student, who moved to Christchurch with her family on her third birthday in August 1994.
"Dad got a job there, and having family there already made it easier for us, although living in Christchurch itself is quite challenging. It rains a lot and is very cold!"
You can tell from that remark alone that this young lady is not your average one-eyed Cantabrian! You can also tell the influence of Macky Singh, another person to whom Maia is greatly indebted. "He taught me to think for myself".
`Vinkanator', as she is nicknamed, has greatly benefited from this approach, as evidenced by her footballing achievements to date. The Mainland Pride representative was a member of the federation's national title-winning U-16 squad in 2006, a year before claiming MVP honours as she helped Marian College to the runners-up spot at the National Secondary Schoolgirls tournament.
She has also won three medals with Marian in futsal, and scored a hat-trick against Australian opposition in a recent final. But there's no doubting the honour in which the NZ Secondary Schoolgirls South Island squad member for each of the last three years takes most pride.
"Representing New Zealand! To me, it means being proud of where I come from and doing my best to make New Zealand proud of us. We've a very special opportunity to do that this year with the inaugural FIFA U-17 Women's World Cup Finals.
"Having that as an incentive has definitely made me train harder. The training itself has been very challenging, because you have to do everything at 110% to do it right".
The skills she has acquired through futsal have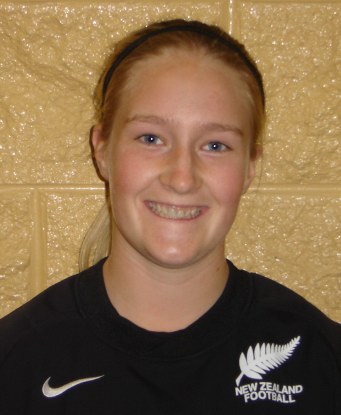 Maia Vink's Favourites
TV Shows

Home & Away, Top Gear

Movie

Mean Girls

Actress

Katie Holmes

Music

Techno! (You know, douf douf!)

Food

Lasagne

Football players

Rio Ferdinand,

Cristiano Ronaldo

Football team

Manchester United

Other sports

Touch Rugby, Volleyball, Basketball, Cricket, Futsal

School subject

PE, Chemistry

Way to Relax

Hanging with my mates, sleeping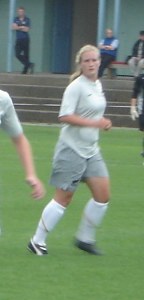 certainly helped. "It's a lot faster than football, and you have to be quite quick on your feet. I got involved through school, and enjoy the pace of the game and learning new tricks to get around players. It also improves your movement off the ball, which is very beneficial for my football".
What has been anything but beneficial for Maia's football, and her prospects of making the final World Cup squad later this year, was contracting glandular fever over summer. "It sucked big time!" she declares bitterly. "My worst footballing experience so far, without doubt!"
It pales in comparison with scoring a hat-trick from her central defensive role, that's for sure, not to mention the memories of all the good times in Coff's Harbour in July 2007, when the U-17s finished fourth at the Australian State Youth Championships.
And there's always the recollection of the funniest moment she's experienced in football which helps boost Maia's spirits when the former New Brighton, Christchurch Technical and Christchurch Rangers player is feeling the side-effects of her illness.
"Watching `Baby Spice' fall over the net is one of the most hilarious sights I've ever seen! We were playing Western one day, and this particular player, who is very cocky, tripped over the net of a goal while we were preparing for a corner and face-planted!
"Everyone saw it, and the fact she looked as if she might cry made it even more memorable", sniggers the Coastal Spirit starlet, whose frustration at not being able to play every sport she wants to is offset by the opportunities she has gained through football.
"Seeing myself improving and meeting new people are the aspects of the game I most enjoy", says a player who, off the field, harbours hopes of completing a 6x6x6 Rubiks cube inside ten minutes!
Meantime, she abides by some advice from the internationally renowned mental skills coach, Gilbert Enoka. "Side by side, game by game, day by day" is particularly pertinent to Maia Vink as she gets back on an even keel following her unwelcome summer health scare.
That setback may well cost Maia her chance of being among the twenty-one names coach Paul Temple will confirm for the inaugural FIFA U-17 Women's World Cup Finals later this year.
But she's hoping that the memories of and experience gained from her two cap-earning displays in Auckland during last December's three-match Korea Republic series will help spur her on to realise her ultimate ambition, getting into the Football Ferns.