"Now I'm on the comeback trail, got a chance to fail, got a chance to make it".
The lyrics of this little-known song, penned by veteran Australian singer-songwriter Kevin Johnson thirty years ago, perfectly sum up the plight of New Zealand Under-17 international Rebecca Brown right now.
The converted fullback - she was a flank player in her first couple of seasons in senior level football - is currently recovering from the worst footballing experience she has endured, a stress fracture in her foot.
"I've been out for about seven weeks", she grimaces, "the first four of which I had to wear a moon boot. I can't even describe how frustrating it is to sit on the sideline watching every game and training session, not being able to do anything.
"The worst thing about it was losing all the fitness that I'd worked so hard to build up before the season started. I was the fittest I've ever been, but the injury meant I couldn't do anything about it!"
Needless to say, coming back from this setback is the challenge the Glendowie College first eleven captain considers will be her biggest this year. "I'll have to try and get back as much fitness as I can, and work my way back into the starting line-up.
"The other thing I'll need to do", says the Auckland native, "is to try to manage my injury, so it won't get any worse and affect my chances of getting in the team - that is my worst fear!"
Understandably so, as `Bex' - she's also known as `Brownie' - is one of the survivors from the Under-15 Development Squad which was named in 2006 with this year's finals in mind.
Players have come and gone from that squad, but the captain of Auckland's U-16 National Age-Grade Tournament championship-winning squad last year - she also has U-14 (2004) and U-16 (2005) winners' medals in her collection - was one who was earmarked to be a major player in the Young Ferns' World Cup conquest right from the outset, such is her burgeoning talent.
"It all stems from the days when I used to watch my brother, Chris, play. It made me want to give the game a go, so I signed on and started playing as an eight-year-old in a mixed team at Eastern Suburbs".
The young lady who celebrates her seventeenth birthday on the last day in July has been there ever since - "always been there, always will!" is how she describes her loyalty to `The Lilywhites'. And while honours at club level have yet to befall her, she's already savoured the ultimate honour that any international footballer can have bestowed upon them.
"Captaining the NZ U-17 team to a 1-1 draw in the third match of the Korean series last December is my most memorable moment in football to date", beams this proud Kiwi.
"It was the best feeling in the world inspiring and encouraging the team to put in every last effort in the last game of the series, and knowing that all my mates were there watching that game made it even better.
"Representing New Zealand is such an honour", says the six-times-capped Young Ferns star. "It's an extremely emotional experience standing in front of a crowd singing the national anthem with the fern on your chest - indescribable, really. Something you can tell your children about!" she laughs.
As is the chance to realise her ambition and make the starting eleven for the World Cup this year. "That's my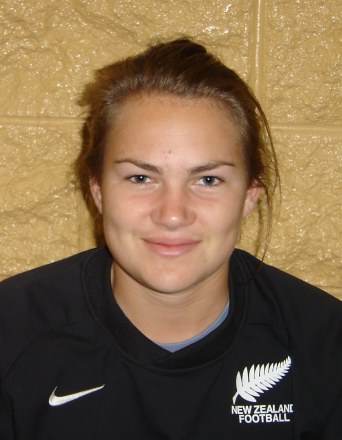 Rebecca Brown's Favourites
TV Show

Outrageous Fortune

Movie

The Notebook

Actor

Will Ferrell

Actress

Jennifer Aniston

Music

Anything apart from gangsta rap!

Food

Lasagne, custard

Football player

Cristiano Ronaldo,

Ria Percival

Football team

Eastern Suburbs

Other sports

Netball, Volleyball

Other sports stars

Dan Carter, Adine Wilson

School subject

Chemistry - I'm a bit of a science geek!

Best Country Visited

Australia - the only country I've ever been to!

Way to Relax

Go to the beach and lie in the sun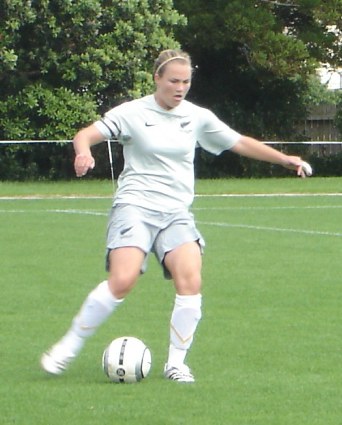 aim. It's so exciting to be involved in this tournament because it's the first one ever. It sounds cliché but it really is a once-in-a-lifetime experience … and it's not often you hear people say that they played for their country in a World Cup!"
It would certainly be the best way possible for Rebecca to repay the faith shown by her parents, Dave and Carol. "They are the biggest influences on my career. They have spent so-oo much money on boots, trips, camps, clothes and even petrol, taking me to trainings and games about six times a week!
"They put so much into my football and hardly ever complain because they know how much I want this. I hope everything pays off so they can be proud parents watching their daughter play in a World Cup!!"
They were concerned parents at the end of the Future Stars encounter against the USA, as the sight of their daughter prone on the pitch is not at all common. "I was so physically and emotionally exhausted that I couldn't help myself from lying down on the field and crying.
"Even though it might not have looked like it, it was one of the best feelings I have ever experienced, knowing I had given absolutely everything to that game. Generally I love the feeling when you've had a really good game or the team has played really well and you can come off the field feeling satisfied. But that post-USA feeling was really special".
It certainly contrasts starkly with pre-match warm-ups! "For some reason I hate having to warm up every time I play! Sound weird, I know, but compared to when you actually start playing, the warm-up is so boring.
"I think it must stem from the fact that I love winning and competing for something. Football definitely lets you do this. It's such an awesome team game, and I've made so many good friends through playing".
Which is something Rebecca, while harbouring hopes of one day working in a "cool environment" as a physio for a NZ team in any sport, hopes to continue to do for some considerable time yet. "Playing for the Football Ferns in the World Cup or the Olympics would be a pretty significant achievement in anyone's books, and something I would love to do.
"Another consideration would be to get a scholarship and play for a university overseas. Who wouldn't want to get their uni paid for and play football at the same time?" asks the self-confessed geek mischievously.
"Yes, secretly I'm a geek - I hate doing badly at school! I want to achieve NCEA level 2 with excellence this year, but I'm finding it really challenging to fit in school work around the trainings and games - it's really challenging to get a balance between both.
"But as someone once told me, `No pain, no gain'. I think it's really true", says a young lady who certainly knows all about the pain factor after her recent injury experiences.
"If you don't push yourself as hard as you can, I think you'll end up having some regrets".
Such thoughts are far from Rebecca's mind as she plots a path along the comeback trail towards realising her ultimate ambition in 2008 - making the starting line-up against our yet-to-be-determined opponents on the opening night of the FIFA U-17 Women's World Cup Finals on October 28.
Yes, there's a chance she'll fail, but while there's a chance she'll make it, don't rule out this talented youngster. Even though she's never been further afield than Australia in her life to date, Rebecca Brown is definitely going places.