Waiheke Island isn't exactly renowned for its footballing notoriety. Indeed, it's very much regarded as a holiday resort, a place to get away from Auckland's rat race for a few days and rediscover your sanity as you chill out in the sunshine.
Its residents are relaxed and easy-going, almost to the point where if they were any more laid back, they'd be horizontal!
But one young Waihekean is bucking the trend, and a lot of people are sitting up and taking notice of a pretty special talent who is making waves in the Hauraki Gulf.
Lauren Murray is an out-and-out goal poacher - think Ian Rush or Michael Owen, only every bit as clinical but far better-looking! And if you think those looks are exotic, you're right.
Los Angeles is the birthplace of a young lady who turned sixteen on the last day in May. Three years after entering the world, she found herself entering New Zealand, together with brother Chase and Kim, her mother.
"Mum wanted a change and thought it would be a good place in which to bring us up", says Lauren of her move to Kiwi climes. It meant leaving behind the biggest influence on her career.
"My Dad, Daniel, introduced the game to me when I was young, and I guess it's just what interested me most, so I stuck to it.
"Football was and is an easy and fun habit to have, and having a father who it sometimes seems has more passion about it than I do makes it especially so. It's just the Argentinian blood!"
And how New Zealand is set to be benefit from her South American genes! The Waiheke High School student has quietly been making a name for herself since she began playing competitively as a nine-year-old with Waiheke United, but since moving to Three Kings United, her career has taken flight in a big way.
She first graced the Northern Premier Women's League in May 2007, scoring twice on debut in an emphatic defeat of Waitakere City. But it was what she did on her second first-team appearance, under the Albie Turner Field floodlights, which drew people's attention to the fact that here was a very special talent indeed.
Young Ferns coach Paul Temple and his Western Springs charges were on the receiving end of "Lozza"'s match-winning hat-trick as Three Kings clinched the title with a 3-2 win, and the gaffer knew straight away that this kid was the business.
Lauren had already clinched the Golden Boot and MVP awards during Auckland's campaign at the 2006 National Age-Grade Tournament in Napier, and the cool, clinical finishing she displayed when bagging a hat-trick in Three Kings' title-clinching 3-2 defeat of Western Springs … a star was born!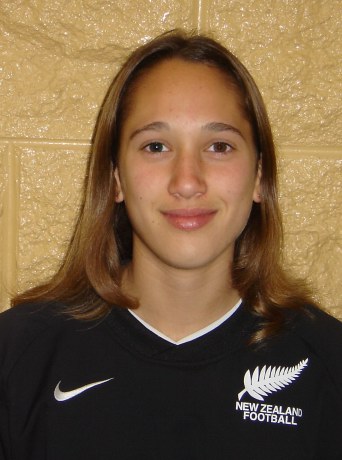 Lauren Murray's Favourites
| | |
| --- | --- |
| TV Show | Family Guy |
| Music | Dub - Reggae - Roots |
| Food | Mango, Sushi, Fruity-Bix |
| Football players | Hernan Crespo, Carlos Tevez, Diego Maradona |
| Football teams | Boca Juniors, Argentina |
| Other sports | Volleyball, Tennis, Surfing |
| Other sports stars | Roger Federer |
| School subject | PE |
| Best Country Visited | Argentina |
| Way to Relax | Chilling in the sun at Palm Beach in the summer, in my man-pants! |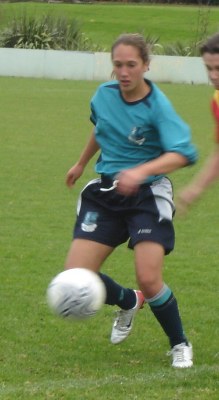 "Lozza" (her preferred nickname) ws swiftly brought into the U-17s fold. With that nickname having already been snaffled by Lauren Mathis, however, "Muzza" has become Lauren's moniker, even though it's one of which she's not particularly fond.
Together with a new nickname, international appearances weren't long in coming for the talented teenager. She made her debut in the Future Stars tournament against the USA, while her most memorable moment in football so far came in the following game, against Australia.
That country was in Lauren's sights again in May, and she certainly made an impact, particularly in the second encounter! "To me, representing my country is about speaking - making a statement to the world for New Zealand".
Two goals in a record-breaking 4-0 win over the Junior Matildas - `nuff said!
The Young Ferns' leading goalscorer in their Auckland U-15 Boys Metro League campaign is as keen to do well in her school work as she is for club and country on the park.
"Balancing my academic and social life around the football is the biggest challenge I'll face this year", she admits, "Work and then play is my motto, and the playing side of things is at times difficult, and very demanding.
"I live on an island that's 35 minutes away from Auckland by ferry, so it means long hours commuting to and from training. Even though I have football six times a week, whether it be training or a game, I've become so accustomed to it that it doesn't even occur to me as being abnormal, like it did in the past.
"It's not quite verging on the too much side, however, because every minute spent on the boat or driving to North Harbour Stadium for training is worth it - I couldn't think of anything else I'd rather be doing".
The team-ship and friendships made in between times are the aspects of football Lauren most enjoys, while not achieving a set goal rankles every bit as much as her worst footballing experience to date. "Last year, I suffered one of the worst ankle sprains anyone could ask for. It hindered me for months!"
It didn't prevent Lauren making the Auckland squad which won the U-16 National Age-Grade Tournament, however, and its memories have long been offset by those she has enjoyed as a Young Ferns squad member.
"I don't have just one overriding memory. Everything's squeezed together and is played on shuffle in my head!" laughs a young lady who is set to star for New Zealand far beyond October and November this year.
"Being involved in the inaugural FIFA U-17 Women's World Cup Finals is one of those things words can't do justice to", says Lauren Murray. "It's easy to imagine, but when I finally get there, its true meaning will far out-do anything I ever imagined before".