Mention the word Armstrong in New Zealand footballing circles, and chances are the names of Ken and Ron will be prominent in the ensuing discussion.
Rightly so, too, given the pioneering role the late, lamented New Zealand captain and coach played in dragging the game in this country into the twentieth century, following his arrival from England during the 1950s,.
The achievements his son, Ron, attained on the pitch, particularly at Mt. Wellington during the club's halcyon days until his retirement in the early 1990s, also made a significant impact on the game.
His brother, Brian, also represented his country with distinction, while Ron's wife, Jenny, was good enough to make fifteen appearances for the Auckland women's team during the 1980s, while playing for the all-conquering Mt. Wellington women's team in that era.
Twenty years on, and the family lineage is set to continue well into the 21st Century, thanks to the efforts of a young lady who hopes she'll be playing in a FIFA U-17 Women's World Cup semi-final on the weekend of her sixteenth birthday in November.
Bridgette Armstrong is keen to maintain the family tradition, as she is quick to point out. "My whole family played football, and the game is something that I have enjoyed being part of for almost my entire life.
"Dad and Granddad played for New Zealand in football, which is something I have always wanted to do, too. It's an honour to represent your country, and the aspect of the game which I most enjoy.
"To follow in their footsteps makes it an even bigger honour for me".
No prizes for guessing, then, the proudest moment of "Army"'s career to date. "Playing in my first international against Korea at Taharoto Park in December last year!" exclaims the North Shore native, who first kicked a ball as a four-year-old and previously played for Albany United before moving to her current club, Glenfield Rovers.
A steepling centre-back, Bridgette towers over her parents in the height stakes, so not surprisingly, "Midget" has become a term of endearment over the years for the third of four children in the Armstrong household.
Older siblings Nicole and Richard, and younger brother "CJ" - Christopher-James - are, like their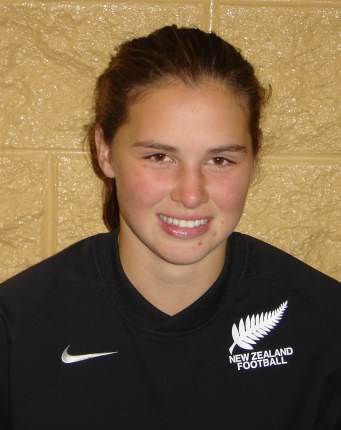 Bridgette Armstrong's Favourites
| | |
| --- | --- |
| TV Show | Home |
| Movie | I Am Legend, Step Up 2 |
| Music | Everything |
| Food | Pasta |
| Football player | Ronaldinho |
| Football team | Liverpool |
| Other sports | Volleyball, Horse-riding (Eventing) |
| School subject | PE |
| Best Country Visited | Paraguay |
| Way to Relax | Watch TV |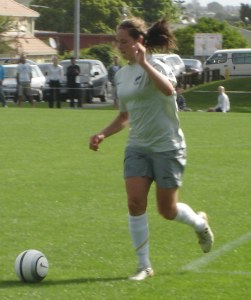 parents, understandably proud of their sister's achievements as she maintains the family's footballing tradition on the international stage, and nothing would give the Long Bay College student more pleasure than to be part of the Young Ferns squad which takes on the world from the end of October.
"I consider it a privilege to play in the first-ever Under-17 Women's World Cup. It`s even more special that it's in New Zealand, and we'll be playing in front of home crowds", declares the eight-times capped defender, who has endured mixed fortunes aplenty on the road to NZ08 to date.
"The abiding memory I have of the campaign so far is going to South America and playing Paraguay", Bridgette beams, "but missing out on both trips to Australia in April and July this year, as well as the July 2007 tour, due to stress fractures … my worst footballing experience so far, definitely". Cue a timely grimace!
There are other aspects to this campaign which Bridgette finds challenging, although she's not alone in that regard. "Not having time to do some of the things I enjoy doing, such as going out with friends, has been the aspect I've least enjoyed over this campaign.
"Instead, my training schedule has taken priority. It's a lot more challenging than anything I've been used to because we train every night apart from Friday, and after school each day I go to the gym. I also do speed work before training three times a week.
"Because of this, balancing school and football, and achieving in both, is the biggest challenge of all this year. As we train so often, it's hard to find time to do homework and extra school work", grumbles a young lady who has her sights set on acquiring a scholarship in America to play professional football.
Doing so would be another extension of the Armstrong family tradition, with Ken and Ron both having played professionally in England during their careers.
Their offspring's sights are currently set on achieving something which no Armstrong family member has yet managed. Her Granddad won the First Division with Chelsea, and her Dad is one of the most decorated individuals in the New Zealand game.
Neither, though, has played in a World Cup Finals. Come October 28 at North Harbour Stadium, Bridgette Armstrong is hoping she'll have the chance to break with family tradition and do just that!