New Zealand U-17 midfield general Leah Gallie has taken the big leap into the unknown as she bids to realise her World Cup dreams.
The Palmerston North native, who turned seventeen on March 10, made the move north to Auckland at the start of the year, and has found the Queen City very much to her liking so far.
"I love Auckland!! I found it hard at first, but it's getting better. The biggest difference I've noticed so far is the sheer size of the place. Palmy is a tiny town, whereas Auckland is a HUGE city!!
"This is where I want to be, however. I miss my family and friends a lot - it's been really hard leaving them, but I love being up here. All the girls in the U-17s are really close, so if you're sad and missing home, they'll always cheer you up".
Which is good news as far as this rising soccer star is concerned. The youngest of four children, Leah first began playing the game at the age of six. "I think I wanted to play soccer when I was little because my brother and sisters all played.
"Now I really enjoy playing, getting to meet heaps of people through doing so, and the team environment as a whole. That's all thanks to the biggest influences on my career, my parents, Diane and David. They got me into the game at a young age, and support me 100%".
A few coaches have also played a part in helping Leah progress to where she finds herself today. En route, she has worn the colours of Marist Palmerston North, Massey University and Freyberg High School, where she was awarded the Sports Girl of the Year honour in 2007.
Glenfield Rovers will utilise her burgeoning talents in the Northern Premier Women's League throughout 2008, although Leah's Young Ferns commitments take priority on the footballing front, as the Mt. Albert Grammar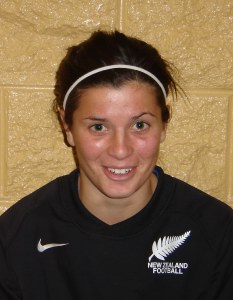 Leah Gallie's Favourites
| | |
| --- | --- |
| Club | Tottenham Hotspur |
| Footballer | Hayley Moorwood |
| Movie | The Notebook |
| TV Show | Catherine Tate Show, MTV |
| Music | R&B, Hip-hop |
| Food | Mango |
| Other sports | Touch rugby, Volleyball |
| School subject | PE |
| Way to Relax | Chill out with family & friends |
| Ambition | Go to the USA & play soccer there for a college |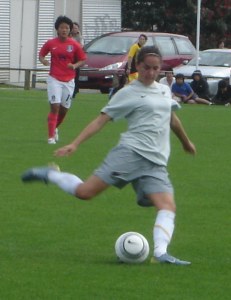 School student explains.
"Back home, I've been used to training just three times a week and playing one game each weekend. Now I'm training four times a week - three nights with the U-17s and once with Glenfield, with Fridays free - and playing on both Saturday and Sunday.
"As well, the standard of football in Auckland is a lot higher than in Palmy", grins the Central Soccer starlet ruefully, reflecting on the first-hand lesson she experienced as a rampant `A Team' tore her Central side to shreds en route to a 9-0 win in the 2007 Lion Foundation National Women's League.
`Nasher', as Leah is nicknamed, captained her federation's U-16 team during the Perry Foundation Age-Grade Tournament in Napier late last year, a month prior to recording her most memorable moment in football to date.
"Getting to play against Germany and the USA, no question", declares a young lady who made her international debut as a half-time substitute against Korea Republic in the first match of three between the countries at Taharoto Park in December.
"Being part of the World Cup Finals is exciting for any player, but especially so in this case because it's here in New Zealand, and family and friends can come and watch.
"It'll certainly be my biggest ever moment, and it's one I'm very much looking forward to", smiles the tough-tackling central midfielder, who harbours ambitions of securing a US soccer scholarship in the not-too-distant future.
Her immediate priority, however, is securing her place in the Young Ferns squad which will represent this country at NZ'08. And with that in mind, Leah Gallie will stick rigidly to what she regards as the best advice which she's received to date - `Keep pushing yourself. Only you decide your future'.
Hers is very promising.