When the Young Football Ferns' FIFA U-17 Women's World Cup campaign finds its way into the history books, the tale of one player in particular will make compelling reading.
Not for Rosie White the joys of overseas trips with her mates, of training sessions and matches playing alongside her peers as the allure of the biggest tournament in their fledgling football careers loomed ever larger on the horizon throughout 2008.
Hers is, instead, a tale of courage. Of self-belief. Of frustration and self-doubt. Of fear, tears, and fears conquered. Of perseverance and, ultimately, of triumph.
Triumph for a fifteen-year-old footballer whose reward for overcoming adversity is the chance to play in not one, but two FIFA Women's World Cup Finals in as many months at the end of a year like no other in her life, nor in that of New Zealand women's football.
A torn anterior cruciate ligament is widely regarded as the game's worst injury. In short, it is an absolute beast for those who are forced to endure it, mainly because it keeps its unwilling victim out of action for, on average, eight to nine months.
In the twelve months commencing 1 February, 2007, no less than five New Zealand women's internationals - Melissa Ray, Kirsty Yallop, Rebecca Tegg, Marlies Oostdam and Rosie - were each dealt a cruel blow by this most savage of setbacks.
All five have made full recoveries from the dreaded ACL, and have graced the game at either international or National Women's League level since returning to action. Remarkably so, in the case of the attack-minded Western Springs starlet, whose season from hell began like so many others.
"Before my injury, my football seemed to be going along fantastically well", says the Auckland born-and-bred striker. "I'd never even had a serious injury from the time I started playing the game when I was four or five".
That all changed when she went to ground half-way through the first half of the Young Ferns' Future Stars clash with the USA on North Harbour Stadium's outer oval on 31 January.
"After being carried off, I was taken to the local A&E clinic. Their diagnosis was just to `ice it and it should be fine'. At this point, I didn't really think much of it, and wasn't really expecting anything serious.
"That all changed after visiting the sports doctor. Getting the correct diagnosis and knowing I was requiring an operation was devastating news.
"I had to now focus on the long-term, and with the support of team-mates and coaches I worked religiously to get my knee strong before the operation".
The Diocesan first eleven star, who has represented Auckland at U-14, U-16, U-17 and U-20 level despite her tender years, duly went under the knife, and woke up after the event to find herself facing a race against time if the World Cup dream for which she longed was to continue to be a reality.
"After the operation was the worst part of the process. It was painful and frustrating. I wasn't allowed to run for three months after the operation, so during this time I was in the gym building up my strength and keeping fit on the bike.
"Being given the all-clear to run was the first big step. I worked hard with Young Ferns coach, Paul Temple, to regain fitness, and was allowed to do ball-work with dribbling and shooting".
Rosie White's Favourites
| | |
| --- | --- |
| TV Show | Home & Away |
| Movie | Mamma Mia |
| Music | Greg Johnson |
| Food | Manuka honey on Vogels |
| Football player | Hayley Moorwood |
| Football Team | Young Football Ferns |
| Other sports | Wakeboarding, Tennis, Golf |
| School subject | Technology design |
| Way to relax | On the boat, in the sun |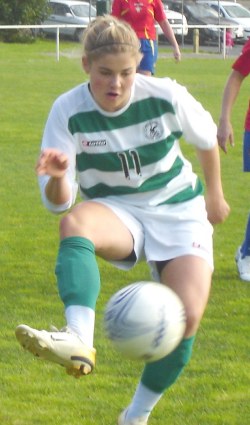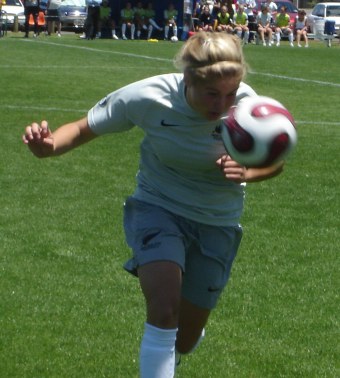 Fast forward to September 7 at Ken Maunder Park, where, twelve minutes from the end of Western Springs' crucial championship-deciding encounter with Lynn-Avon United, a substitution was made, the newcomer to the fray thrilled to be back on the pitch playing a sport "I've always loved and played my whole life - I can't think of life without it".
Five days later, `Bambi' was back big-time, scoring the final two goals in Springs' title-winning campaign to add another personal milestone to a footballing CV which includes the entry of `Youngest player in National Women's Knockout Cup Final history, aged 13 years, 89 days, on September 3, 2006'.
"Eight months after the injury's diagnosis, I was given the absolute all-clear to return to my sport by the surgeon, Stu Walsh", grins a young lady whose international debut, against the Korea Republic in December 2007, is her most memorable moment in the Young Ferns' campaign to date.
"After going through the experience, I feel a more rounded athlete. I think it was quite beneficial for me, but definitely wouldn't wish it to happen again!" Funny, that!
Having been given the green light, the need to get up to speed fitness-wise has been high on Rosie's agenda. "Young Ferns' training has stepped up a big notch of late in relation to fitness, etc., as we are so close to the event. It's very important we are getting the most out of trainings".
And matches. Cue a timely trip to Chile for the Junior Ferns, New Zealand's U-20 squad, which featured a cluster of Young Ferns in their ranks, among them a certain fifteen-year-old who was champing at the bit to represent her country once more.
"To me, representing New Zealand means being part of a long line of athletes to play and fight for their country. This tour brought about my most memorable moment in football to date - scoring the equaliser against the Canadian U-20s".
It also saw Rosie score twice against Mexico's U-20s to return home with the four-team tournament's leading goalscorer trophy in her carry-on luggage, a most welcome addition to her mantelpiece and an honour which effectively sealed her place in both the Junior and Young Ferns' Women's World Cup Finals squads.
"Helping New Zealand get through the group stages of both U-17 and U-20 World Cups is the biggest challenge facing me now", says a striker with ambitions to play professionally and earn a living from the sport, as well as gain her University Entrance qualifications at school.
"Since I've been back in action, I feel I have been playing better football than I've ever played", declares the only daughter of John and Jo White, parents who "are always driving me round and supporting me to the fullest in playing football.
"Paul Temple has been another huge influence on my career. He has led me through the age groups and has always been a fantastic motivating coach", opines a young lady whose footballing prowess has benefited greatly from the encouragement provided by brothers Danny and Billy.
"When I was younger, my older brother, Danny, played the game, and I always wanted to be better than him", says the now fighting fit Rosie White with a twinkle in her eye, her triumphant tone, as she delivers a devastating coup de grace in this particular sibling rivalry, indicative of her true feelings while preparing to conclude her season from hell in heaven-sent fashion.
"I'm really looking forward to the World Cup!"