It usually takes a special character to be a goalkeeper, and Charlotte Wood is certainly that!
Within ten days of being born in Auckland, on Guy Fawkes Day in 1991 to parents Trish and Alex, she had taken up residence in the place she regards as home, Rotorua, and within five years, had set her sights on playing "tackle rugby.
"Mum wasn't too pleased with that idea, and told me I could only play touch. So I decided to give football a go instead. I enjoyed it too much to ever really consider other sports afterwards".
That said, she played hockey to representative level, but ultimately the lure of the bigger round ball proved too strong for `Woody', who started taking the game seriously and playing between the sticks as a thirteen-year-old.
"When I first started, I didn't really know much about the game, because I don't come from a huge footballing family. But my friends were going to play, so I thought I might as well try".
Little did those friends know that in their midst was a future New Zealand goalkeeper, one who has adapted well to a role she is still relatively new to. "When I was younger, training was confined to one session a week and the weekend game, but now there's so much on every single day - except on our rest day, of course!
"The hardest thing is when you have a late training, then have to go to the gym early the next morning. I definitely get tired but it's worth it knowing I'm getting fitter and stronger.
"I'm determined not to get to the World Cup worrying because I know I should have trained harder, so that just gives me a little bit more determination".
Given the upheavals in Charlotte's life in the last few years, it's just as well she's a determined character. "I've moved back to Auckland this year, so I'm at my third high school in as many years. I was at Rotorua Lakes High School in 2006, then switched to Hamilton Girls High School last year, and this year am at Mt. Albert Grammar.
"With the moves from school to school have come moves from club to club, too. My first club was Eastlake, from where I moved to Rotorua Suburbs. I was there until moving to Claudelands Rovers last year, and this time round I'm wearing Three Kings United's colours".
The moves don't seem to have done Jesse Wood's sister any harm whatsoever, judging by her achievements in recent times. "I made the NZ Academy in 2005, and that same year was goalkeeper in the Waikato-Bay of Plenty squad which won the U-14 National Age-Grade Tournament.
"Over the course of the last two seasons, I've kept goal for Waikato-BOP in the National Women's League, and was in the NZ Secondary Schoolgirls squad which toured Australia in 2007".
That trip was far from Charlotte's most memorable, and not for reasons of a goalkeeping nature, either! "I played in goal in our first match, against Palm Beach, then took ill. It was bad enough being sick, but also having to miss the three-test series and go home early from the tour was the worst feeling possible!"
Particularly for someone who is thrilled at the prospect of representing her country. "It's a huge honour. When I take to the field, I have an extra drive to do everything I can to get a good result for the team. It's a feeling you can't really put into words.
"Being involved in the first U-17 Women's World Cup is amazing. With it being the first event, it makes it that little bit more special too, because we have an amazing opportunity to create the first bit of history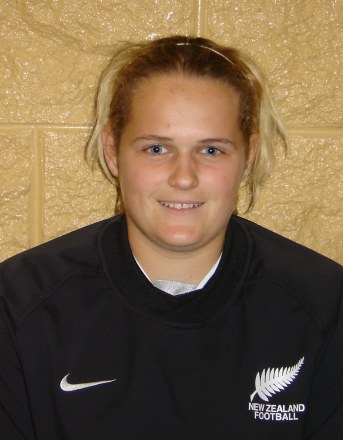 Charlotte Wood's Favourites
| | |
| --- | --- |
| TV Show | House |
| Movie | There are so many!! Accepted, Coach Carter, Shawshank Redemption, Remember the Titans, Blades of Glory |
| Actor | Will Ferrell, Hugh Grant, Denzel Washington |
| Actress | Amanda Bynes |
| Author | John Grisham |
| Food | Dried Strawberries |
| Football player | Iker Casillas |
| Other sports stars | Roger Federer, Steve Price |
| School subject | Sciences |
| Best Country Visited | Thailand |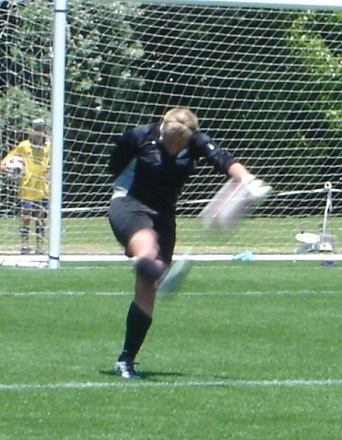 for the event.
"That New Zealand is hosting the event is so special, because it will be a once-in-a-lifetime opportunity for me to be able to play in a World Cup in my own country. Now that we have played some of the big teams and got a few internationals under our belt, and the draw has taken place, it's seeming more and more real, too".
Ah yes, the draw, which sees the Young Ferns taking on Columbia and Denmark, and, in the opening game, the CONCACAF runners-up. Charlotte's take on it is interesting, to say the least.
"Whoever the first game of the World Cup is against is definitely going to be toughest to face mentally. The nerves and excitement of the first game will be a huge challenge to overcome, but I believe that we will be able to do it.
"From what I've heard, the European teams that have qualified all look pretty sharp, so they will be a big challenge".
Germany, of course, are one of those teams, and one which Charlotte and her team-mates have already encountered. "Playing in the Future Stars tournament was great because we were playing against some of the best countries and players from around the world. The most memorable game was the Germany match, probably because it was the first one, so it had those extra nerves.
"In fact, all the internationals we're played are so memorable in so many different ways. It may be a bit of a cliché but every game is different".
The ones which you win tend to stand out a bit more, however. "I love the feeling you get when everything is going right", declares `Woody'. "The fact that everything going well usually leads to winning helps too!
"Playing well and winning a game is definitely the highlight of international football. It's certainly the aspect I most enjoy, just as losing and injuries are the least appealing - I hate them both!!"
During those setbacks, and the good times, Charlotte's family have been the best fans possible. "My family have supported me in a huge way - my Dad coached my club team when I was younger, for instance.
"From then on, all my coaches and clubs have been great and really supportive. I can't really single out any one person because all my coaches have helped me so much in numerous ways.
"That said, Lesley Letcher, my first representative coach, gave me the opportunity to be seen at a federation tournament, so I suppose without her belief in me I wouldn't be where I am today".
And that is on the cusp of claiming the number one jersey for New Zealand in the inaugural FIFA U-17 Women's World Cup Finals. Beyond that?
"`If you want to be great, you have to work hard' is the best advice I've received to date", reflects `Woody', "and given I want to do well in life, not just football, getting a university scholarship through football would be a great opportunity.
"It would be a dream to get paid to play football professionally, but I've always accepted that I will have to have a back-up plan. I'm just not sure what that will involve yet".
Charlotte Wood may not need one, particularly if her goalkeeping displays catch the eye of the many scouts from around the world who'll be in attendance throughout New Zealand during October and November. It's all down to her, and her hard work ethic.