It's often said that goalkeepers are born, not made, but NZ U-17 international Victoria Esson is clearly intent on defying the logic behind that theory, as she bids to earn herself a place in the New Zealand squad for this year's FIFA U-17 Women's World Cup Finals.
When the Young Ferns contested the Australian National Youth Championships at Coffs Harbour in July last year, Vic - "I'm one of those fortunate people who never seem to pick up any nicknames!" - started all but one match in a central defensive role.
But this week, during the series against Australian age-grade teams, Esson travelled as one of the squad's two goalkeepers, and kept a clean sheet as she earned her first cap for the Young Ferns, in the second of the two 4-0 wins against the Junior Matildas.
The role of goalkeeper is a specialised one, as Vic has quickly discovered, but she's making a good fist of it so far, make no mistake. "Since my transfer from centre back to goalkeeper I have worked very hard on my skills.
"As the months progress my training schedule becomes more and more intense. I have made a big improvement from where I was at three months ago, but my challenge is to continue to improve and to perform at an international standard.
"Back in 2005, when the team was first selected, I trained about three times a week. It seemed like a lot then, but now when I look back on it, it was nothing", declares the multi-talented custodian. "Now I train about eight times a week and I'm sure in the years to come, I will look back on now and probably call myself lazy!!
"I am very grateful to have free access to my school gym at Burnside High, as it helps a lot in terms of strength training. To be a successful goalkeeper I need to be fit and strong. All the time I spend in the gym helps me become a better goalkeeper".
That situation was far from Vic's mind in 2001, the year she began playing football as a ten-year-old. "Back in the days when I was at primary school I used to play with my friends at lunchtime. They all played for the local club, Halswell United, and told me I should join. I did, and have never looked back!
"I love football. The key to succeeding is any sport is to enjoy it. I started seven years ago and still love playing the game. The aspect I enjoy most is winning - knowing that all the time and effort put in at training has paid off by winning your matches.
"It certainly contrasts with losing, the aspect of the game I least enjoy", grimaces the Christchurch native. "While there has to be a loser just as there has to be a victor, I definitely prefer to be on the winning team!"
As she was in 2006, when Mainland Football's squad clinched that year's National U-16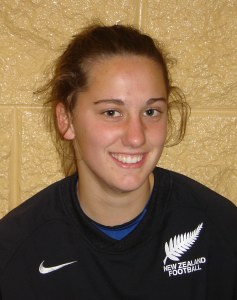 Victoria Esson's Favourites
| | |
| --- | --- |
| TV Show | Home & Away |
| Movie | She's The Man |
| Author | V.M. Jones |
| Actor | Hugh Grant |
| Actress | Julia Roberts |
| Music | Chris Brown |
| Food | Cereal or pasta |
| Player | Jenny Bindon |
| Other sports | Ice hockey, Touch rugby, Tennis, Water sports |
| Other sports stars | Jonny Wilkinson |
| School subject | Outdoor Education or English |
| Best Country Visited | Canada |

Tournament title, which ranks alongside her selection in the NZ U-17 squad in 2005 as Victoria's most memorable moment to date in her fledgling football career.
Now playing for Coastal Spirit after a season in the Mainland Player Development Academy squad which last year won the prized Reta Fitzpatrick Cup, Vic has a few other noteworthy achievements to her name besides these winner's medals and her much-prized maiden international appearance for her favourite team, the Young Ferns.
Selection in the South Island Secondary Schoolgirls squad, and in Mainland's U-14 and U-16 squads, are honours which this seventeen-year-old - born March 6, 1991 - is proud of, along with the captaincy of Burnside High School's first eleven squad, and being a finalist for the school's Sportswoman of the Year in 2007.
She's aiming to add to those accolades this year, but not only via footballing means. "I have two challenges ahead of me this year. My number one goal is to make it into the final World Cup squad. That is very important to me, but making the starting line-up is what I am really aiming for.
"My other challenge for this year will be maintaining a balance between the demand of
football with my academic and family life. My schoolwork is very important to me. Since I am in my last year at high school I need to make sure I succeed in at school and in football. It is something my parents have always encouraged and I don't blame them!"
Wise lady! But there's another way Anne and Ian Esson have influenced their daughter's career, something which Vic is only too pleased to expand upon. "My parents have supported me throughout all my years playing football. Taking me down to games on a Saturday morning at 8am would probably not be first on any one's things to do list over the weekend, but they have never complained.
"The coaches I had when I was younger have also been a strong influence on my game. Like most of the other girls in the U-17 team, I played with boys when I was younger, and my coaches always supported me and gave me a great grounding in football in the early stages of my career".
The sister of William and Elizabeth Esson has largely avoided injuries in her career to date. "I've had the odd sprained ankle or sore finger, but the biggest injury I've had would probably be a slight tear of the inside ligament. It sidelined me for a week and that was a week too long!"
It's meant she's been able to do a lot of her favourite things away from the game, such as spend time with friends, watch TV, sleep or play another sport. In 2008, however, such pleasures don't compare to the opportunity which Vic and her fellow Young Ferns have before them.
"I think to be involved in the inaugural FIFA U17 Women's World Cup Finals as a player … words wouldn't be able to describe it! These sorts of opportunities only come to a few of us who are lucky enough to have the support and funding from the people around us.
"As for being selected to play for New Zealand - the highest honour my country can bestow upon me - during the finals themselves … being proud to wear the fern across my chest, knowing that all the hard work I have put in is finally paying off for what will hopefully be the most memorable moment in my life" will be a very special feeling for Vic indeed.
And one which contrasts starkly with that she experienced last July, when the Young Ferns took on Queensland in a bid to qualify for the final of the Australian National Youth Championships.
"We were winning 3-0 in the semi-final, but went down 4-3, losing in the last few minutes of the game. It was a lesson I learnt and will remember forever - never be complacent.
It goes hand in hand with the best advice Victoria's received to date. "Anything' s possible. Train hard and you will get the results you deserve", says the relative newcomer to the number one jersey, one she hopes to wear for her country throughout 2008 and beyond.