Don't mention it down Wellington way, but Auckland is definitely growing on Yumi Nguyen.
The native of New Zealand's capital is one of those who moved north for the Young Ferns' U-17 Women's World Cup campaign, and the talented central defender or midfield general has "no regrets" about doing so.
"Being in Auckland has made a big difference to every aspect of my footballing abilities. The move has given me a lot, and I couldn't ask for anything more other than to keep on improving each day.
"I'm settling in just fine, and that's largely thanks to the family friends with whom I'm staying, Eriko and Koji Katano. I'm extremely grateful for all the support they have given me and everything they have done for me this year. They are truly incredible - if it weren't for them, I wouldn't be in Auckland!"
Spoken like a true Wellingtonian! And she certainly misses her home town. "I miss my family, of course, and Wellington in general. I used to complain about how there was nothing to do there, but now I think it's a dream come true when I go there for a weekend visit!
"I miss my friends in particular. I keep in touch with a lot of them via text / Bebo, but it's just not the same. The worst times are when you remember a joke but forget they're not there to tell it to!
"I love meeting people and laughing (a lot!), so having a lot of friends and connections in Wellington, I'm bound to bump into somebody I know for a good ol' chinwag whenever I'm out and about".
That's not the case in Auckland, however - yet! "If I walk around my school, Epsom Girls Grammar, or through Newmarket, I think to myself, `Wow! I really have no idea who you are, where you're from or what you do'.
"And when I hear my name shouted out around school, I think, `No way! I must've heard wrong!' But my connections in Auckland are growing, and I'm starting to love it up here!"
The reason for her being in the Queen City, of course, is because `Yoomz' is one of the most talented U-17 footballers in the country. "If I ever have doubts about moving north, just turning up to training and games reminds me of why I am here, and I know it is guaranteed to be worth it.
"The chance to be involved in the inaugural FIFA U-17 Women's World Cup Finals is priceless. Not only because it's the first of its kind but because it's in our home country, New Zealand.
"To be able to play in front of a home crowd, with your family and friends able to support you from down the road is just amazing! There aren't many people in the world lucky enough to be a part of such a world renowned event, which this is".
Being part of what's fast approaching on New Zealand's footballing horizon was far from the thoughts of `Yoomo' when she started kicking a ball around. "I used to just play for the sake of playing a sport on a Saturday morning, I suppose", she says of her early years in the game, which were spent at Onslow Junior Soccer Club from 1999.
"When I was nine", recalls a young lady who turned seventeen on April 21, "I made the Wellington U-13 representative team, and was told by the coach I had a lot of potential. That made me realise that I could really make something out of what I've got. But I only started taking the game seriously four years ago, when I was in third form".
That was 'Yummy's first year at both Miramar Rangers and Wellington Girls College, where she was Player of the Year in each of the last three seasons, as well as captain of the side which has won the last three NZ Secondary Schoolgirls Tournament crowns.
But not this year. "Coming into a new school in my last year of school is something I did not want to do! I always had ambitions of leadership positions in my final year at WGC, and giving that up was tough but something I had to do.
"The change of school has definitely been hard, as everything is done completely opposite at EGGS compared with Wellington Girls, so I find everything they do odd! It's also very inconvenient when you don't know where anything is! But I've got used to a lot of things up here and made some great friends".
The Eastern Suburbs star has some special memories of her time at Wellington Girls College, however.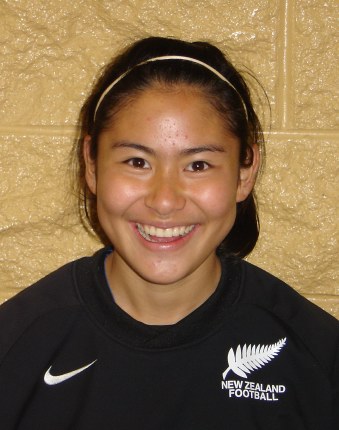 Yumi Nguyen's Favourites
| | |
| --- | --- |
| TV Show | Friends |
| Movie | The Lion King, Enchanted, Sydney White |
| Actor | Adam Sandler |
| Music | Westlife |
| Food | Ice cream |
| Football player | Ronaldinho |
| Football teams | Barcelona, Manchester Utd |
| Other sports stars | Rafael Nadal |
| School subject | PE |
| Best Country Visited | Japan |
| Way to Relax | Power napping |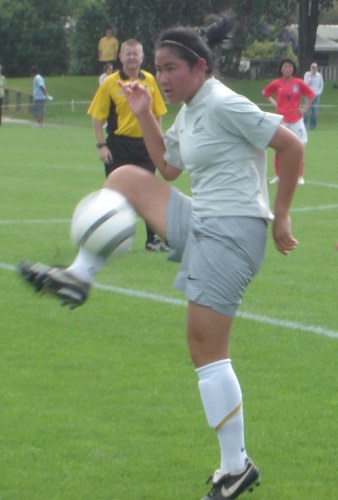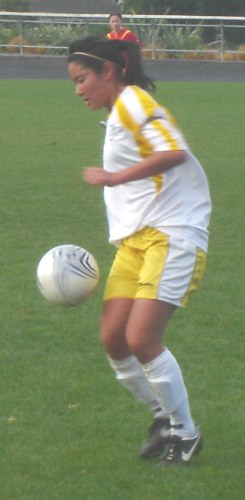 "One game I clearly remember was a school tournament game in which I scored three diving headers!" reflects the captain of the Western Zone rep team.
"Football in general has been good to me, and given me a lot of memorable moments throughout my career to date. It gives me a lot of joy every time I play. It's a great game and it's good to see football in New Zealand growing every year".
Yumi's definitely a key part of that growth in 2008, along with her Young Ferns team-mates. And there have been several memorable moments they have shared throughout this World Cup campaign, not the least of which has been the training programme.
"As soon as I moved up, we got stuck into an intense eight-week fitness programme. I have seriously never felt so much pain in my life! And have probably never cried nor seen so many of my team-mates crying at trainings.
"We all look back at it now and laugh, as we know it was worthwhile and appreciate how much of a difference it has made to our game. We demand a lot from each other at training and in games, hence the quality is very high. Physically and mentally, it is a very tough schedule, but I've learnt to cope with the demands, and enjoy the amount of football I do".
Nearly missing out on some football last year shook the five-times-capped international to the core. "Not getting picked in the squad of sixteen for the tour to Coffs Harbour is my worst experience in football to date. I was in tears for weeks, and it was terrible timing from a personal perspective". (About which, more shortly).
"Luckily I ended up going on the tour due to last-minute injuries. Representing my country means everything to me. It's such a great honour and one I wouldn't give up for anything. I just want to do New Zealand proud and do the best that I can for the team.
"I absolutely love this country. Although I may complain countless amounts of times about how boring it is, I know deep down I wouldn't have wanted to be brought up anywhere else".
For that, the daughter of Sang and Yuko Nguyen, and younger sister of Naomi and Keiichi, is indebted to her family. "They have always supported me in a big way, especially my Mum, although she passed away from cancer just before my birthday (and the Coffs Harbour squad selection) last year.
"I always get reminded of how much I want to make her proud and I want her to know how appreciative I am for everything she has done for me in the past. I wouldn't be who I am now if it wasn't for her".
And who Yumi Nguyen is now is a young lady with a real passion for football, and life in general. "Competing for a starting spot in the World Cup Finals is currently my biggest challenge. It is something that I really want and I'm hoping it is something that I will deservingly get.
"Performing well for the team whenever I'm selected is another ambition I have. The thrill of winning an important game, scoring a class goal and performing well is the aspect of football I most enjoy.
"My biggest strength is the passing game, and it's always an amazing feeling when you pull off an effective pass which later leads to your team scoring. It contrasts starkly with losing and getting injured - those are the aspects of the game I least relish".
Away from the football field, Yumi harbours hopes of some sort of an overseas scholarship once her school days are over, getting a good university degree and, generally, leading a successful life.
But she knows full well that, on and off the park, what she wants to achieve won't just happen. "I remember being told when I was younger, 'If you put your mind to it, you can do anything', which is a quote I suppose I haven't used for a while.
"I usually go by my own saying, 'If you want it, you have to work hard'. It basically helps me remind myself that nothing should be taken for granted and that everything happens for a reason. If you have worked hard and persevered, you will get what you deserve".
Here's hoping that, come World Cup Finals time, that piece of advice sees Yumi Nguyen and her Young Ferns team-mates rewarded for all the efforts and sacrifices they have made in this campaign. Yes, even that dreaded move north from Wellington!