Not being chosen in the New Zealand U-17 squad for their recently completed tour of Paraguay was the worst footballing experience Kate Loye has endured in her career to date.
But the feisty fifteen-year-old is determined not to let it impact on her dream of playing her part in this year's inaugural FIFA U-17 Women's World Cup Finals.
The old adage, "It's not the size of the dog in the fight, it's the size of the fight in the dog", is tailor-made for the Hamilton-born central midfielder, and that setback has certainly hardened her resolve to overcome the biggest challenge she faces as she bids to realise her 2008 ambitions.
"Despite being one of the smallest players in the Young Ferns, and one of the youngest, you have to work hard to become a good player, no matter what your size or age.
"There are always new skills to learn as well, and players to emulate - Football Ferns captain Hayley Moorwood, for example. She has been a big influence on my career, along with New Zealand's other leading female players - watching them encourages me to aim to be as good as them one day".
Kate has already shown signs of her potential in this regard. She was the Player of the Tournament in the 2004 Weir Rosebowl, and was National Tournament MVP at last year's U-14 Girls tournament in Napier.
This came hard on the heels of playing for Waikato-Bay of Plenty in the National Women's League semi-final, a match which went to a penalty shoot-out and, despite ending on the losing team, remains Kate's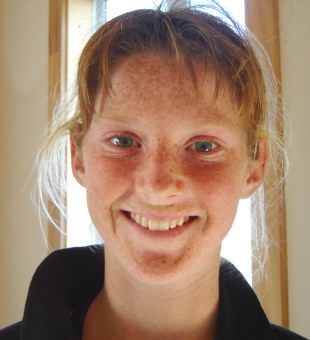 Kate Loye's Favourites
TV Show

Grey's Anatomy

Movie

Blood Diamond

Actor

Adam Sandler

Food

Paninis and bananas

Football players

Hayley Moorwood,

Cristiano Ronaldo

Other Sports

Squash, Touch Rugby, Tennis

Other Sports Stars

Roger Federer

Best Country Visited

USA, New Caledonia, Thailand, Australia

School subject

Sports Academy

Way to Relax

The beach in summer, snow-skiing in winter!

most memorable moment in football to date.
"The U-17s Australian tour was pretty special, too", recalls the daughter of Maree and Gavin Loye, who appeared as a substitute in both 4-0 humiliations of the Junior Matildas, making her international debut in the first match exactly one month shy of her fifteenth birthday.
"It's a dream to play for my country, and the chance to be involved in the inaugural U-17 Women's Finals would simply be amazing. Very much like our team spirit, to be honest", says this relative newcomer to the Young Ferns' scene.
"Just watching the game made me decide to play it as a six-year-old", says `Bob' - her nickname - of her introduction to a code which has seen her play for Cambridge, St. Peter's School and her current club, Claudelands Rovers.
And her province and country, of course. All this activity does have its drawbacks, however. "Travelling long distances to trainings and games is a drag - I just want to play!", declares the sister of Alex and Abby.
"Currently I have training or games every day of the week, and travelling up to Auckland twice a week for two of those training sessions gets very tiring".
But for someone who harbours long-term ambitions of playing professionally and representing New Zealand at a future Olympic Games, it'll become a small sacrifice indeed if it helps Kate Loye force her way back into the Young Ferns squad to realise her FIFA U-17 Women's World Cup Finals ambitions alongside her team-mates in October and November.