It's fair to say that Jodi Curtis dares to be different!
Her family's sporting background is volleyball-based, but the Feilding-born Freyberg High School student wanted to have her own unique sport in the Curtis household.
So she opted for another round-ball code, and in 2005, found herself being swept along on the crest of a footballing wave which took her all the way to federation level honours in her first season!
"I first kicked a ball a year earlier", she recalls, "but I wouldn't consider that soccer. I only really started playing the following year, and the biggest influence on my career, Mrs Purchase, convinced me to trial for the representative team in that first season.
"I actually made it right through to the Central Football U-14 squad, which really got me started and improved my game a lot".
For a relatively late starter in the game, `Jodez' has made giant strides in her fledgling career, to the point that less than three years from playing her first competitive match, she was coming on as a substitute for her country against Germany at the Future Stars Tournament in January this year.
"That's my biggest achievement, without a doubt - being able to represent New Zealand at the Future Stars Tournament in January. Hearing the national anthem play at that event is my overriding memory of the U-17s programme to date.
"Not far behind it was being in the starting line-up against Australia on April 17, six days shy of my birthday, and hearing the national anthem playing there", says the four-times-capped starlet of a match which the Young Ferns won 4-0 - talk about the perfect birthday present!
The rising centre-back has certainly made an impact on the teams for whom she has played in the brief time she has graced the game. Players' Player awards at representative level in 2006 and 2007, with an MVP award in the latter campaign, she was Freyberg High's Players' Player in 2006 and MVP in 2007 as well.
"The best memory of last year was handing Auckland their only defeat at last year's U-16 National Tournament in Napier", laughs the former Youngheart Academy player, who plays in midfield for Palmerston North's Marist club.
"I enjoy every game I play with them - they're a great team. Another aspect of the game which I love is the way it just flows at higher levels. I also love how, during a game, soccer consumes all your thoughts. And when you're having a good game, it's just the best feeling".
That's not the case at half-time or after a game on a wet day, however. "It's FREEZING!!! Playing in the rain is fun, mind you".
And playing for her country means a whole lot more. "It's a huge honour and a great experience", says Jodi. "To me, representing my country means proving to the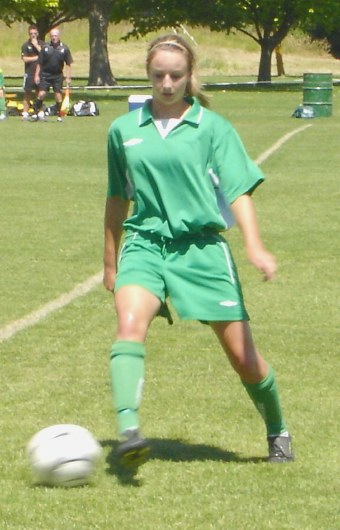 Jodi Curtis' Favourites
Music

All kinds!

Movie

She's The Man

Food

Nectarines, chocolate, lollies

Football players

Cristiano Ronaldo,

David Beckham,

Annalie Longo

Football Team

Young Football Ferns - a team with some amazing talent

Other sports

Volleyball

Other sports stars

Irene Van Dyke and Casey Williams are both amazing!

School subject

PE, even though I couldn't take it this year!

Best Country Visited

Japan for school, Australia for soccer

Way to Relax

Star-gazing (cheezy, I know!), or playing a muck-around game of soccer

world that New Zealand, though small, is just as capable as any other country of playing at a higher level, and not going down without a fight.
"With this in mind, being involved in the inaugural FIFA U-17 Women's World Cup Finals would definitely mean a lot to me, as it means that we've succeeded as a team, especially as New Zealand isn't a favourite for the final.
"It also presents a challenge - living up to the expectation of being a New Zealand representative. That may sound stupid, but everyone expects a lot from someone with a big title like this one".
Every bit as challenging as the one which faces Jodi every day. "Being the only player in the Manawatu area involved in the World Cup programme, most of my training involves a lot of self-motivation, so I've found it really challenging. It's definitely brought my soccer up to a whole new level, though!
"Prior to my NZ involvement, I was only really doing federation training, and the odd run - I'm lucky in that I'm naturally quite fit. But at this level, you can't rely on natural talent.
"Instead, a lot of hours in the gym, on the road and on the pitch are necessary to get up to the required standard. It's quite challenging, but all worth it. And it bears out the best advice I've been given to date - never give up because things get hard, 'cause if it's something you enjoy, then the work will pay off".
The daughter of Ted and Irene Curtis has been overdoing it a bit of late, however. "I'm currently recovering from stress fractures in both my shins - it's the worst injury I've had in my career to date, and I'm not helping myself with the recovery process.
"I'm still training and playing the necessary games, even though it hurts a lot. So even though I enjoy playing, the worst part is the pain I'm experiencing recently".
As the sister of Adina and Dominique will testify, however, it beats volleyball any day of the week! "All my relatives play volleyball, Mum and Dad too. I wanted to do my own thing, and be different to the rest of the family.
"When I started playing soccer, I just fell in love with the game, and haven't stopped since! Football is the only sport in which I don't think about anything else when I'm playing. It's a great way to take your mind off things and relieve stress, of which I have a lot as a Head Girl at Freyberg".
A Head Girl with ambitions aplenty where the game Jodi Curtis loves is concerned. "I play soccer because I enjoy it - it's just a bonus that I'm OK at it! Every time I take to the field, I set out to play to the best of my ability, not let people down, give my all and enjoy the game.
"Keeping that passion for the game is my greatest ambition", declares a young lady for whom this U-17 Women's World Cup campaign is fuelling that passion in a big way.