She considers she achieved her most memorable moment in football to date during the Future Stars tournament in February, but the impact New Zealand U-17 international Lauren Mathis has made on the land she now calls home is far greater than merely "nutsing an American"!!
This, after all, is a young lady who has travelled all the way from the land of Roger Federer, Martina Hingis, timepieces and cheese with holes in it to find herself on the cusp of a place in the Young Ferns squad which will contest the inaugural FIFA U-17 Women's World Cup Finals in October and November this year.
"I was born in Richterswil, Switzerland", says the soon-to-be seventeen-year-old (May 30). "I emigrated to New Zealand about thirteen years ago because Jan, my Mum, thought it would be good to raise us here".
The Mathis family initially settled down deep in the heart of Southland, in Riversdale, a wee town in the shadows of the Hokonui Hills, roughly half-way between Lumsden and Gore. They then moved to the home of brown trout fishing, and it was in Gore where New Zealand football's very own `Swiss Miss' first kicked a ball in anger.
"When I was young I watched Hans-Peter, my Dad, play the game. He loved football and always encouraged Benjamin, Katherine - my brother and sister - and myself to always be active.
"So when I was seven I started playing for Gore Wanderers, and loved football so much that I've stuck to it ever since!"
Soccersouth representative honours didn't take long to materialise, the province realising they had struck gold in the form of `Nugget' - one of Lauren's nicknames. And once sighted beyond the boundaries of NZ's southernmost federation, it soon became clear that a move north would be necessary to further Lauren's footballing potential.
"My parents have been the biggest influences on my career to date, together with my coaches, for pushing me to be the best I can be. But Mum, in particular, has played a huge part in my career so far.
"She and I moved to Auckland in 2005, which was quite a challenge in itself as it meant leaving family and friends behind in Gore - that was hard. On the field, from being really good in a small town to having to work really hard just to catch up with everyone up here was every bit as tough as the move north itself.
"It's been well worth it, though", declares the Milford resident. "I wouldn't move back for anything. Auckland has a lot more high-class football, both player- and coaching-wise. I love it!!"
The Takapuna Grammar student has graced the colours of Hibiscus Coast and Glenfield Rovers and the country's northernmost federation since moving to the Queen City, and has a runners-up medal from last year's National Women's Knockout Cup Final to show for her efforts to date.
Not to mention a handful of appearances for her country. "Playing for New Zealand means everything to me. It makes all the years of hard work and sacrifice disappear when I wear that silver fern!", `Lozza' declares proudly.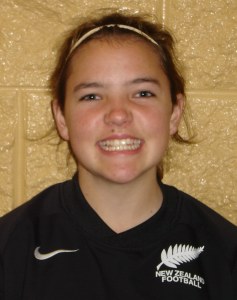 Lauren Mathis' Favourites
TV Show

Grey's Anatomy,

Desperate Housewives

Movie

The Holiday, Moulin Rouge

Actor

Jude Law

Actress

Sandra Bullock

Author

Terry Pratchett

Music

Anything but heavy metal & rock!

Food

Mango, all fruits, spatzli (German homemade noodles)

Football player

Marta, Mia Hamm, Nani, Lionel Messi

Football team

FC Zurich, Barcelona

Other sports

Touch rugby, Tennis

Other sports stars

Roger Federer

School subject

PE

Best Country Visited

A hard choice - it's between Switzerland and Italy

Way to Relax

Go to the beach and hang with mates; Movie nights are always good!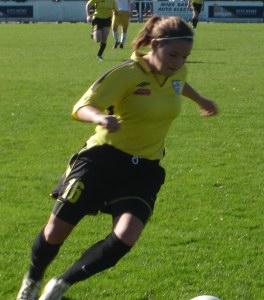 It was while representing her country in June 2007 that the striker / wide midfielder endured her worst footballing experience to date. "The thing I least like about football is losing when you've fought really hard and deserved to win.
"So you can imagine how I was feeling when we lost 4-3 to Queensland in the semi-finals of the Australian Youth State Championships, after being 3-0 up at half-time!!"
If nothing else, it brought home to Lauren the significance of the best advice she's received to date: "There's no use dwelling on the past or worrying about what might have been. Live in the now and make the most of every opportunity".
She's certainly doing that, having made five cap-earning appearances for the Young Ferns to date. Needless to say, she's keen to add to that tally. "Being involved in the inaugural FIFA U-17 Women's World Cup Finals is the most exciting thing that's ever happened in my life!! It's all I think about at the moment.
"Getting into the starting line-up and the final squad itself represent the biggest challenges I face on the field this year, because there is such competition for places and everyone is really good.
"As well as the physical nature of football, and scoring goals, one of the things I like most about the game is making friends for life with my fellow team-mates. With that in mind, the team spirit of the girls, and how close we've become as a group is really special - it's one of the things which stands out for me from our time together so far".
Another aspect is fitness-related. "It's a big step up from twice-weekly club training, that's for sure. It's so much more demanding both physically and mentally, but I love it! We've put in a lot of hard work over the past couple of months, and the rewards are there for all to see - we're fitter, stronger …"
And in Lauren's case, raring to take on the next international opportunity which is planned for the squad, having missed out on the recent Australian tour. Staying home allowed her to make in-roads on her NCEA ambitions, however, something which she's keen to do well in.
"Ultimately, I aim to get a footballing scholarship in either Europe or the USA, and make the Football Ferns' squad and the Young Ferns' World Cup squad", grins a young lady whose talents aren't confined to a football pitch.
"I can speak a little bit of Swiss German, but I've lost it over the years of being in New Zealand. I'm quite annoyed about that, but I'll just have to go and live there once my footballing career is over", sniggers NZ football's `Swiss Miss'.
"Don't call me that! Martina retired from alleged drug abuse!!" Lauren groans, before coming up with a classic riposte which is guaranteed to earn her a few wisecracks at training.
"I think you should call me the Roger Federer of soccer!" she says, tongue very firmly in cheek, and just as well, too, as that would entail Lauren Mathis making quite some impact indeed!!