Moving to a new city purely for footballing reasons is a pretty hard thing for a sixteen-year-old to do. Just ask Anna Fullerton.
The Young Ferns left-back is still coming to terms with the off-field challenges with which her new environment is presenting her, but on the park, she's relishing the opportunity to stake her claim for a place in the squad which will represent New Zealand at NZ08.
"It's very special being involved in this FIFA U-17 Women's World Cup. It's the first one ever, so it definitely means a lot to me. I couldn't ask for a better experience, really. Bring it on!!"
There is a downside to the situation for Anna, however, and it's one that's very dear to the heart of this Tauranga native.
"Leaving family, friends and social aspects behind has been the biggest challenge I've faced in moving to Auckland. Also, moving in with a family I didn't know that well. In fact, I'm finding living with a complete different family to my own extremely hard.
"Another aspect I find challenging is not having any really close friends here, which is hard, especially when you need someone to talk to outside football.
"The football and school side of things is awesome, however. Hopefully it will all be worth it in the end", says the Long Bay College student, "but in the interim, I've just got to stick with it".
As one would expect of someone who considers the best advice she has received to be `Pain is only temporary; quitting lasts forever'.
And one thing the girl nicknamed `Bluey' can never be accused of is being a quitter. Take her attitude towards the U-17s training programme, for instance. "Prior to this, all I did was school training with my Otumoetai College team. But being involved in a national team brought with it our current training schedule of three nights a week with NZ, plus one
Anna Fullerton's Favourites
| | |
| --- | --- |
| TV Show | Coronation Street |
| Movie | Cars |
| Music | R&B |
| Food | Pasta |
| Football team | Young Football Ferns |
| Other sports | Athletics |
| Other sports stars | Marina Erakovic |
| School subject | PE |
| Way to Relax | In front of the TV |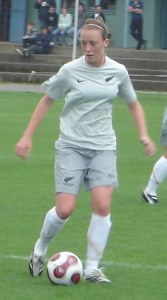 with clubs, and matches on Saturdays and/or Sundays.
"It's really good!" grins the Glenfield Rovers defender, who endured a year of physio treatment after being on the receiving end of a bad tackle a couple of years ago. "I enjoy being fit, so the pain and effort will pay off. It's kind of fun!"
And fun is how she finds football generally. "I always liked it, even when I didn't play - I only started playing the game in 2001. The aspect about it which I most enjoy is the sweet opportunities we have.
"For instance, stepping onto the field as a substitute in the first Korean Republic international last December is a moment I will never forget. It's a great honour to represent your country - it certainly means everything to me".
As does her family. "My brother, Logan, sister, Megan, and Mum, Debra, are always there for me, as is my Dad, Graeme, who has been the biggest influence on my career.
"He's always on the sideline encouraging me to fulfil my ambition of always being the best I can be and do my job well, and is always willing to share his knowledge of the game with me".
It's support which the soon-to-be seventeen-year-old - July 20 - hopes will help her realise her ambition of making the New Zealand U-17 Women's World Cup squad, an achievement which will surely eclipse her most memorable moment in the sport to date.
"I scored the winner for Otumoetai College in our qualifying game for the National Secondary Schoolgirls tournament last year, which ranks as my best achievement in the game".
That and her five NZ U-17 appearances, of course, a tally Anna hopes to add to in the future, as well as over the course of the coming week, having been included in the New Zealand squad for their three-match tour of Australia.