There's plenty of fun and mischief to be had when you're a triplet, but not when you've got a World Cup squad berth to secure - just ask Kylie Jens.
The Auckland-born left fullback has been clocking up so many miles between her home town, her Tauranga home and her base at Cambridge - she's a boarder at St. Peter's School - this year, in the nation's footballing interests, that any chance of mischief-making was left by the road-side a long time ago.
And while it hasn't been all work and no play for "Ki" during the last year or so, Claudelands Rovers' curly-haired Young Ferns international has certainly led a well-disciplined lifestyle in that time, as she bids to realise her World Cup dreams.
"I moved to Cambridge this year to go to boarding school, so I wouldn't have to travel so far to trainings, and would have more time to study. Juggling school work with soccer has been one of the biggest challenges of the year, but the hardest thing of all is being away from my family and friends back in Tauranga.
"While I'm well settled now, being at boarding school and away from my family makes me appreciate my home comforts more - the food at home is far better, for starters, not to mention I've my own bed there, and less rules to comply with. Little wonder I love going home when I get the chance!"
Opportunities to catch up with parents Anne and Jeroen, and her fellow October 16 birthday celebrants, brother Nicholas and sister Renee, haven't come about anywhere near as often as the soon-to-be sixteen-year-old would like, however, due to the wee matter of a once-in-a-lifetime opportunity which this former Otumoetai starlet can't get enough of!
"Being involved in the inaugural FIFA U-17 Women's World Cup is very special, and a huge honour. For New Zealand to be hosting it is a great achievement for women's soccer here.
"From a playing perspective, I train six days a week and travel to Auckland for U-17 trainings, which means lots of late nights yet still having to get up early the next day to do fitness work and then go to school.
"The intensities of the training sessions are a lot higher, and there is a lot more fitness work involved, and with fitness being the aspect of football which I least enjoy …"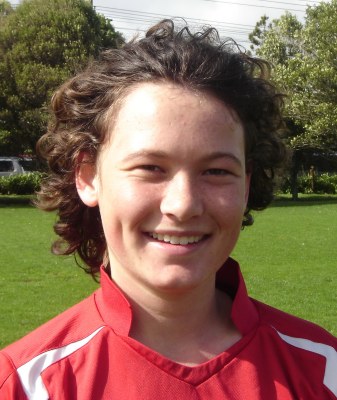 Kylie Jens' Favourites
| | |
| --- | --- |
| TV Shows | Home & Away, Gossip Girl |
| Author | John Grisham |
| Actor | George Clooney |
| Food | Sushi, Ice cream |
| Football player | Thierry Henry |
| Football team | Arsenal |
| Other sports | Cricket, Tennis, Snow-skiing |
| Other sports stars | Daniel Carter |
| School subject | PE |
| Best country visited | England, Europe, USA |
| Way to Relax | Go to the beach with my family; Read; Watch TV; Listen to music |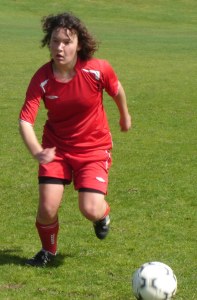 The rewards, however, are far greater. "All the hard work everyone puts in, for instance. Working as a team, and playing the games, such as my first U-17 internationals in Paraguay in July. It's very honouring and a very proud feeling to represent your country, a great achievement, and one I value highly".
No surprise to learn then, that making the U-17 squad is the most memorable achievement in football to date for someone who has represented Waikato-Bay of Plenty at all levels - National League, U-16, U-14 and U-12 levels, the last-mentioned age-grade being the Weir Rosebowl-winning team of 2004.
That's a long way away from where Kylie first kicked a ball in anger, however. "When I was very young, we moved to England for a few years. My parents signed my brother and me up for a club called Merstham as five-year-olds, and we've never stopped.
"Even nowadays, Nicholas plays for his school's second eleven and the Waikato-BOP U-17s, while Renee plays social soccer at school. There's no swapping of teams for a giggle, however - we don't look anything like each other, and have our own interests.
"One of mine is obviously football, which is thanks to my granddad and my parents, who have kept on encouraging me at every opportunity. `Never stop trying', they say, `'cause you don't know what could be right around the corner'. And it's true!"
One thing Kylie didn't see coming occurred during a training game at North Harbour Stadium earlier this year, when she came off a distinct second-best in a clash with Maia Jackman. "I got a mild concussion and a black eye from that encounter, but I`ve been lucky not to have had any major injuries so far", grins one of the quiet achievers of Waikato-Bay of Plenty football.
The former Surrey County Development Team member, who was, as a ten-year-old, a member of Fulham FC's School of Excellence, intends to pass her NCEA exams and go to university, and ultimately get a footballing scholarship abroad, perhaps in the USA.
"Most of all, though", says Kylie Jens, "I hope to make the U-17 Women's World Cup Finals squad. Football's a great sport, both technically and physically, and I love playing it.
"The chance to do so for my country, in my country, on the biggest stage of all, would be very special indeed".