`You make your future' is the best advice Nikau Hindin has ever received, and she's endeavouring to live it as much as possible at present as she bids to make the Young Ferns' squad for the inaugural FIFA U-17 Women's World Cup Finals.
The Grey Lynn-born defender first took up the game as a seven-year old, inspired by a cousin who played the game, and the fact her Mum, Debbie, wouldn't let young `Neek Neek' play rugby!
"It's turned out to be one of those things you thank your parents for years later. Being a very competitive person, upon seeing my cousin play, I didn't want to be left out, so joined my local club, Western Springs.
"The first team I played for lost every single game except the last one, but it didn't seem to deter me".
It certainly hasn't, as confirmed by selection for Auckland Football age-grade representative teams in the last three years, and the captaincy of Western Springs' U17 girls squad in 2007, a year in which she earned the club's Young Player of the Year award and played a part in their successful quest to win the National Women's Knockout Cup.
All these achievements have a common link - a year which began like many others but which altered considerably when Nikau checked her mail one day. "My life changed in 2005 when I got a letter saying I'd made the New Zealand U17 training squad. I wasn't really expecting it and was really excited.
"Ever since then I've been training really hard to stay in the squad. It's very challenging physically and mentally, but I'm getting used to it, although it's hard finding a balance between school and soccer - if one is more dominant, the other suffers.
"Last year I finished school at 4.20pm, so I'd rush home, stuff my face with food and rush off to training at 5pm. This year, I finish school at the normal time of 3.15pm, and have dropped one subject to keep my grades high and put all my emphasis on my football".
And, as is the case with many of her team-mates, football is very much life for a young lady who turns seventeen eight days before the Young Ferns kick off the U-17 Women's World Cup Finals on October 28.
"I go to the gym twice a week and have one-on-one sessions with a personal trainer. And you have to make sure you get enough sleep and eat the right things before and after trainings. I love cooking so I always make snacks for after games and trainings.
"My overriding memory of the entire campaign so far has been the camps - in general, they're really fun. It's like living with all your mates for a week and playing the game you love.
"And the whole campaign itself has been really special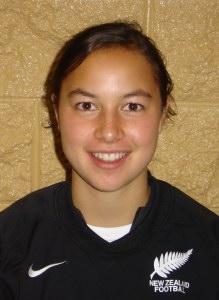 Nikau Hindin's Favourites
| | |
| --- | --- |
| Movie | Dream Girls |
| Actor | Johnny Depp |
| Actress | Sandra Bullock |
| Author | Tamora Pierce |
| Music | Hip-Hop, R&B |
| Food | Avocado |
| Football player | Jenny Bindon |
| Football team | Barcelona |
| Other sports | Touch rugby, Volleyball, Softball - anything really |
| Other sports stars | Sonny Bill Williams, Dan Carter - they're good players, right? |
| School subject | Art, English, Biology |
| Best Country Visited | The south of France |
| Way to Relax | Going to the beach, sunbathing, swimming |

to be involved in", says Waitakere City's new recruit for the 2008 campaign, "because it's a once-in-a-lifetime opportunity to play in a World Cup Finals in your own country".
You don't need to imagine how much having that opportunity would mean for someone who loves her country as much as Nikau. "I'm really proud that I'm from here!" exclaims the AGC Parnell College student, who is just as keen to do well scholastically this year.
"Making the 2008 World Cup squad and doing really well in my A Levels are my prime objectives this year. Beyond that, my ambition is to get a scholarship - football or academic - at a university of my choice, then be rich and famous in my future career as either a kinisieologist, a movie producer, a painter, a chef or a TV presenter!"
No half measures from a young lady with two half-brothers and a half-sister in her family! And it's the driving force behind that family who Nikau readily acknowledges as being her biggest influence.
"Mum, without question. If it wasn't for her, I wouldn't have been able to come this far. She takes me to most of my trainings, feeds me, runs round after me, washes my training kit every night, watches my games, supports and encourages me every day!
"Throw in the fact she's self-employed and works full-time … I don't know how she does it!"
That's pretty much how opponents feel once they've found themselves on the receiving end of a Nikau Hindin tackle. "Tackling someone and getting the ball gives me an adrenalin rush every time - it's the aspect of football I enjoy most".
And least? "Having to sit in traffic while travelling to training most nights", groans a young lady who had a frustrating year in 2007. "I got two consecutive injuries, one of which came six weeks before the National Age-Grade Tournaments, so I didn't have a very good build-up.
"I just had to get on with it, however, which stood me in good stead for this year. Because dealing with the pressure to perform well every time, no matter what, is the biggest challenge I consider I'll face in 2008".
How she copes with that pressure in terms of the selection process for the inaugural FIFA U-17 Women's World Cup Finals will determine if Nikau Hindin has abided by her best advice and made her own future.
But even if her efforts to realise her World Cup dreams prove forlorn, you can guarantee there'll be one proud Kiwi leading the encouragement of her mates, as they bid to do New Zealand proud throughout October and November.