Sarah McLaughlin has a great deal to thank her parents for.
As a six-year-old, she was loving life with an oval-shaped ball in her hands, New Zealand's national game having captured another unsuspecting soul before the game the world plays could cast its spell.
But Karen and Tony McLaughlin were concerned about their daughter's safety, given the violent nature of the game, and encouraged Sarah to give up rugby as they didn't want her to get hurt.
Their youngest child - brother Jared is two years her senior - started playing soccer as a seven-year-old a year later, and Sarah has never regretted it. "I just love playing", declares the Hamilton native. "There are so many opportunities through the game".
Such as the inaugural FIFA U-17 Women's World Cup Finals, in which this striker is set to play a significant part for her country. "It's an awesome opportunity to play and be seen, and just have the chance to play against world-class players and teams.
"To have it in your own country makes it even more special", declares the goal-getter, who struck eighteen times in one game for Hamilton North in 2006, and notched six goals in her debut Northern Premier Women's League campaign for Claudelands Rovers last year.
"My most memorable moment in football was my first international goal, a free-kick which earned us a 1-1 draw against Korea Republic in the final game of that series last December.
"That, and walking out onto the field for my first international, and hearing the anthems playing. It's a great honour to represent your country", says this proud Kiwi, "and I really can't put into words the feeling I get when I step out of the changing rooms and over the white line with the silver fern over my heart".
Suffice to say, it contrasts starkly with the worst footballing experience the Fraser High School star suffered. "Being unable to play football for seven weeks after tearing my medial ligament last year was the pits", ruefully grimaces a Young Fern who turns seventeen on June 3.
She's a Young Fern with her feet on the ground as well. "The biggest challenge I see myself facing this year is managing to stay up-to-date with school work while focusing on a massive footballing year.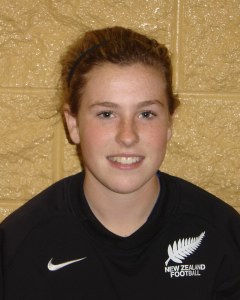 Sarah McLaughlin's Favourites
| | |
| --- | --- |
| TV Show | Shortland Street |
| Movie | The Green Mile |
| Author | Dan Brown |
| Music | R&B, Hip-hop, Old School, Slow jamz |
| Food | Subway, Chicken Teriyaki, Salad |
| Football player | Marta |
| Other sports | Touch rugby |
| Other sports stars | Jonny Wilkinson |
| School subject | Sports science |
| Way to Relax | Going to the beach with the family |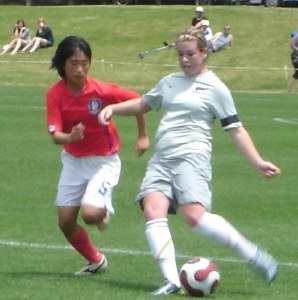 "But the challenges with which football presents you is the aspect of the game I most enjoy, along with having the opportunity to meet people from everywhere".
Another challenge for Sarah, and for all her Young Ferns' team-mates, is the training regime with which they must comply as they bid to secure their places in the FIFA U-17 Women's World Cup Finals squad.
It's particularly the case for someone faced with long-distance travelling, just to get to the ground. "My training schedule is full-on, and involves two return trips from Hamilton to Albany each week, plus early morning trips to the gym at least three times a week.
"My parents are hugely supportive, however. As well, they help me get to the places I need to be".
Although it's fair to say this young lady's going places anyway. After beginning her fledgling football career at Western United, she has accumulated footballing honours left, right and centre in recent years, with Hamilton North recognising the youngster as their most promising player in 2004.
A year later, she helped Fraser win the NZ Secondary Schoolgirls satellite tournament in Whangarei, while she was MVP at the U-16 National Identification Tournament in 2006, and scored five goals in her maiden National Women's League campaign for the Waikato-Bay of Plenty senior squad.
So to 2007, a genuine breakthrough year in Sarah's promising career, which saw her win the Golden Boot at the NZSS satellite tournament in Taupo, as well as make the tournament team.
Fraser High School rewarded their star striker with their MVP award for soccer, then awarded her the Senior Sportsperson's Highest Achiever Cup, which sits nicely alongside the Ken & Laurette Taylor Memorial Trophy for Highest Achievement by a Claudelands club member.
Cue Sarah's international debut - can it get any better? "My ambition is to make the Football Ferns team and just be the best I can", says `Macca', who is driven by some worthwhile advice - "Don't let anyone ever tell you that you can't or won't make it".
If six U-17 caps and an international goal to her name is anything to go by at this stage of her football career, this rugby convert is well on the way to proving that statement's worth.