It's fair to say Therese Saito is one of the genuine characters of the Young Ferns squad.
It's also fair to say she's one of its least exposed players, having last represented the side in a friendly last July, when coming on as a half-time substitute against the NZ Universities squad.
The tough-tackling fullback has yet to sport the silver fern she cherishes in a cap-earning international, but it's certainly not for the want of trying on her part.
"Tee", as she is known, is working as hard as ever to force her way into the plans of NZ U-17s coach Paul Temple, but it's as well she has a wicked sense of humour to help overcome the disappointments she has experienced along the way.
"I'm a pretty injury-free person! Ask (team physiotherapist Anna) Barlow! Haha!!
"Seriously, if it's meant to be, it will happen", muses the daughter of Paul and Yukari, and sister of Luke and Anna, all four of whom she regards as the biggest influence on her career, simply for their ongoing support.
"But even if it doesn't, simply to be involved in the inaugural FIFA U-17 Women's World Cup Finals, from a player's perspective, is indescribable in words - it's a privilege not many seventeen-year-olds get!"
This particular seventeen-year-old - January 15 is her special day - began playing the game eleven years ago, and the manner of her introduction to the game speaks volumes about her competitive nature.
"A bunch of boys were playing, so I wanted to join them and beat them! Haha!! I joined the West Auckland club, and have since switched to Glenfield Rovers to play Premier League football, appearing in the National Knockout Cup Final in my first full season for them last year".
The year before, "Tee" made her maiden appearances at senior level for the North Harbour federation as a fifteen-year-old in the 2006 National Women's League, and it says much for her footballing maturity that she has already become a firm fixture in their starting line-up, despite her tender years.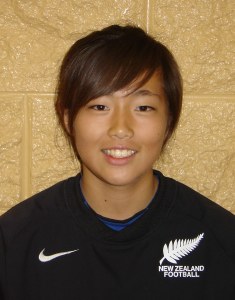 Therese Saito's Favourites
| | |
| --- | --- |
| TV Show | Grey's Anatomy, Lost, Desperate Housewives, Pimp My Ride, MTV Next, America's Next Top Model, Shortland Street |
| Actor | Adam Sandler |
| Actress | Scarlett Johansson |
| Music | Hip-hop & R&B / Techno |
| Food | Asian - Japanese, Chinese, Indian, Thai, Malaysian, Korean |
| Football player | Hayley Moorwood |
| Other sports | Softball |
| Best Country VIsited | Japan |
| School subject | English or Media |
| Way to Relax | Hanging out and 'laxing with mates, listening to some gangsta beats |

As well, the Auckland-born rising star captained the region's U-16 squad in the 2007 Age-Grade National Tournament in Napier, having first appeared at U-14 level at this player identification tournament two years prior.
"It's the best sport invented!" beams a proud `Jafalander'. "There are so many things I enjoy about it. Meeting new people and making the coolest friends ever, for instance. And when you're playing, all you think about is the game - it takes your mind off everything else, to the point where nothing else matters".
Something which does matter for this final year Avondale College student is what she'll be doing this time next year. "There are many bits of advice I've received over time, and the one most applicable where my biggest challenge at present is concerned is the old adage, `Failing to plan is planning to fail'.
"Right now, figuring out what I want to do academically after leaving high school is uppermost in my thoughts, because to be honest, I really don't know".
The talented teenager is far less troubled when it's time to explain how much wearing the silver fern means to her, however. "Representing New Zealand means you are `repping' each and every one of those who have helped you along the journey. It's an amazing honour".
One which "Gasian" - her other nickname - would love to experience on the international stage in the very near future. But even if she is overlooked for the U-17 Women's World Cup Finals squad later this year, Therese has some terrific memories to reflect upon from a special time in her life.
"There are so many memorable moments from being together as a squad, it's hard to single out one which means more than another. What's more, the culture we have enables us to create new ones every day - it's awesome".
It's certainly helping to sustain the hopes of a fun-loving footballer with character aplenty. And it goes without saying that should Therese Saito be selected to represent her country for the first time at NZ 08, or in the build-up to it, it would suit her to a "Tee"!