Claudia Crasborn won't forget her international debut in a hurry - it was the worst footballing experience of her life!
"I came on as a second half substitute in the first of our three matches against the Korea Republic at Taharoto Park. I can't stand injuries, either to myself or team-mates, so you can imagine how I felt when I tore the ligaments in my right ankle after being on the field for about fifteen minutes".
The sight of the sixteen-year-old crumpling to the ground in agony upon landing awkwardly was not one of the year's most memorable, of that you can be assured.
But this Hastings native is clearly made of stern stuff, for when the Young Ferns took to the field against Germany some 52 days later in the opening match of the Future Stars series, Claudia had fought her way back to make the starting line-up, prompting the goose-bumps she experiences when sporting the silver fern over her heart.
"I think representing your country in anything brings with it feelings and emotions that are simply unexplainable", says a player who is comfortable on either flank. "Especially when playing in an international, I find I'm overwhelmed with excitement and nerves - it means everything to me. I think I'm still learning to cope with those emotions and how they affect me".
Needless to say, Claudia is hoping she'll be experiencing them come October 28, when the Young Ferns play in the opening match of the inaugural FIFA U-17 Women's World Cup Finals later this year.
"Making the starting line-up would be my ultimate goal, although just going to the World Cup would be amazing", declares a young lady who moved to Auckland at the start of the year in the hope of having a better chance of making the squad for the finals.
"I moved up from Havelock North. Leaving behind family and friends was extremely hard, and a huge challenge. I miss everyone so much, but I've met some amazing people up here, which has made everything a lot easier.
"I'm in contact with my family - parents Glynis and Ricks, and older brother Carlos - pretty much every second day, and texting and the internet keep me in frequent contact with my friends back in Hawkes Bay. The first couple of weeks away from home were the hardest, although I'm definitely not regretting the move, the traffic excepted!"
Remuera is Claudia's home away from home in 2008, and the Glendowie College student is loving it. "The host family I'm living with are great! The parents aren't Mum and Dad, but I couldn't have asked for a better home environment. Moving into a house where I now have three younger sisters was a big change, but I have settled in just fine".
That's also the case on the park, where the former Napier City Rovers starlet will be wearing the green-and-white hoops of Western Springs this season, something which this former national speed-skating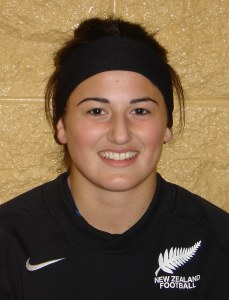 Claudia Crasborn's Favourites
TV Show

Grey's Anatomy, Friends,

Desperate Housewives

Music

Mellow, Techno, Old School, Jason Mraz

Food

Spaghetti Bolognese, Mum's cooking, lollies

Other sports

Water-skiing at Lake Taupo

School subject

Graphics

Way to Relax

Watch TV, sleep, ice baths

Best Country Visited

Fiji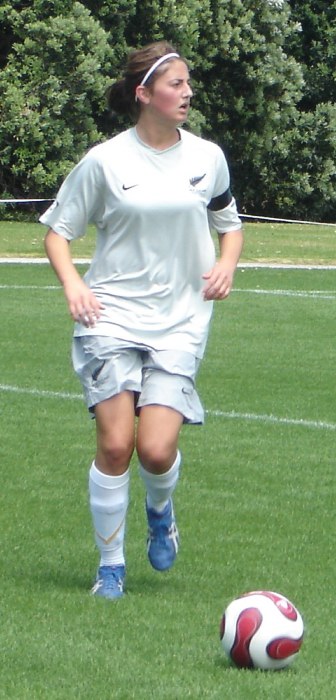 champion never envisaged just five years ago.
"I started playing football when I was eleven. Prior to that I did inline speed-skating, both road-racing and indoors. I was the national champion for my age in 2002, but had to give it up because I had problems with my ankles.
"After speed-skating, I really wanted to get into a team sport. My primary school coach saw me play, and encouraged me to start playing for a club. So I joined Havelock North Wanderers, and I was the only girl in my team.
"At that age (11), it was difficult because the last thing the boys wanted was to be partnered up with a girl at trainings. Luckily I had a really supportive coach, Dave Anderson, who kept the boys in line!"
There's been no looking back since for a lass who gets called Claud, Clauds or Gloria, a moniker with which her U-17 team-mates have tagged her "because apparently it sounds like Claudia"!
As well as the support and encouragement of Anderson, Claudia greatly appreciates the influence Leon Birnie has had on her fledgling football career. "When I started playing at a higher level and made the NZ U-17 squad, Leon was always very supportive and gave up a lot of his own time to help me with fitness and working on my left foot.
"Mum is always there for me, too", smiles someone who won't turn seventeen until July 17. "She never let me give up, especially at times when I thought it was all getting too much for me.
"It's through her encouragement that I've learned to have belief in my own ability, although the best advice I've received to date is also my favourite quote - `Don't get caught up in your mistakes. You can't affect the past, so embrace the present and keep looking to the future'.
Wise words, and ones which Claudia is clearly putting into practice, if the way she has embraced her training schedule is anything to go by. "The eight-week fitness programme we have been doing has been painful but worth it! I have never been pushed so hard in my life, but luckily the girls in the squad are really good friends and the support everyone gives each other is amazing!"
The extra work has helped in containing her self-confessed "lack of self-control in the lolly department - I've got an extremely sweet tooth!", and introduced her to a new form of relaxation which she has taken to like a duck to water.
"If I'm feeling sore or tight, nothing beats an ice bath!" declares Claudia, whose love for her relatively new sporting career could well see her playing in a World Cup Finals just six years after she first kicked a ball in anger.
It's a move she's never regretted. "I just love playing the game. Obviously everyone has their good days and bad days, but when the team gels and you know you've played well … I love that feeling".