As football players go, Danielle McFadyen is something of a late starter in the game. Indeed, it was only four years ago when she first set foot on a football field in anger, the performing arts having initially attracted her attention.
"I was a ballet dancer, initially. At eight-and-a-half, I decided to give it up. I needed to fill the void, however, and took up cricket as a summer sport. Then I needed a winter sport to play. So in 2004, I decided to play football, as both my brother, Zachary, and Dad, Graeme, were playing for Western Springs".
It's a decision the Auckland native has never regretted. Nor has she looked back after donning the number one jersey right from the outset. Her form has been such that she has earned Auckland representative honours at U-14 (2005) and U-16 (2006/7) levels, along with a couple of other noteworthy distinctions.
"Winning the National Women's Knockout Cup as Western Springs' goalkeeper in the 2007 final is my most memorable achievement in football to date", enthuses the Baradene College student.
"I also became the youngest goalkeeper ever, male or female, to play in a national cup final in this country, an achievement I'm really proud of. Then to cap off 2007, I earned my first cap for the U-17s against the Korea Republic during their visit here last December.
"In representing my country, it meant I had reached the pinnacle of my sport, and allowed me to play at the highest level". Not that `Danni', as she is nicknamed, could do much to stave off the rampant Koreans that afternoon - they won 6-0!
Her hopes of casting the memories of that defeat aside early this year were dashed, however, in the very first game of the season. "I broke my second metacarpal - one of the bones between my wrist and my fingers - and had to have an operation.
"It's the worst experience I've had to date in football. What made it so was that I missed out on the tour to Australia in April as number one `keeper, and missed out on the current tour to Paraguay as well".
Ironically, a shoulder injury to Charlotte Wood on that South American sojourn has given `Danni' a timely boost as she returns to full fitness, the lure of playing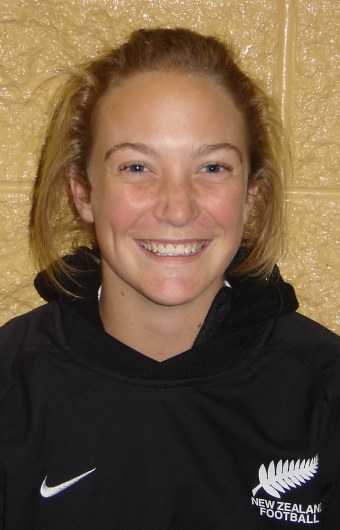 Danielle McFadyen's Favourites
TV Show

Brothers & Sisters,

The Hills

Movie

How To Lose A Guy In Ten Days,

What Happens In Vegas

Actor

Ashton Kutcher

Actress

Scarlett Johanson

Music

R&B, Techno, Old School - anything that's hot!

Food

Cereal

Football player

David Beckham,

Cristiano Ronaldo

Best Country Visited

Malaysia, Australia, Fiji

School subject

PE, Statistics, Calculus, Economics

Way to Relax

Shop!

a part in the inaugural FIFA U-17 Women's World Cup high on her agenda.
"Being selected in the team in 2005 and retaining my position since then is my overriding memory of the Young Ferns' campaign to date, and this tournament could be a fantastic opportunity to play in front of a home crowd and a worldwide audience", she declares.
Not forgetting her biggest influences. "My parents, Anne and Graeme McFadyen, have always supported and encouraged me throughout all my pursuits. Also my brother, Zachary, deserves mention for his continuous support in all aspects of my life. And solely from a footballing perspective, Maurice Tillotson, who selected me for the U-17 squad at the 2005 Federation Tournament.
"I've been involved in the programme ever since, and there's no doubting what I've most enjoyed about it - the girls' company and friendships. And winning, of course! It certainly offsets the disappointment of putting in 100% commitment but having no success to show for it".
Balancing her life between her academic and sporting successes, and her social life, is one of the biggest challenges Danielle considers she will face this year. There is another. "It's not the training programme, which is no more onerous than when I undertook ballet.
"Battling Auckland's traffic to get to North Harbour Stadium three times a week for training, on the other hand …"
The seventeen-year-old - she was born on 12 February, 1991 - intends to attend university, have a successful life, live it to the full and enjoy every part of it away from the football fields, but right now, Danielle McFadyen remains very focused on her goal as she continues her return to full fitness following injury.
"It's my ambition to be in the starting line-up for the New Zealand team in the Finals, and beyond that, to continue progressing through the grades into the senior side".
Given the rapidity with which she's got to grips with the art of goalkeeping in the five years she's been playing the game, don't bet against it!