Any time Jessica Rollings takes to the field or gets on the ball during the upcoming FIFA U-17 Women's World Cup Finals, expect to hear a prolonged eruption of noise from an entire block of spectators at North Harbour Stadium!
Football Family Rollings is set to converge on the ground from across the Tasman as well as around the North Island to cheer on the Young Ferns' fleet-footed winger, who is greatly appreciative of the biggest influence on her career.
"My family have always supported me from the beginning - I started playing at the age of seven - and still continue to a decade later", beams the Auckland-born starlet proudly.
"Being around the game 24/7 throughout my life meant I was always destined to play football. It's been my biggest passion, and my on-field ambition, while always aiming to play my best, is just to enjoy myself, because playing football is what I love to do".
That's hardly surprising, given `Rolly' hails from a family steeped in the game's history in this country. Representative footballers abound in the Rollings clan, with Jessica boasting cousins who've represented New South Wales and the Brisbane Lions, as well as four who are among the volunteer ball boys and girls at NZ '08.
Bay of Plenty representatives and Rotorua City players of past vintage are ten-a-penny among her aunts and uncles, not to mention her proud parents, Dennis and Wendy, and older brother, Dennis Junior.
But Charlene Rollings' kid sister is the only one who's achieved the ultimate honour, and it's one in which she takes immense pride. "Playing for New Zealand means so much. It's a unique feeling that only some get to experience, and I definitely appreciate it.
"It's given me opportunities I'll never forget. Being able to play awesome teams like the USA and Germany, for instance. And playing in Paraguay, winning our first game there, and being able to experience playing a totally different style of football … unforgettable.
"Coming from a family with such a huge heritage makes me so proud to carry the family name through football. I definitely want to keep my family legacy going, and be the first to take part in a World Cup.
"The support I get from my family is just unbelievable, and I will happily boast that I have one of the biggest number of family members coming to watch - you won't miss them!"
There's one family member who will miss the Finals, however. Jessica's grandfather, who won a Hertfordshire FA Schoolboys medal with Watford in the 1938-9 season and was made a life member of Rotorua City FC in 1980, died four weeks prior to the first game in the Korea Republic series at Taharoto Park last December.
A minute's silence was held in his honour, with the Young Ferns donning black armbands to mark the occasion.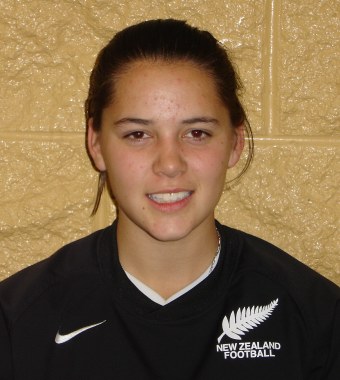 Jessica Rollings' Favourites
| | |
| --- | --- |
| TV Show | Grey's Anatomy |
| Movie | The Lion King |
| Actor | Will Smith |
| Food | Has to be Thai |
| Football player | Cristiano Ronaldo |
| Football team | Young Football Ferns |
| Other sports | All sports |
| Best Country VIsited | Australia (several times), Argentina and Paraguay |
| School subject | PE for sure |
| Way to Relax | The beach |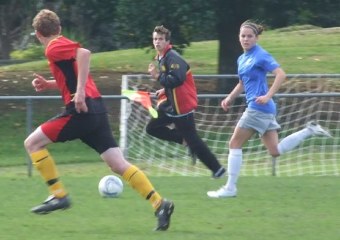 In full flight against Ellerslie in the Metro League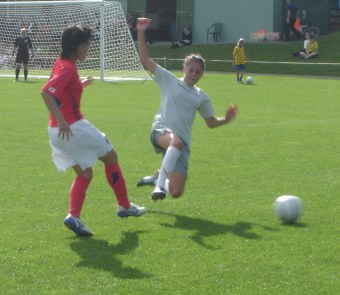 Flying into a tackle against Korea Republic
"The passing of my grandfather, Dennis, was really tough to bear, because it was so close to my first international and I wasn't able to make his funeral. The team really showed respect by wearing the black armbands, and that meant a lot to my family and me.
"He was a great inspiration to me while I was growing up, and still continues to be. I wish he could come to the World Cup because it was his dream to see me play, and I miss him being on the sideline".
Being on the sideline was an experience Jessica endured not too long ago, and it wasn't a result of injury, either. "Overcoming glandular fever has been really hard both physically and mentally, given it came so close to the World Cup. It's without question the worst experience I've had to date.
"Hence I'll appreciate all the more the opportunity to be involved in these Finals. The training schedule we've had has been pretty demanding, with sessions almost daily and two games a weekend on top.
"It can get tough, but it's all part of being a footballer. And if it means playing a part in the inaugural FIFA U-17 Women's World Cup Finals, then all the hard work and sacrifices which have been made along the way will be worth it".
It will certainly add to the rewards `Rolly' has already amassed in the game, as she has looked to fully realise her maxim, "Take every opportunity that's thrown at you", at every turn.
From scoring twenty-seven goals in her debut season at Waitakere City, the Auckland resident has since graced the club colours of Otumoetai and Western Springs, with whom she won the Northern Premier Women's League crown this season.
At school level, she won the Principal's Award and the Players' Player award at Mt. Maunganui College in 2006, and the Auckland Secondary Schools Championship when at Epsom Girls a year later.
Throw in national age-grade titles with Waikato-Bay of Plenty, the U-14 champions in 2004, and Auckland at U-16 level last year, plus selection in New Zealand age-grade academy squads in each of the last four seasons … little wonder her family is proud of their `closet petrol-head', who has a passion for fast motor sports, including Meremere drag-racing, and motorcycle racing at Paeroa and Pukekohe.
They'll certainly be cheering Jessica Rollings and the New Zealand squad on heartily from 28 October, a date which is, understandably, prompting growing excitement among `Rolly' and her Young Ferns team-mates.
"The vibe in the team is just amazing, and the girls' excitement for the opening game just keeps growing", declares the January-born seventeen-year-old, who aptly sums up the feeling among New Zealand football fans, and the game's women's footballing fraternity in particular, as the country prepares to host the entire adventure which is the inaugural FIFA U-17 Women`s World Cup Finals.
"We have been working really hard for the last two years, and just can't wait!"